Eat:
Halal Restaurants in Busan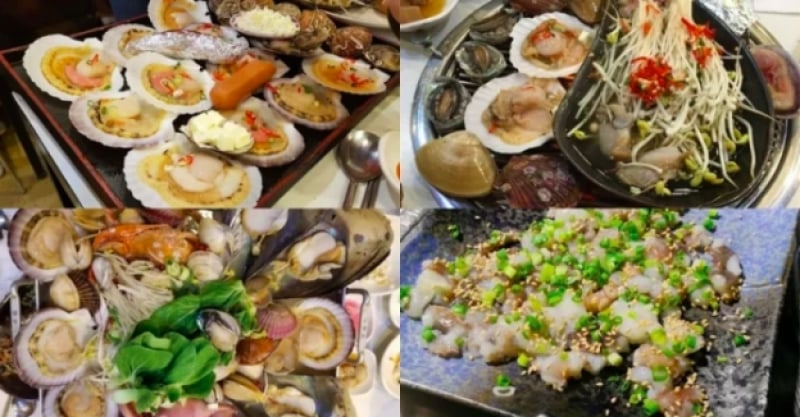 Unlike the ever-popular Seoul, Muslim travellers might find it harder to locate halal restaurants in Busan. Most of the halal restaurants in Busan typically serve Mediterranean or Indian cuisine especially if you're near Busan's Al-Fatah Mosque. 
However, due to its proximity to the ocean, there are plenty of Muslim-friendly seafood restaurants in Busan. The seafood in Busan is definitely something you can't miss out with its ocean freshness. But please do note that the seafood restaurants are not halal-certified and you should dine at your own discretion. 
Also read: Halal Food in Busan: 8 Places to Visit When You're Hungry
Korean Street Food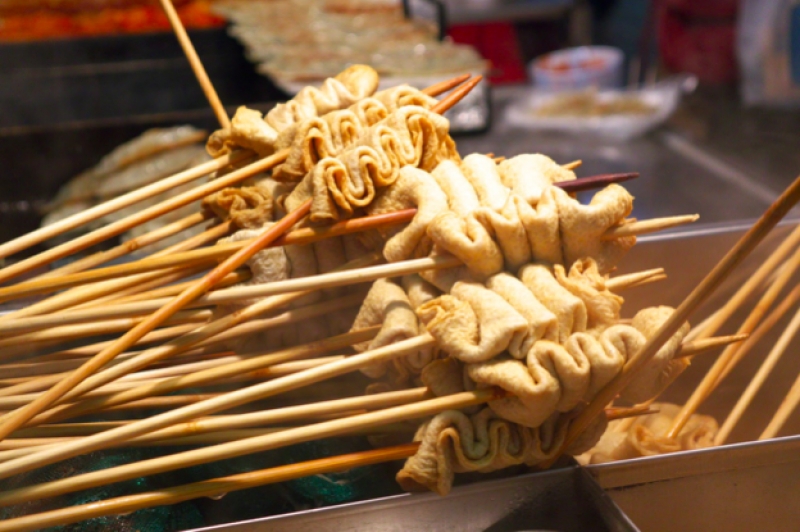 If you're looking for lighter snacks, make your way to the many markets in Busan for your authentic Korean street food experience. Though there aren't many halal-certified food stalls, Muslim travellers can try out the more Muslim-friendly food options. Indulge in Busan's version of hotteok and keep your eyes peeled for Busan's eomuk or Korean fish cake which is a testament to the fresh seafood found here. 
Explore:
Gamcheon Cultural Village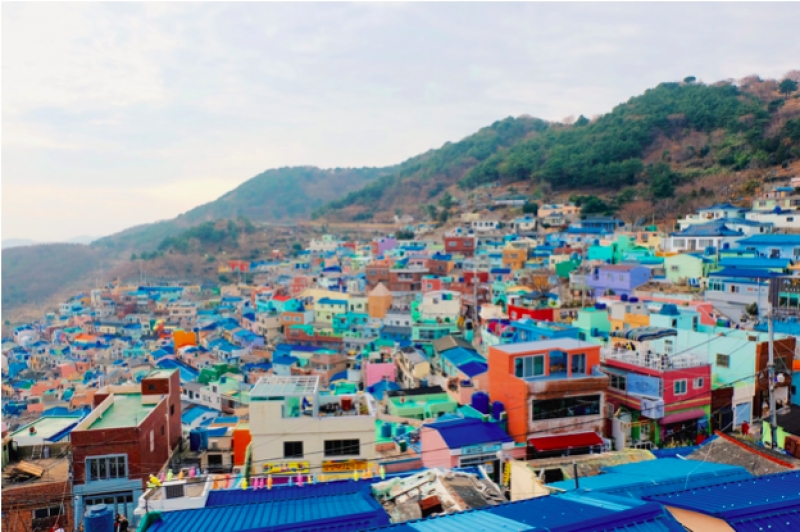 Dubbed as the "Machu Picchu of Busan", this vibrantly colourful village is a must-visit when in Busan. The Gamcheon Cultural Village looks like a stacked of houses that are located at the foothills of a mountain.
Muslim travellers can simply get lost in the mural alleyways of this attraction. Besides being the perfect Instagram-worthy spot in Busan, you'll be able to find cute shops, cafes, and museums hidden amidst its nooks and cranny.
#HZTip: The best way to make your way here is either via bus or taxi. There are plenty of buses that will get you to Gamcheon Cultural Village from Gukje Market. 
Address: 200 Gamnae 1(il)-ro, Gamcheon 2(i)-dong, Saha-gu, Busan, South Korea
Taejongdae Park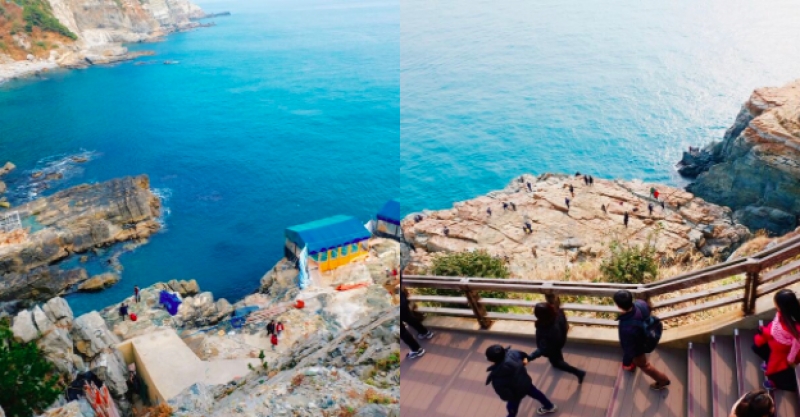 Taejongdae Park boasts some of the best panoramic views in Busan that will definitely leave you awestruck. Among the forests of pine trees and its famous rock beach, the peak will allow Muslim travellers to soak in breathtaking views of the cerulean waters. If you make your way down to the bottom of the cliff, you will be able to savour some freshly-caught seafood.

Do note that it's not halal-certified so please dine at your own discretion.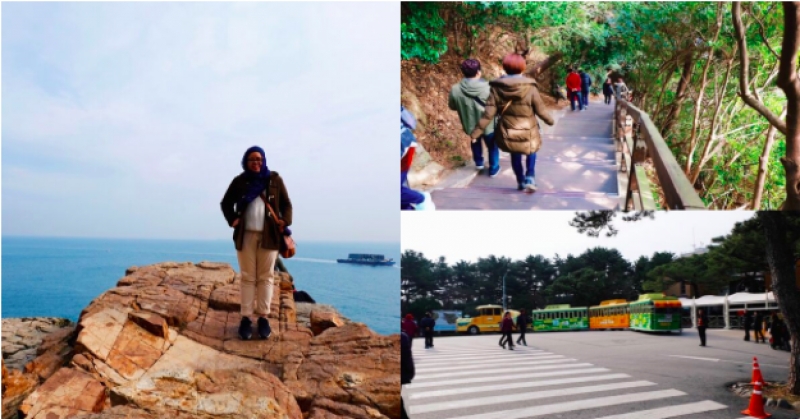 Muslim travellers should definitely put on your most comfy shoes because there'll be lots of walking when you arrive at Taejongdae. You can also hop on the Danubi train that will take you to the various sights within the park. The entrance to the park is free but the train ride requires a paid ticket. 
Address: 24, Jeonmang-ro, Yeongdo-gu, Busan
Gukje Market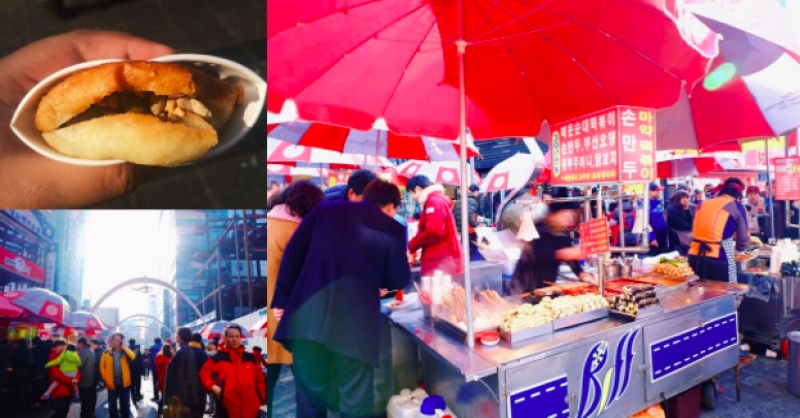 Also known as Nampodong International Market, Gukje Market is popular and one of the largest Korean markets in Busan. You can easily find anything and everything along the multiple alleys of this market.

It's also a great spot for you to try the famous Busan hotteok which is a sweet Korean pancake. The Busan hotteok varies from the ones you find in Seoul because it's filled with various seeds and nuts. This Korean street snack is not halal-certified so please dine at your own discretion. 
Address: 25 Gukjesijang 2-gil, Gwangbok-dong, Jung-gu, Busan, South Korea
Haeundae Beach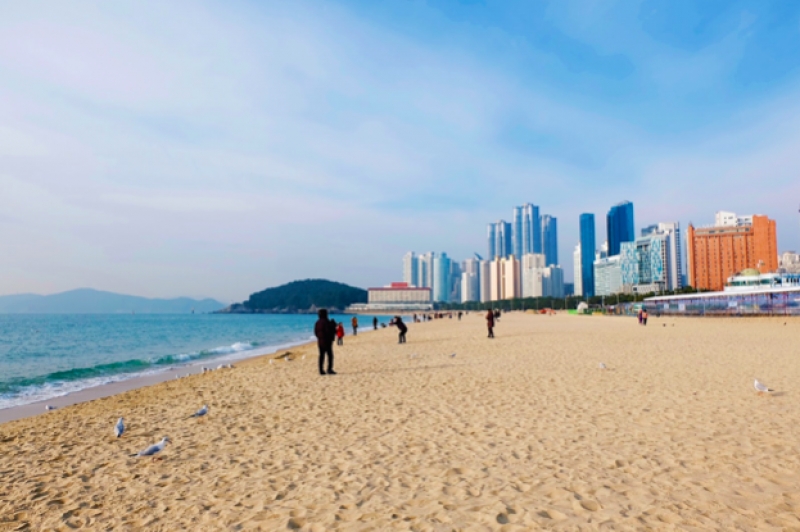 Haeundae Beach is easily the most popular beach in Busan! Its 1.5km beautiful coastline attracts both local and foreign travellers whether it's a sunny summer day or even during the colder seasons.
You might notice seagulls circling the beach trying to catch snacks being fed by the locals. If you're staying near Haeundae Beach, be sure to visit at night where locals will host their own fireworks show.
Address: 264, Haeundaehaebyeon-ro, Haeundae-gu, Busan
Gwangili Beach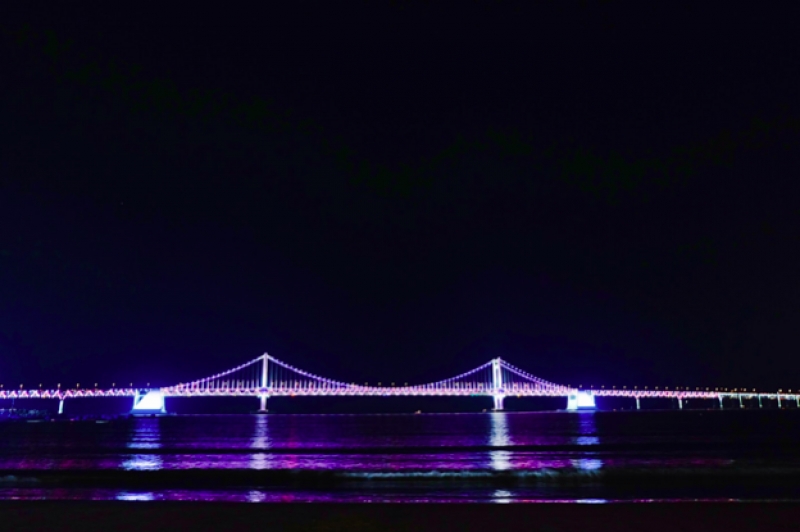 Just bordering the bustling city area is Gwangili Beach. It's a hotspot during Korean summers, boasting powdery white sand and pristine waters. Many travellers actually prefer visiting Gwangili Beach in the evening.
From the shores of the beach, you can easily spot the light show of the Busan Gwangandaegyo Bridge. Find your spot in the sand and watch as the colourful lights of the bridge twinkle in the night sky. 
Address: 219, Gwanganhaebyeon-ro, Suyeong-gu, Busan
Stay:
Whether its hostels or hotels, Busan has a myriad of accommodations Muslim travellers choose from. Popular areas such as Haeundae, Seomyeon, Nampo-dong and Gwangan are ideal locations as they are conveniently located near the local subway stations. 
Haeundae area 
If you're planning to visit in the summer, Muslim travellers might want to stay at Haeundae due to its proximity to the beach. There are many hotels, hostels and Airbnb apartments that surround Haeundae beach. Plus, you'll get the best views of the waterfront! 
Personally, I prefer staying around Haeundae because it's also located near other attractions such as Dongbaek Island and Songnim Park. My apartment was located five minutes from the subway station which is a big plus point especially if you're arriving via KTX from Seoul. There are also plenty of Muslim-friendly seafood restaurants nearby for those late-night hunger pangs.