Taiwan doesn't necessarily jump out as a must-visit destination for Muslim travellers. Unbeknownst to many, Taiwan is actually a burgeoning Muslim-friendly travel destination, brimming with tasty Halal food and unique travel experiences to take home.

The language might be a barrier for non-Mandarin speaking travellers but nothing the universal body language and a whole lot of patience can't help you with. Home to affectionate locals, majestic mountain ranges and bustling night markets, you'll never know what exciting adventures await you in the modern cities.
Day 1: Ni Hao, Taiwan!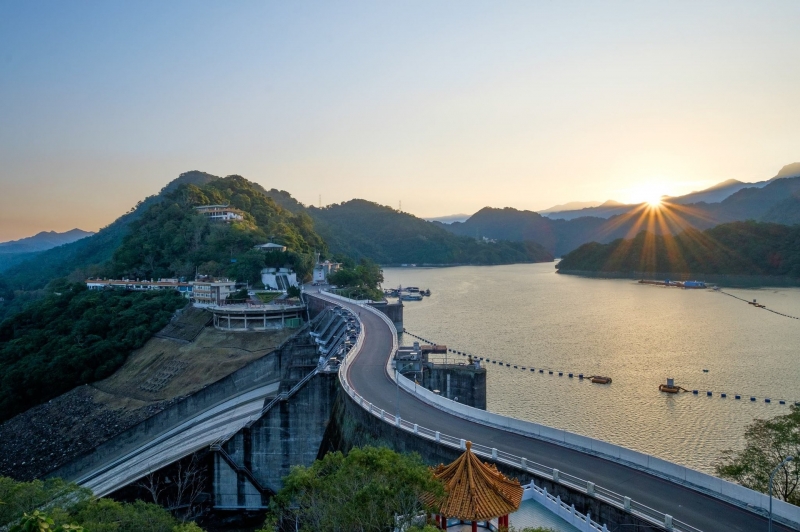 When you arrive at Taoyuan International Airport, you might find yourself overwhelmed by throngs of eager travellers, just like yourself, ready to begin their adventures in Taiwan. Keep calm and queue on as you clear the immigration before collecting your luggage.
Your first pitstop? Make use of the shuttle service available at the airport and head to Flying Cow Ranch. For a rate of NT$2900 (~S$130), the vehicle can accommodate up to five passengers comfortably. Alternatively, take the High-Speed Rail and stop at Taichung or Miaoli and continue on your way via taxi.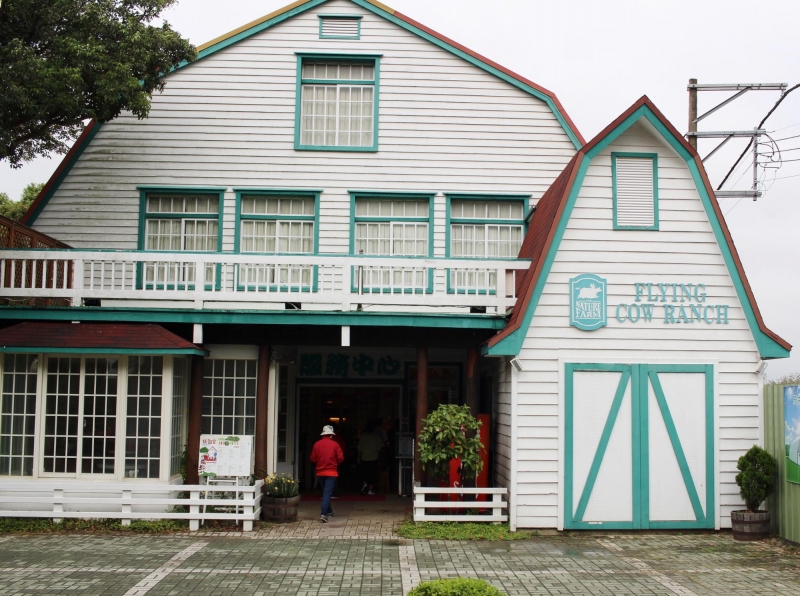 Flying Cow Ranch in Miaoli is a perfect escape from the city and suitable for families who want to experience farm life. When you arrive at Flying Cow Ranch, be greeted by a breath of fresh air (and a faint smell of cows and goats).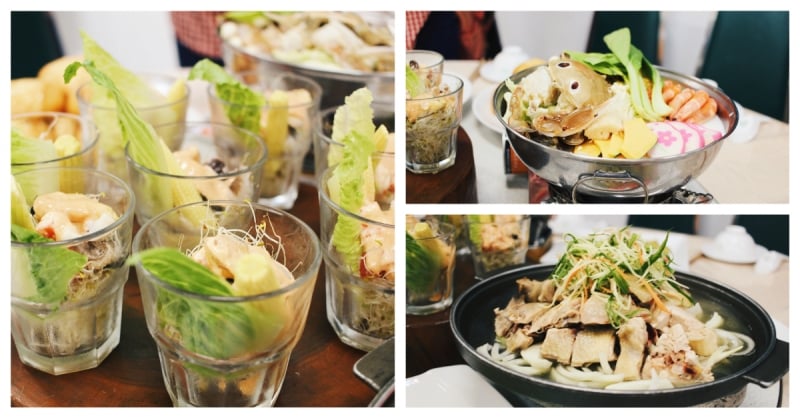 Travelling long distances is a sure-fire way to make you hungry. Head over to their in-house Halal-certified restaurant where a wide spread of delicious local Taiwanese cuisine awaits. From their steaming milk hotpot to the soft mantou, dig into a sumptuous feast. Their local speciality milk hotpot is filled with a variety of seafood (think: juicy crabs, mussels and fresh prawns!) simmered in milk that was harvested from the local cows.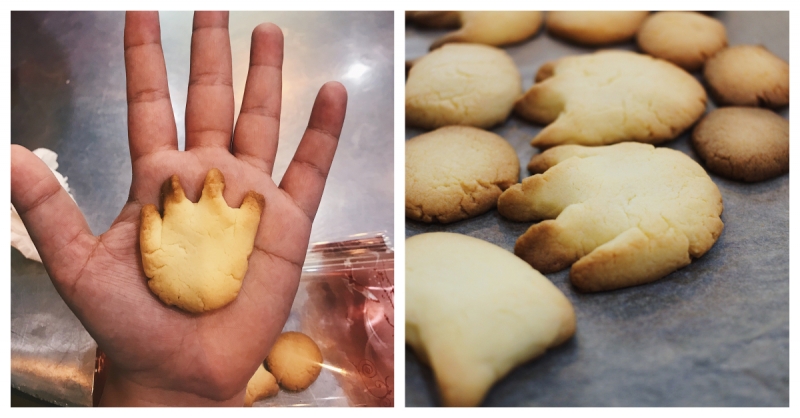 The animals might be asleep at night but you will never be bored here as there are many seasonal DIY activities for guests. From baking mooncakes during the Mid Autumn Festival to butter churning, you will have a chance to show off your cooking skills. As the night winds down, retreat to your spacious country-style room. Experience what it's like to sleep in a farmhouse!

Note: You can find the local prayer timetable and the Qibla direction in one of the drawers. Feel free to indulge in the complimentary milk sweets in each room too. You may later purchase them from the resident snack shop. Also, indulge in their purely vegetarian Milk Pudding!
Day 2: Flying Cow Ranch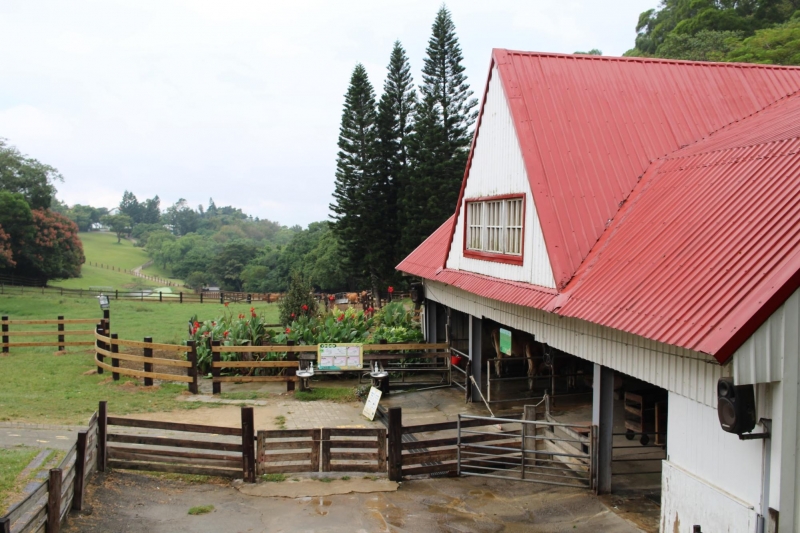 Despite its name, this ranch has a wide selection of animals for you to see and feed. You'll be able to spot cows, calves, goats, ducks and mountain deer frolicking about the vast green lands of the ranch. Check out the feeding and activity times for the various animals so that you will not miss a chance to interact with them.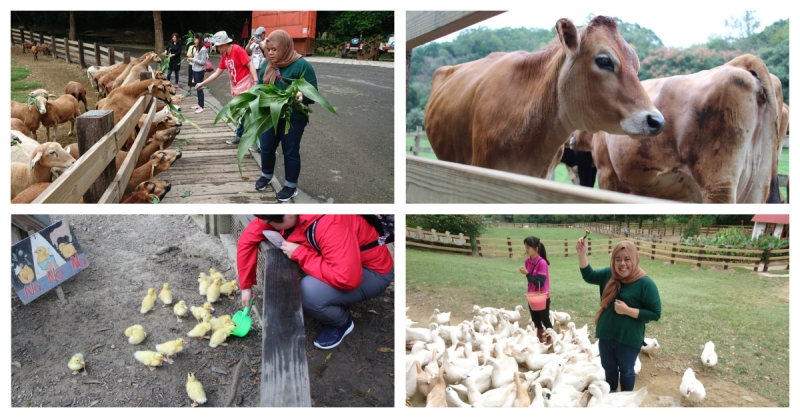 Besides being greeted by all kinds of animals as you walk around the farmland, you will also be able to participate in a variety of hands-on activities. Your day will be filled with various farming experiences such as milking cows, feeding the calves, goats and rabbits, and finally catching the duck parade where you will watch a flock of friendly ducks waddling around you with the sound of a bell. When you feel tired, head over to their garden cafe for a refreshing yoghurt drink or milk ice cream, manufactured from the local cows' milk.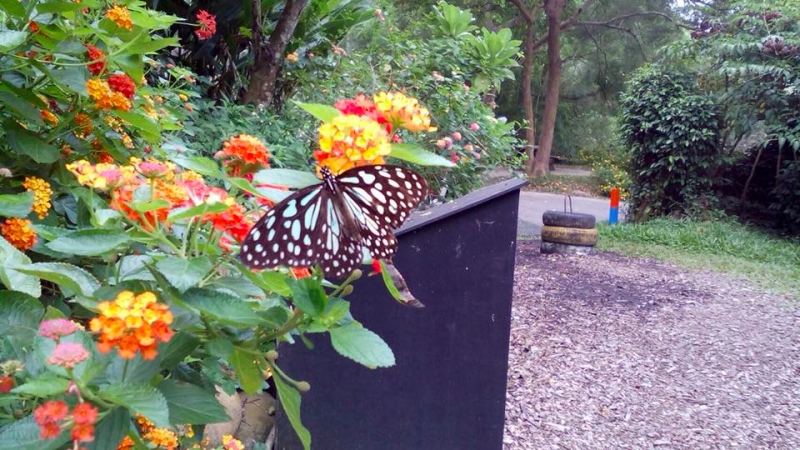 Bored of the animals? Why not embark on a leisurely stroll around the ranch to embrace nature. Flying Cow provides guided tours to the Butterfly area to explore the beautiful and variant species of butterflies, especially when you visit in June to October. There are also various trails for you to enjoy an hour or two of quiet time.
Day 3: Miaoli City – The Mountain Town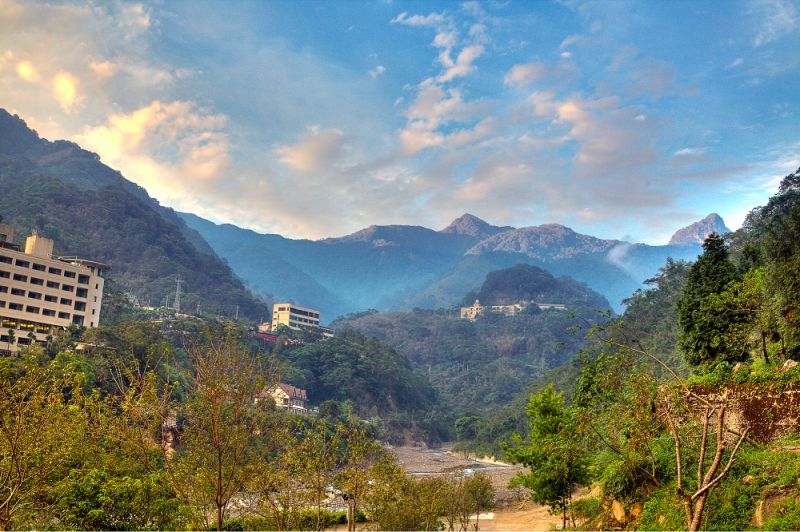 Located in Miaoli province, Miaoli city is also known as "Mountain Town" due to the vast numbers of mountains nearby. This makes it a perfect city to explore for travellers who enjoy a good hike. Get an early start and hop on a train to explore the Tongluo Skywalk where you can enjoy a panoramic view of Jiuhua Mountain.
If you love marvelling at stunning blooms, Taoyuan Old Trail is a great route for you to witness the beauty of the tung blossoms. Attention all avid cyclists, you must cycle along the Tongluo Sky Cycling Trail, which also happens to be the highest cycling route in Taiwan! Be sure to really take your time and soak in all the natural beauty Miaoli has to offer.
Looking for a different kind of view? Make a trip to Houlong Cape of Good Hope for a panoramic view of the coasts and the giant wind turbines that line the bay. This seafront hill is also where you will find a historical stone weir from the traditional Pingpu Tribe, a device previously used for fishing.
Culture vultures might prefer to learn more about the Hakka culture at the Taiwan Hakka Museum at Miaoli Park. As you browse through the exhibitions and engage in many interactive programs, you will have a deeper understanding of Hakka customs and traditions. Alternatively, you can also take a walk around the Hakka Courtyard.
Day 4: Sanyi – the Woodcarving Kingdom of Taiwan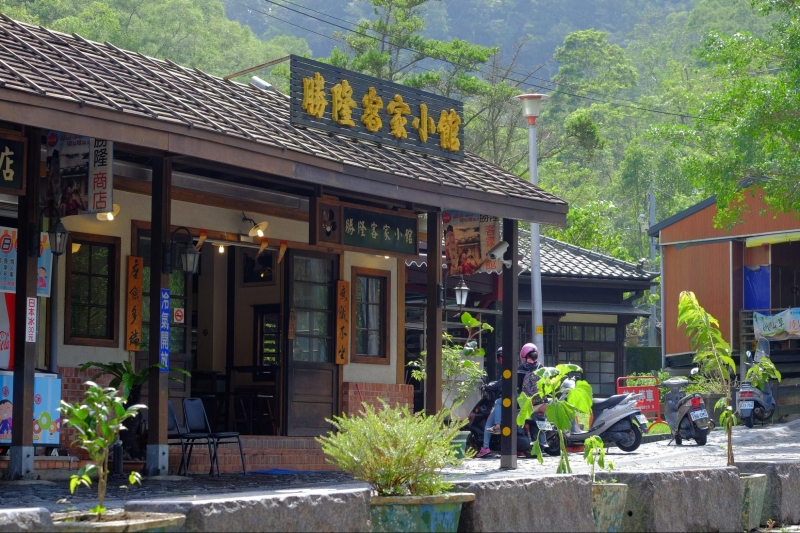 Sanyi is a rural township in Miaoli province, famous for wood carving. What better way to understand the history of wood carving here than to pay a visit to the Sanyi Wood Sculpture Museum. Located near Sanyi station, their nine exhibitions span from introductions about wood carving to the varying styles used in each Chinese dynasty. Later, stroll along the streets of Sanyi and perhaps buy yourself a unique wooden souvenir.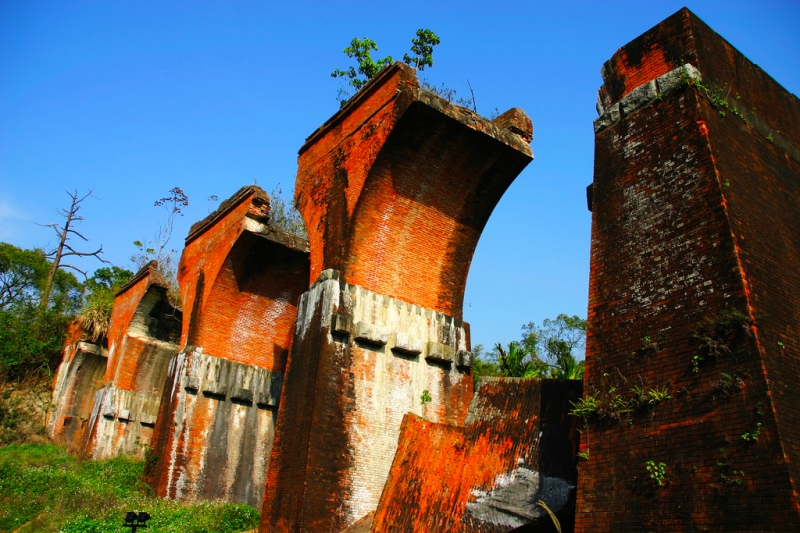 Next, visit the famous Longteng Bridge, the highest iron bridge in Taiwan. Standing at 50 metres tall, this broken bridge was built during the Japanese rule. You will be able to see the red-brick viaduct, the only part of the structure to have survived the 1935 deadly earthquake.
Thereafter, step into the past and explore the Shengxing Railway Station to see the remnants of the Japanese occupation. It was part of the Taiwanese Rail Mountain Line and can reach an altitude of 405 meters. Fun Fact: This railway station was built without any nails.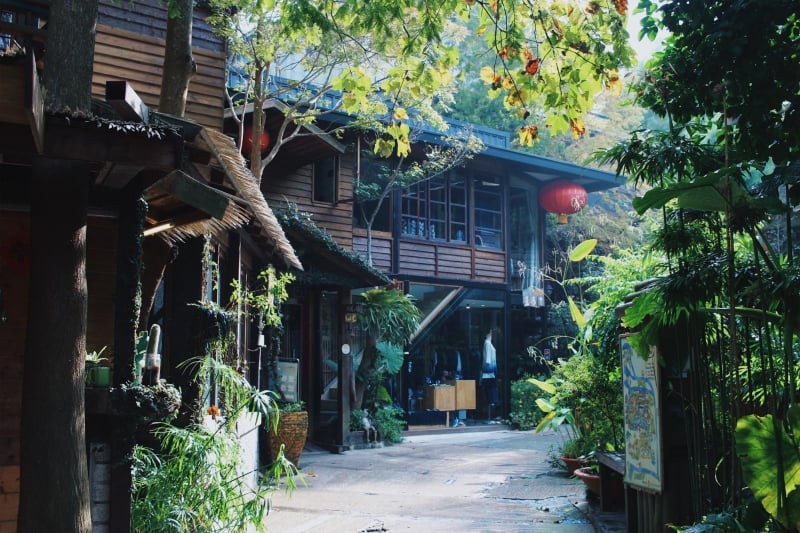 Wind down after a long day at Zhou Ye Cottage and be instantly transported back to Old Taiwan. With large red lanterns hanging and quaint little cottages, you can almost sense the strong Japanese influence in Miaoli province during the colonial years as you tour around Zhuo Ye.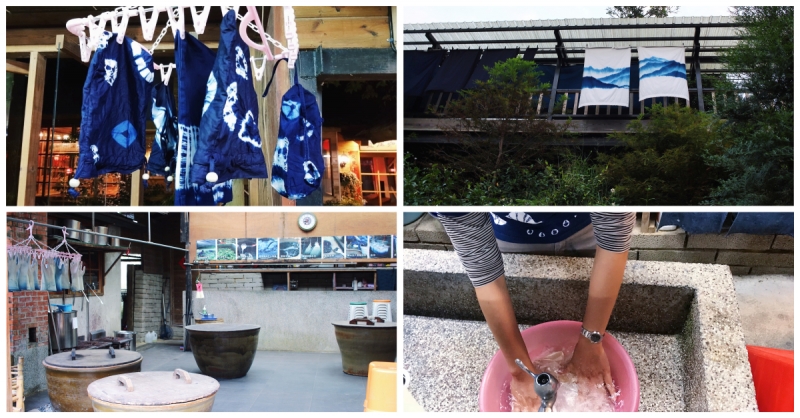 Do try your hand at DIY Indigo Dyeing, where you can choose an item from pouches and shirts to design and dye to your own liking. The indigo dye is extracted from the Assam Indigo plants that are grown and processed here, ensuring that the ingredients are organic and all natural. The process of dyeing and washing might be a tad troublesome but it will be worth it when you leave with your own personalized keepsake.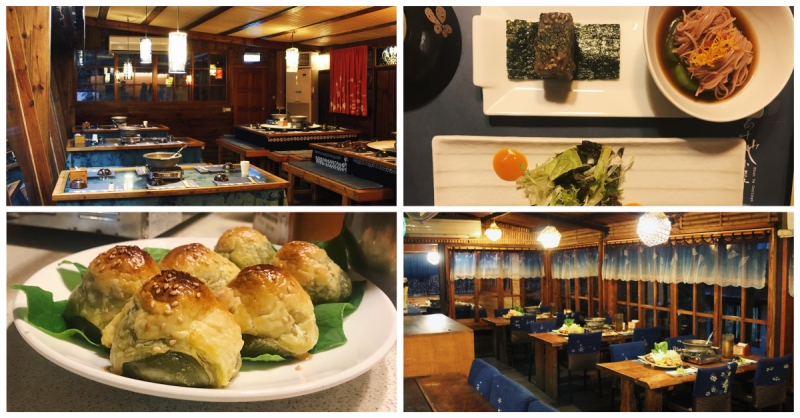 You will also embark on a gastronomic journey when you are here. Their vegetarian-only menu is focused on incorporating five corns, five vegetables and five fruits into each meal. The dishes are made from locally grown and sourced vegetables too. Hence, the dishes will vary with seasons which makes each dining experience here unique. Also, don't miss their healthy herbal hot pot, offered all year round, filled with fresh mushrooms and vegetables grown in Zhou Ye.

Note: The restaurant is Muslim-friendly certified and no alcohol is served.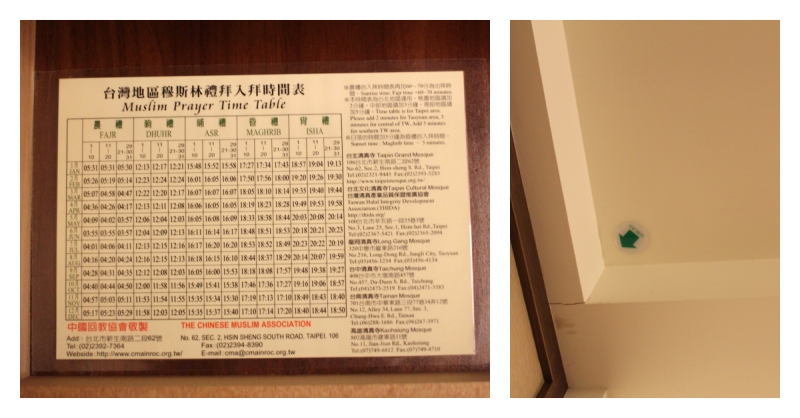 We highly recommend a night's stay at Zhuo Ye to truly take in the natural beauty surrounding your cottage stay. You will also be able to find the local prayer timetable and the Qibla direction within your room, making this accommodation choice very Muslim-friendly after all.
Day 5: Taipei 101
It is time to head to the concrete jungle of Taipei, where shopping and nightlife await you!
Want a birds eye's view of Taipei? Head down to Taipei 101 where you will have a panoramic view of the skyline from this landmark skyscraper. A quick weather check before heading there would be good to ensure no cloudiness affecting your view. Fun Fact: This architectural marvel is designed to withstand typhoon winds and earthquake tremors which are common in this area of Taiwan.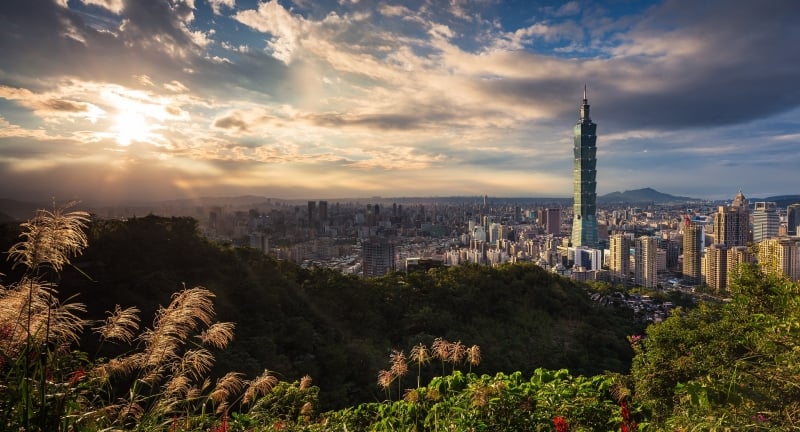 Alternatively, you can trek up Elephant Mountain, which is just one train stop away from Taipei 101. Here, you might get a better view of the city skyline. This gorgeous view does come with a little work because it is a 30-minute hike up.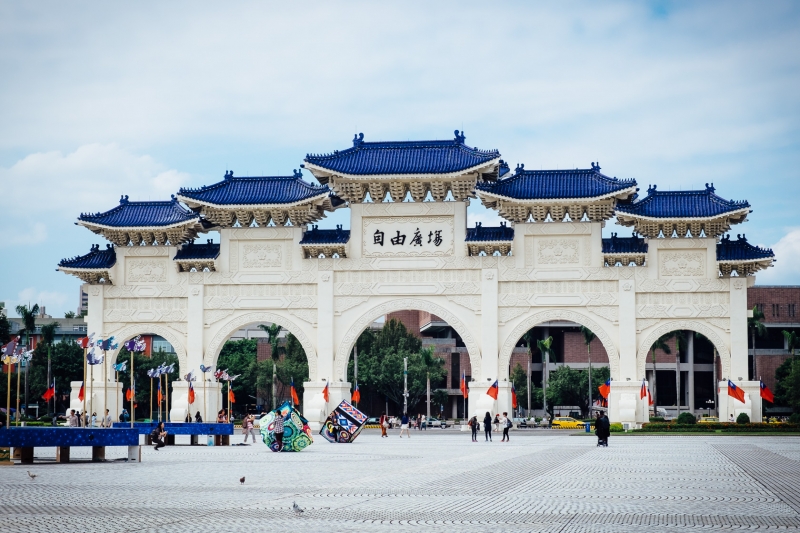 Another architecture marvel to visit while in Taipei is of course, the Chiang Kai-Shek Memorial Hall. This prominent historical landmark was built to honor the former President of the Republic of China. There is an exhibition dedicated to his life's work and also the history of Taiwan.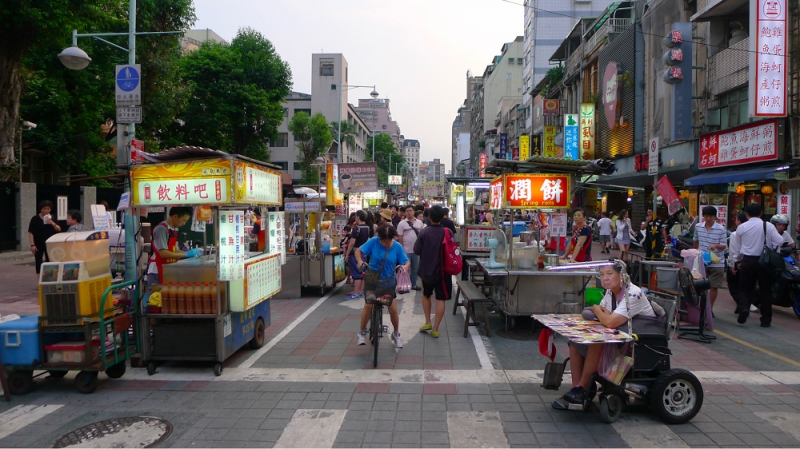 You must be feeling absolutely famished from all that exploring. It is time to end your day by heading to Ningxia Night Market. You can't say you've been to Taiwan if you don't visit their famous night markets. Ningxia Night Market has so much to offer from crazy arcade games to local delicacies.

Such Taiwanese night markets are a symbol of the vibrant food culture and local life so don't be intimidated by the masses of locals roaming around. Be ready to hunt down Muslim-friendly Taiwanese snacks!
Note: Do not worry about bad weather at Ningxia Night Market. They built a shelter over this night market to ensure that the rain will not stop you from enjoying the dizzying array of delicious street snacks. You will find Muslim-friendly local delights at stalls 051, 89, 78, 115, 29, 44, 121, 002!
Day 6: Shifen – Trains, Waterfalls, Lanterns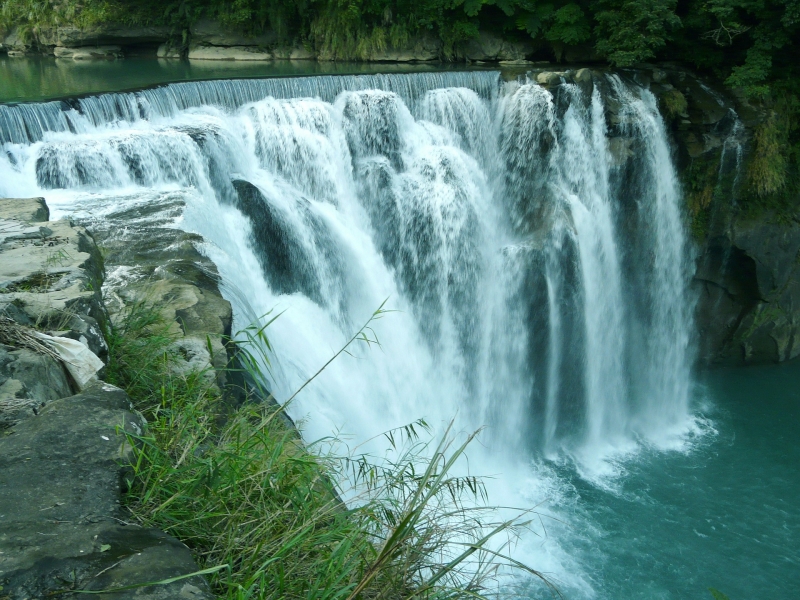 Hop on a northbound train from Taipei Main station to the Shifen Waterfall! This 40-metre waterfall cascading into the lake is a great photo opportunity courtesy of the luscious trees and crystalline waters flowing. Head to the Observation Trail Point for a better vantage point of this lovely waterfall. If you are short of time, rent an electric bike and zip right to the top.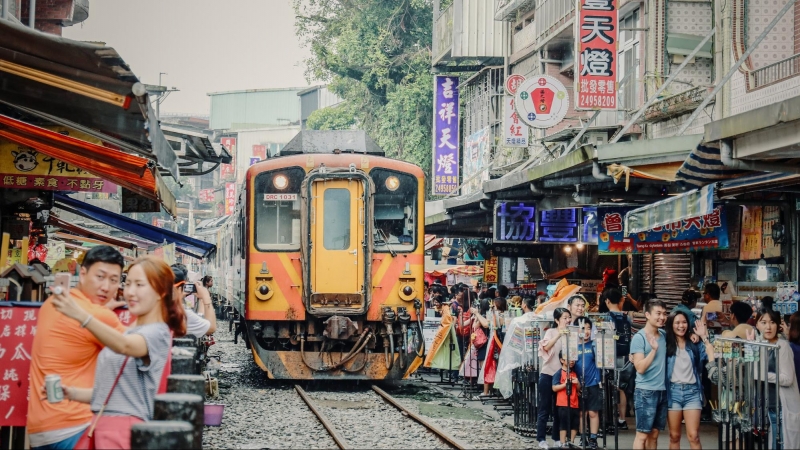 Once you start feeling peckish, head over to Shifen Old Streets which is about 30 minutes away. Nestled in the Pingxi area, Shifen Old Streets is a collection of streets and lanes around the Shifen railway station, which was originally built for the transportation of coal during the Japanese occupation. Tour around the Taiwan Coal Mine Museum to learn more about Taiwan's rich coal mining history.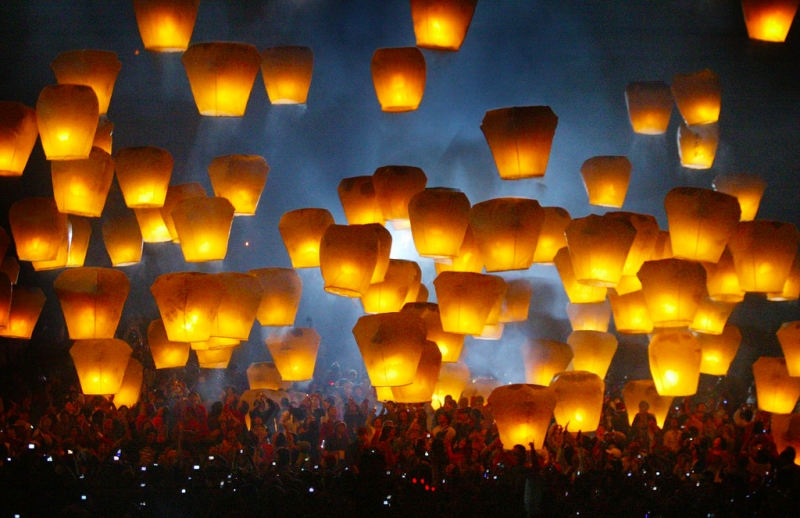 This is also the spot where most travellers head to for their Taiwanese lantern experience. If you ever find yourself here in February, remember to check out the annual Sky Lantern Festival. You can select your recyclable lantern from the array of colours available and write your well wishes on it. Snap photos of your lantern before setting them afloat into the night sky!
Day 7: Taipei – Shop Till You Drop
This is your last hurrah in Taipei before heading back and of course, you can't possibly head home without souvenirs. Vigor Kobo is the ideal place for you to shop for lovely keepsakes. The desserts and snacks boast gorgeous packaging which make them great gifts. You cannot miss out on their pineapple cakes too!

Note: Look out for their Halal snack section to ensure your pineapple cakes and matcha mochis are Halal-certified. Do try out the food samples available to know how delicious it is before making a purchase.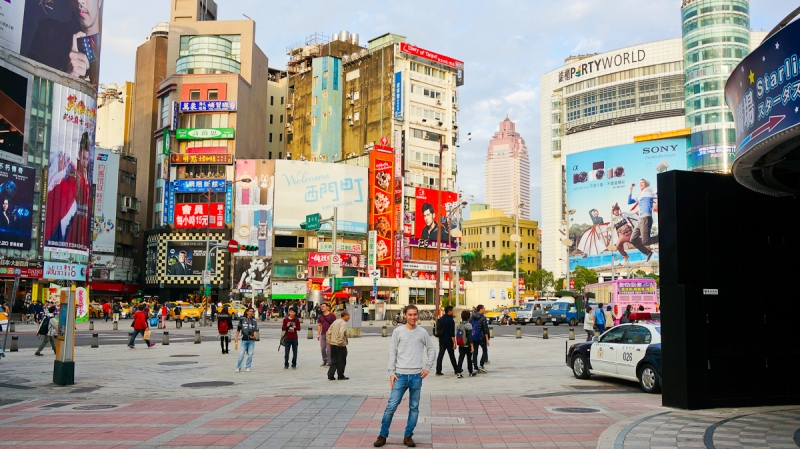 Continue your shopping spree at Ximending. This shopping district is lined with numerous famous fashion and electronic brands, making it a haven for shopaholics. There is also a host of street performances around which really adds to the vibrant nightlife in Ximending.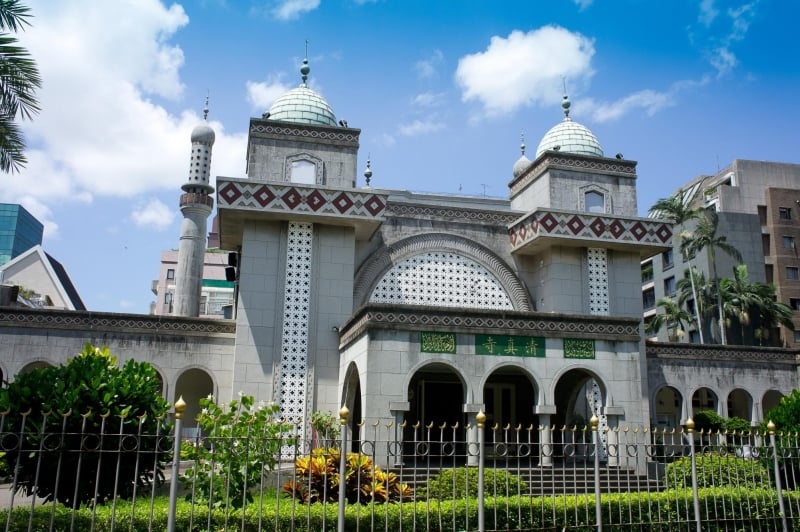 Make one last stop at the Taipei Grand Mosque, the largest mosque in Taipei. Built in 1960, the most prominent feature of this mosque is the dome that is not supported by any beam. The second-floor prayer hall is dedicated for Muslimahs and the main prayer hall for Muslimins.
After almost a week of adventures in Taiwan, it is finally time for you to catch your flight home. Hitch a ride on the bus, High-Speed Rail or taxi to get yourself to Taoyuan International Airport which would roughly require about 40 minutes.

Note: Check out their multiple prayer rooms once you have arrived at the departure hall. The prayer rooms have prayer mats provided with a partition in the middle. However, the lack of an ablution area means you would need to take your wudhu at the washroom.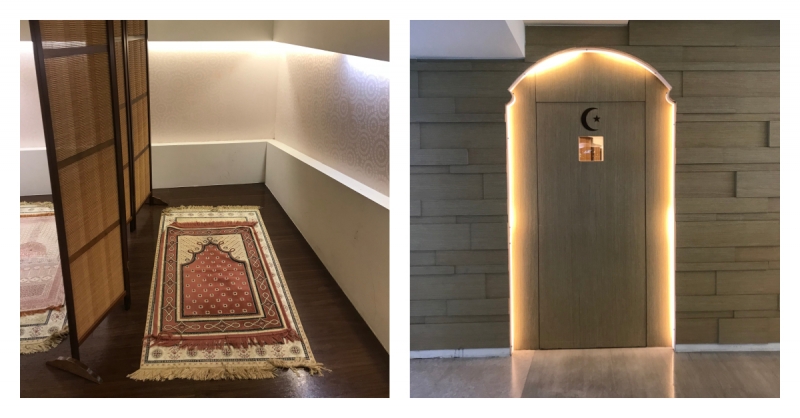 Ready for your first Taiwanese adventure? We got your itinerary covered so it is time for you to kickstart your well-deserved vacation. Lip-smacking beef noodles and absolutely scenic views await you.