When most Muslim travellers hear of Sabah, the ever famous Mount Kinabalu or majestic islands come to mind. Though not as popular among Muslim tourists, Lahad Datu and Sandakan are actually known for their diverse wildlife and unique heritage. 
Getting around
Since the roads in Sandakan town are rather narrow, a car would be your ideal form of transportation. This also gives you the flexibility of moving at your own time.

#HZTip: You can easily collect your rental vehicle at the airports. Do check with your respective accommodations like Tabin Wildlife Resort prior to your arrival as they might offer airport transfers.
Halal food in Sabah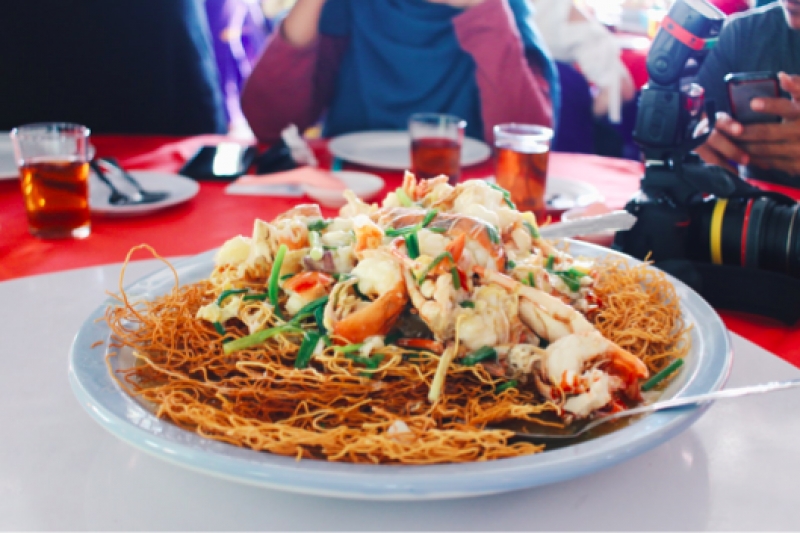 In towns like Sandakan and Lahad Datu where there's a Chinese-majority population, Muslim travellers might not be able to spot halal restaurants easily. Plus, there aren't many with halal certification. Besides the restaurants listed below, the next best alternative is to ask the restaurants directly if they serve pork. Fret not, there are plenty of seafood restaurants especially in Sandakan for you to savour the local cuisine. 
Day 1: Escape urban life in Lahad Datu 
The most convenient way to travel to Lahad Datu would be to fly in from Kuala Lumpur International Airport to Tawau before driving two hours to Lahad Datu. Your flight to Tawau will be around three hours long and is operated by Malaysia Airlines. Alternatively, Muslim travellers may opt to fly to Sandakan directly which will also take about three hours long.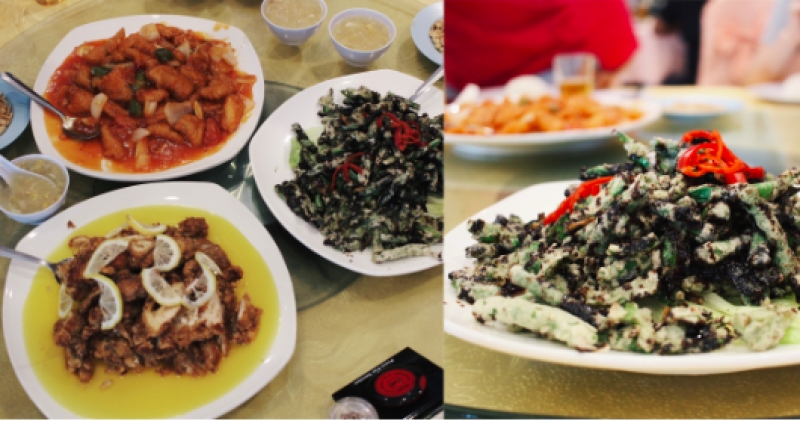 Just a two-hour drive from Tawau airport, you will find yourself in the heart of Lahad Datu town. Before checking-in, enjoy a delicious lunch at Restoran Dovist. Please note that while this Muslim-friendly restaurant is not halal-certified, it does not serve pork and lard.

You can expect an array of delectable local dishes. From Sweet and Sour Fish Fillet to Lemon Chicken, Restoran Dovist serves Chinese-style seafood cuisine. You simply must sample their specialty dish Four Season Beans which uses four different types of locally grown beans cooked a dash of soy sauce. Wash it all down with a bowl of tasty Sweet Corn Soup!

#HZTip: Most Chinese restaurants in Sabah actually serve each meal with a glass of Chinese tea. 
Address: MDLD 3811, Lot 73, Fajar Centre, 91110 Lahad Datu, Sabah
Hours: Daily, 6am – 11.30pm
After a satisfying lunch, head to Tabin Wildlife Resort which is approximately two hours away. Upon arrival, you'll be warmly greeted with a pandan leaf crown and a lemongrass-pandan welcome drink. During check-in, all visitors will be required to sign forms and be briefed about meal times and any precautions to be taken. 
There are over 20 units of lodges for guests including both river and hill lodges which can accommodate over three guests per lodge. There's no better way to fall asleep than to the harmonies of nature. All lodges are interconnected via a wooden bridge, and are linked to the Sunbird Cafe where you'll be having your daily meals.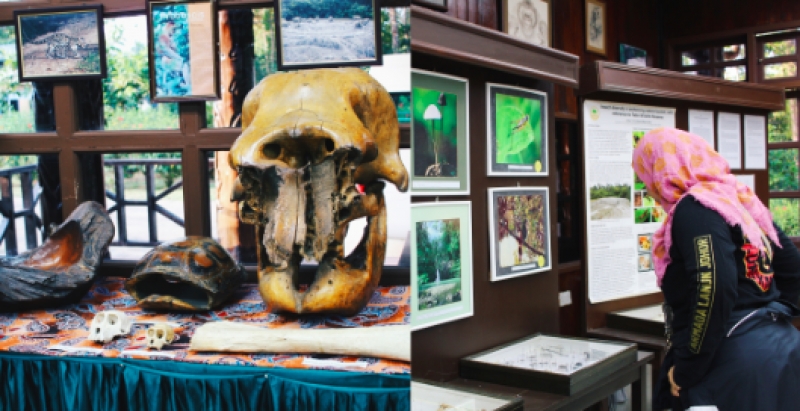 After settling in, it's time to get in touch with nature. Since you've been travelling all day, take it easy with an educational tour around Tabin Visitor Centre. You'll learn more about local conservation efforts in Tabin and the extinct Sumatran Rhino.
Nature-loving Muslim travellers might want to opt for a night safari drive after dinner. You will be able to spot some nocturnal animals found here like the Bornean Leopard and Flying Squirrels.
#HZTip: If you're looking to fully enjoy your experience here, I recommend you stay at least two nights at Tabin Wildlife Resort. This will also increase your chances of spotting a larger variety of animals (such as elephants!)
Day 2: Wind down at Myne Resort in Bilit, along the Kinabatangan River

Take a whiff of fresh air and enjoy a quiet morning with Mother Nature. Before checking out of nature's paradise, go on a morning safari drive and trek to the Lipad Mud Volcano. After a short 700m trek, set your sights on the Lipad Mud Volcano which is often frequented by wildlife such as elephants.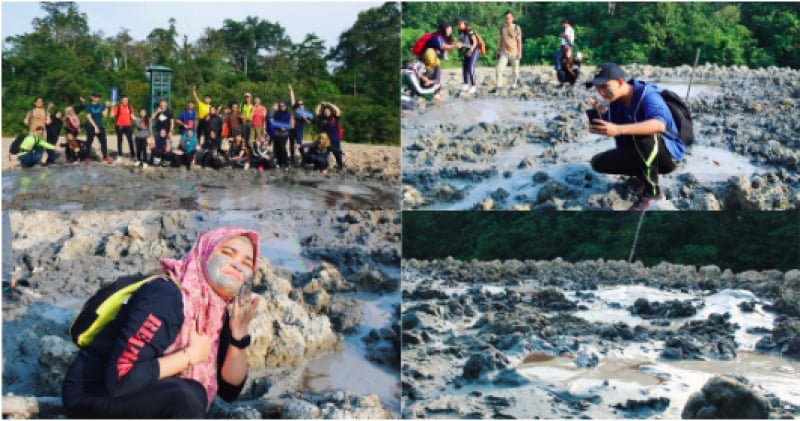 You can climb up the observation deck for a view of this mud field or get your hands dirty and enjoy a mud spa. There's no better way to cool off in the morning than with a mud facial.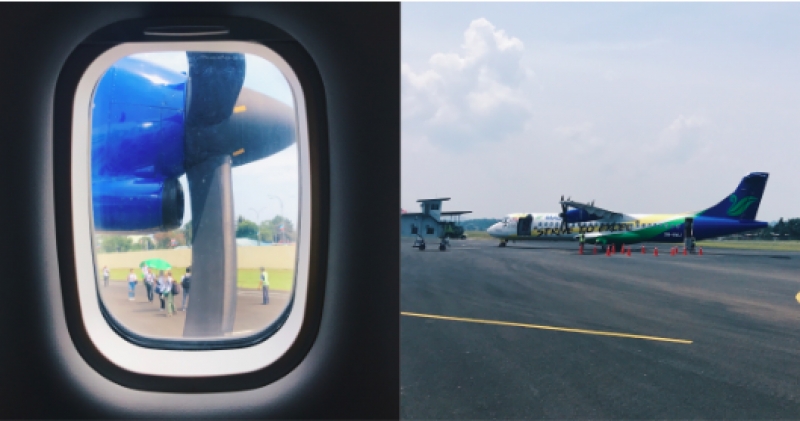 When you're ready to bid farewell to Tabin and Lahad Datu, head over to the Lahad Datu domestic airport and fly to Sandakan. The flight will only last 30 minutes and is operated by Malaysia Airlines' domestic airline, MASwings. Just like me, you might have your first propeller plane experience!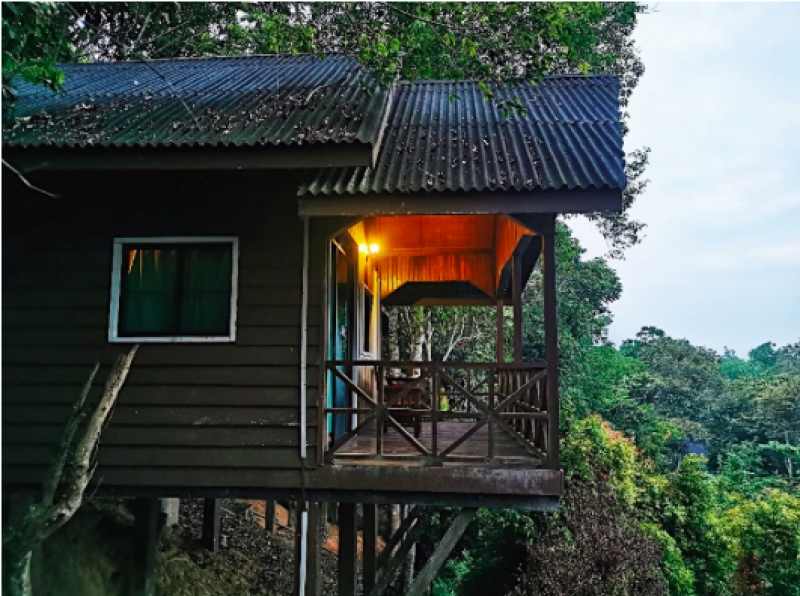 Before exploring the bustling Sandakan town, check-in to Myne Resort in Bilit for some quiet time. Two hours from Sandakan airport and situated along the Kinabatangan River, this resort is your gateway to nature. Each room can accommodate up to four people and will give you a view of the Kinabatangan River. It's the perfect spot to embark on a river cruise along Sabah's longest river.

Whether you're embarking on a sunset evening river cruise or a morning river cruise, you'll be able to spot some of Malaysia's favourite animals such as the Proboscis monkey and maybe even the famed Orang Utans.

#HZTip: Be careful not to dip your toes in the water because this river is known for its population of crocodiles. 
Once the sun sets, you can expect an interesting array of night activities. Besides spotting the wild boars nearby, you can trek through the jungle with a local guide to spot cool nocturnal animals such as the Hornbill. 
Day 3: Uncover the Sandakan Heritage Trail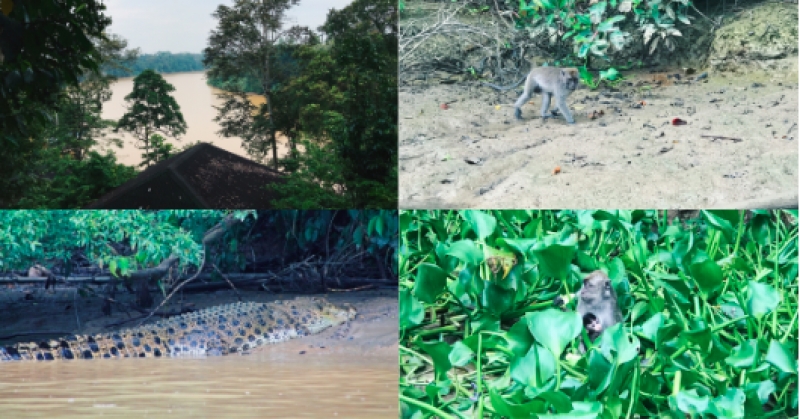 There's no better way to start your morning at Myne Resort than with a river cruise. If you're early enough, you'll be able to spot monkeys along the banks scurrying for food with their babies. The difference between an evening and morning river cruise would be the type of animals you'll spot. If you're lucky, you might spot an elephant roaming the jungles.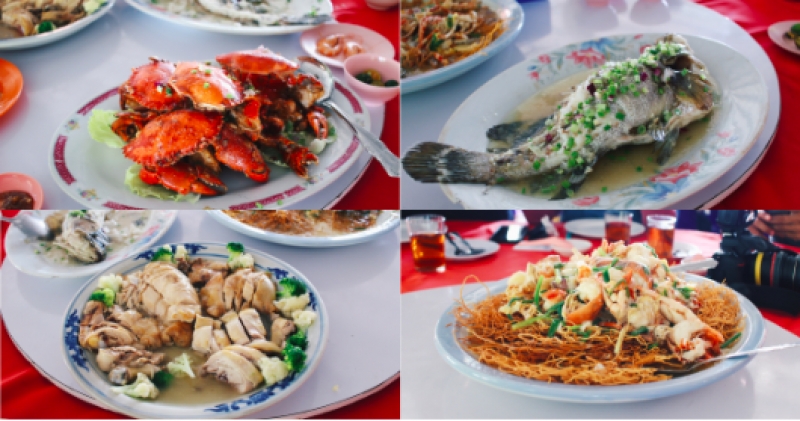 Before exploring Sandakan Town, stop at Restoran Pasir Putih for a seafood lunch. This Chinese-style restaurant is perched next to the waters so you are guaranteed fresh seafood. The menu includes a plethora of seafood from crabs to lobsters. You can expect relatively simple food here with the seafood being either steamed or grilled. 
This Muslim-friendly restaurant is best known for its Lobster Noodle served with gravy. But my personal favourite was the grilled crab. It is definitely worth getting your hands dirty! Please do note that it's not halal-certified but the owners assure that only seafood is being served here. 
Address: Mile 2.5, Jalan Batu Sapi, Sandakan, Sabah
Hours: Daily, 10am – 11pm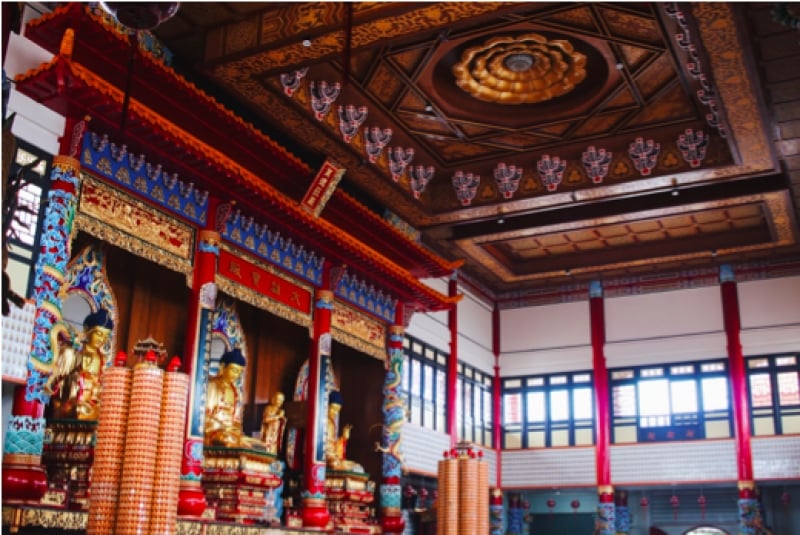 By now, you might be slipping into a food coma from your lunch. No better way to get yourself moving than to embark on the Sandakan Heritage Trail. The trail starts with the oldest mosque in Sandakan, Masjid Jamik, and covers places like the William B. Pryer Monument, Stairs with a 100 Steps before ending at the Sandakan Heritage Museum. 

#HZTip: Muslim travellers should look out for the free tour on Wednesdays and Fridays if you wish to uncover the hidden stories of the city. 
Puh Ji Shih Temple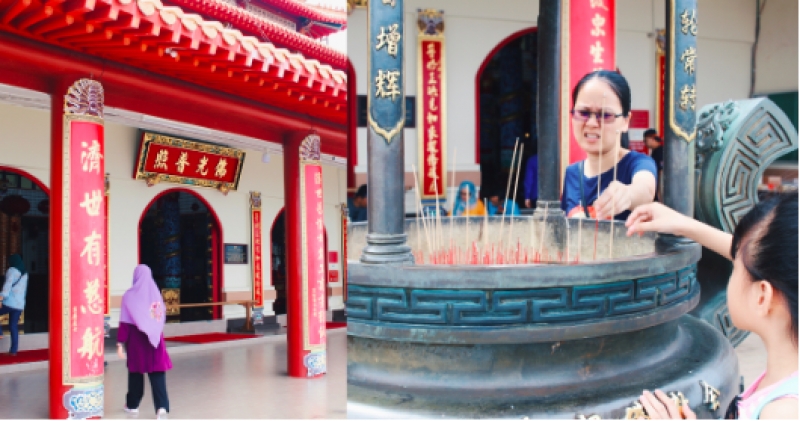 Alternatively, you can start off at Puh Ji Shih Temple atop the hill of Tanah Merah. Besides being a popular site featured on multiple television shows, this Buddhist temple is actually the largest Buddhist temple in Sandakan. It is still an active place of worship for many locals so be respectful when walking around the temple grounds.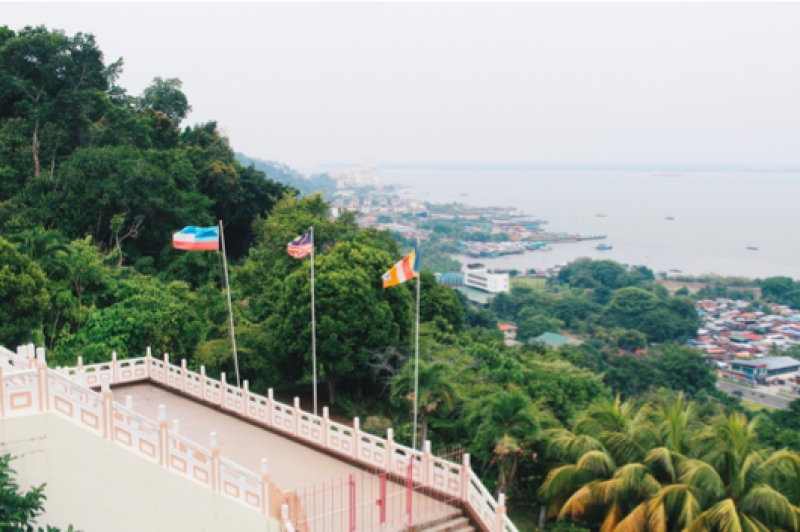 Address: 90000 Sandakan, Sabah, Malaysia
Hours: Daily, 8am – 6pm
St. Michael's and All Angels Church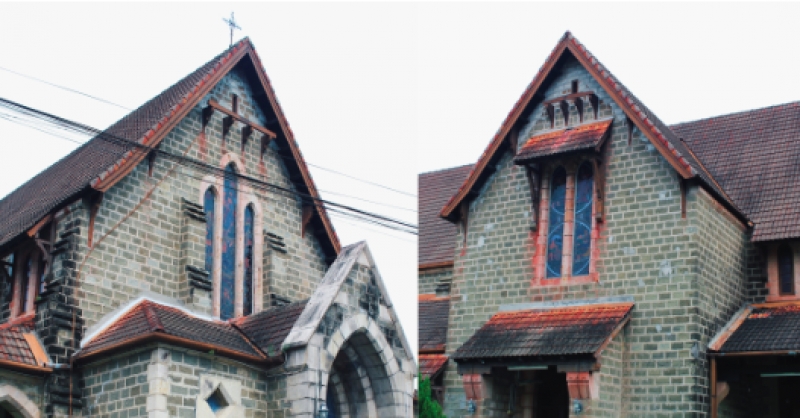 Later, make your way inland to the St. Michael's and All Angels Church. This place of worship is historic as it survived major damages during the Second World War. It's also one of the few stone buildings in Sabah. You might notice its beautiful stained glass windows which were gifted in memory of the Australian and British soldiers, who were Prisoners of War and died during the Death Marches. 
#HZTip: If you're planning to visit Sandakan in 2020, be sure to look out for the ANZAC Memorial Service which is commemorating 75 years since the world war. 
Address: 51, Jalan Puncak, Pusat Bandar Sandakan, 90000 Sandakan, Sabah, Malaysia
Agnes Keith's House
Subsequently, make your way to Agnes Keith's House, the historic house of American author Agnes Keith who is best known for her autobiographical books based on her life in Borneo. As you walk through this heritage house, you will be able to uncover Agnes' life here through the Japanese occupation while trying to write her most famous book, Land Below the Wind. 
Need a little pick me up? Pop over to the English Tea House and Restaurant, just down the street from Agnes Keith's House. It is the perfect place for an afternoon high tea where you can sip on some English tea while enjoying some delicious scones. 
Address: 296, Jalan Utara, 90000 Sandakan, Sabah, Malaysia
Hours: Daily, 9am – 5pm
Sandakan Heritage Museum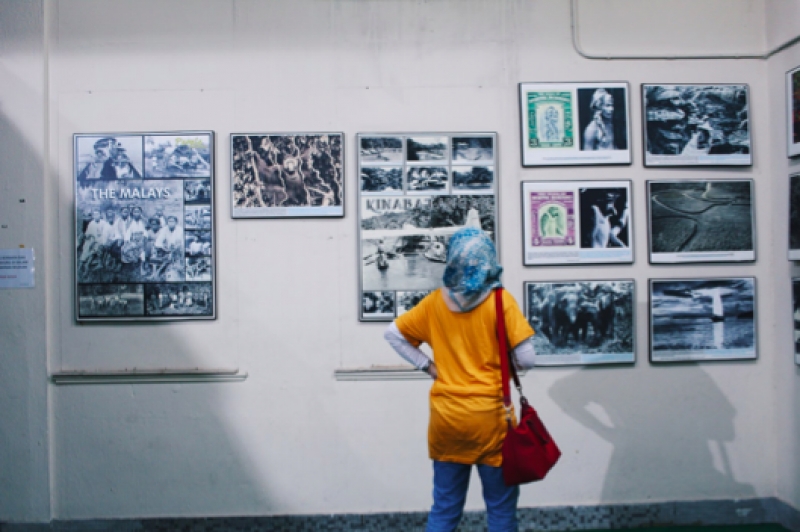 The best way to end your heritage tour of Sandakan is at Sandakan Heritage Museum. This museum house two floors of galleries depicting the historical aspects of Sandakan, including foreign personalities that have contributed to the local community. 
Take your time to browse the gallery of Osa and Martin Johnson. These American explorers are known for being the first to film the Kinabatangan River and introduced the Western world to Bornean culture. Their explorations inspired plenty of American movies that showed the lives of the local people and its wildlife. 
Address: Pusat Bandar Sandakan, 90000 Sandakan, Sabah, Malaysia
Hours: Daily, 9am – 5pm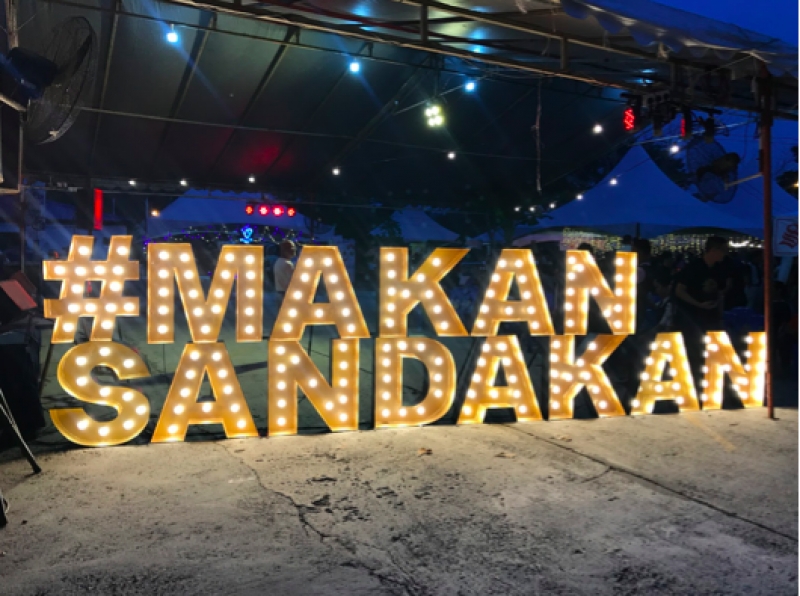 If you're planning a visit to Sandakan in September, be sure to check out The Sandakan Food & Agriculture Festival! Muslim foodies can expect a plethora of delicious food and amazing products from the hinterland. There are also plenty of Sabahan snacks you can bring home as keepsakes. 
Not only would you find your beloved local Asian dishes, but you could also expect some Western cuisine such as Chicken Avocado Waffles and even some interesting goodies like locally designed postcards!
Address: Mile 4, Bandar Kim Fung Open Air Carpark, Sandakan
Day 4: Meet Sabah's furry residents at Sepilok
Sepilok Orang Utan Rehabilitation Centre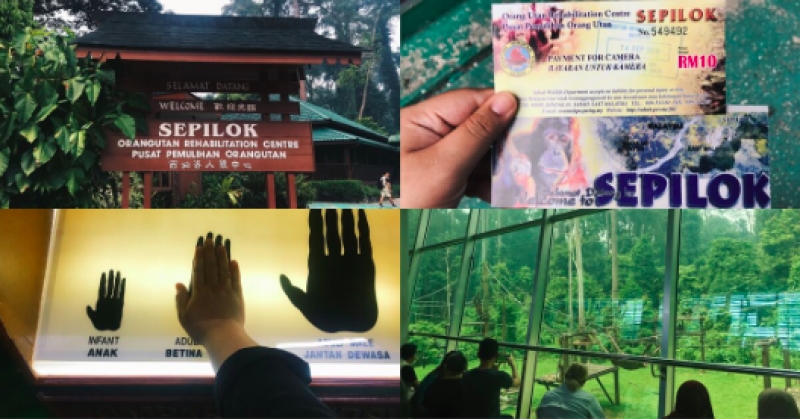 Are you ready to meet some of Sabah's favourite citizens? Sepilok is home to two popular animal conservation and rehabilitation centres, located five minutes from each other. Since both centres close by 3pm, Muslim travellers are advised to have an early start for a full experience. Begin your day at the Sepilok Orang Utan Rehabilitation Centre. This centre is home to orangutans that have been rescued and will be rehabilitated back into the wild.
#HZtip: You are required to purchase a separate ticket if you're planning to bring along your DSLR cameras. Also, make sure to only bring necessary items with you as bags are prohibited in the centre. 
There are designated feeding sessions at 10am and 3pm for you to spot the orangutans (and maybe some cheeky monkeys). You'll be able to spot them as you walk along the boardwalk that takes you through the lush forest. You are advised to minimise your volume in order to not scare the orangutans away. 
Address: Sabah Wildlife Department, W.D.T. 200, Sandakan, Jalan Sepilok, Sepilok, 90000 Sandakan, Sabah, Malaysia
Hours: Daily, 9am – 11am & 2pm – 3pm
Bornean Sun Bear Conservation Centre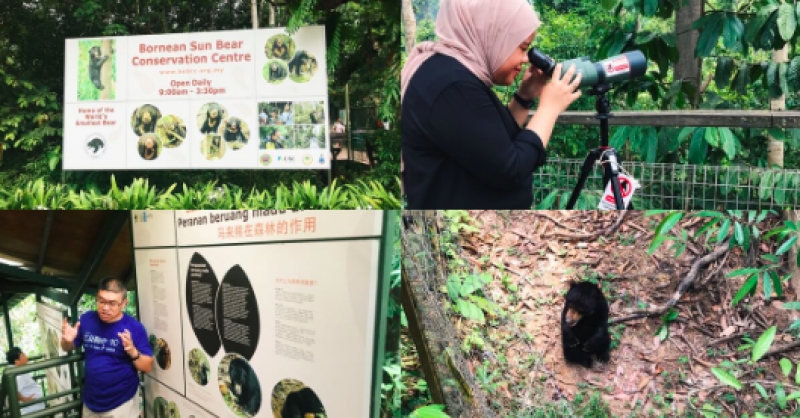 Next, walk over to the Bornean Sun Bear Conservation Centre. The centre was opened by 2017's CNN Hero, Dr Wong Siew Te, who is a wildlife biologist. It is both wildlife conservation and research centre dedicated to these furry animals. 
As you walk along the boardwalk, you'll be able to learn more about the Sun Bears while spotting them from the platform. There are also telescopes placed at random places by the staff where you'll be able to see other creatures like Sabah's famed Stingless Bee. 
Address: Jalan Sepilok, Sepilok 90000 Sandakan, Sabah, Malaysia
Hours: Daily, 9am – 3.30pm
Rainforest Discovery Centre
Just 2km away, round up your nature experience in Sandakan with a visit to the Rainforest Discovery Centre. You can easily spend a half to full day here as you explore its many trails. There are also night walks which begin at 6pm for a chance to see nocturnal wildlife.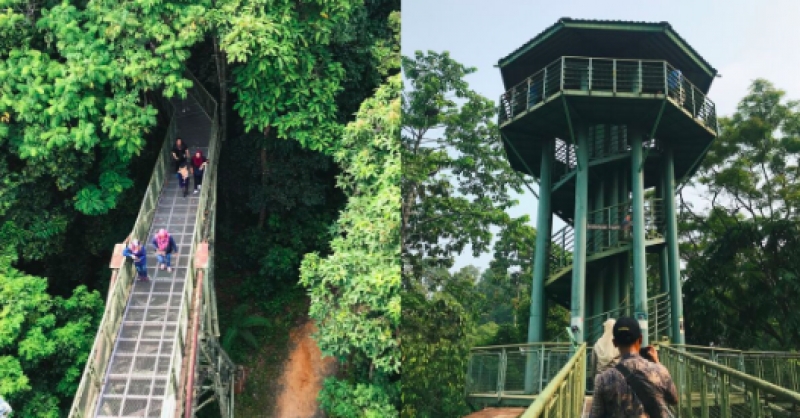 Take a walk along the canopy walkway and try to spot some of their iconic birds. The canopy walkway is 347m long and features three towers which you can climb for a bird's eye view of the surrounding rainforest. Sometimes, you might even get to spot the occasional orang utan.
#HZTip: If you're planning a visit in October, check out the 2019 Borneo Bird Festival. You will be able to witness more than 300 species of birds here!
Address: 90715 Sandakan, Sabah, Malaysia
Hours: Daily, 8am – 5pm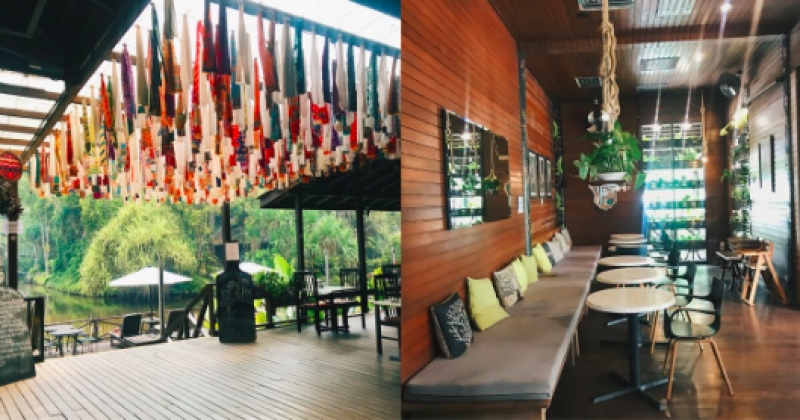 If you're looking for nearby accommodation in the Sepilok area, Muslim travellers can consider the Sepilok Nature Resort. Featuring stunning facilities and surrounded by lush greenery, you will feel like you're living in a forest paradise. Plus, it is only five minutes away from both the Sepilok Orang Utan Rehabilitation Centre and Bornean Sun Bear Conservation Centre. 
Address: Sepilok, 90000 Sandakan, Sabah, Malaysia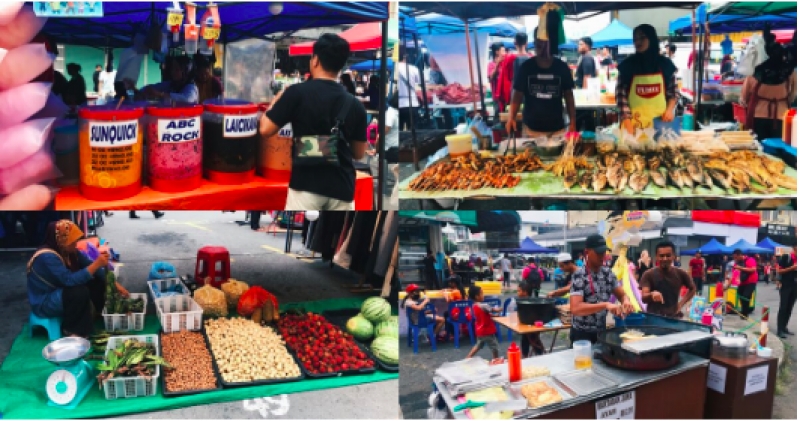 There's no better way to end off your day here than experiencing Sandakan like a local. Head over to Pasar Tamu which happens only on Saturdays. You can spot its three rows of various stalls selling food, drinks, and even clothes. Be on the lookout for the unique Bornean fruit, buah tarap! 
Day 5: Get busy in Sandakan town
Sandakan Central Market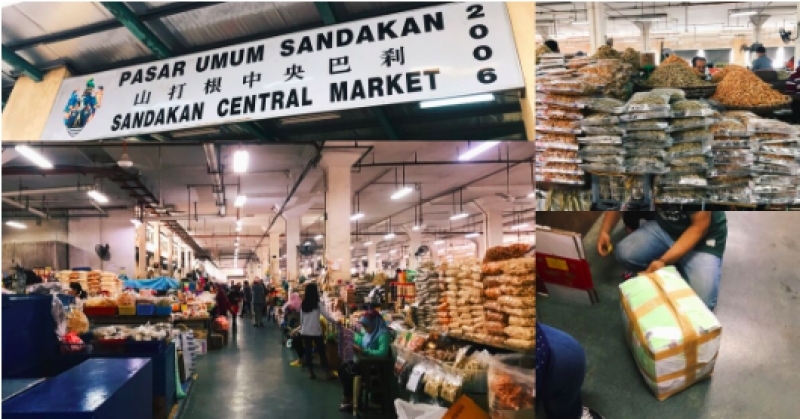 You simply can't leave Sandakan till you've visited the Sandakan Central Market. This two-floored market houses countless stalls selling local goodies. You must get yourself a packet of the Ikan Bilis Mata Biru (blue-eyed anchovies) which are popular here.

Muslim travellers should definitely stock up on their favourite crackers here such as the Keropok Amplang. The second floor of the market has both a food court and more shops selling clothes and of course, the Sabahan freshwater pearls.
#HTtip: If you're planning to shop till you drop, the shopkeepers actually offer a packing service where they would pack all your goods in a box and transport it for a small fee to your hotel. 
Address: Jalan Pryer, Pusat Bandar Sandakan, 90000 Sandakan, Sabah, Malaysia
Balin Rooftop Bistro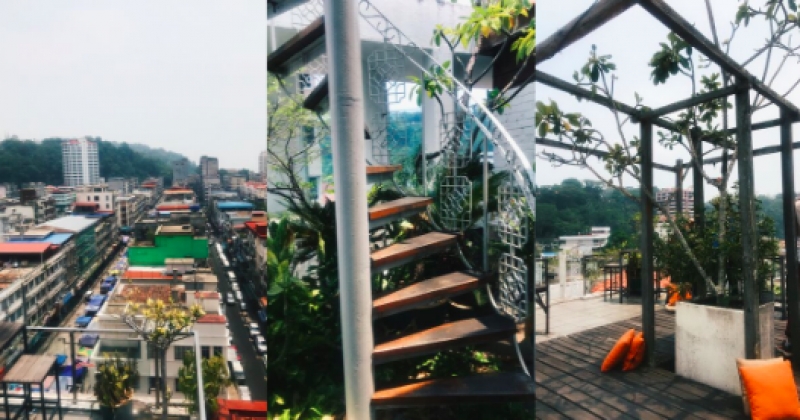 After all that retail therapy, head to Balin Rooftop Bistro for a nice cooling drink and soak up views of old Sandakan town. You can also make a visit during sunset for an ideal scenic view. This rooftop bistro is the perfect 'Gram-worthy spot in Sandakan.
Address: Nak Hote, Jalan Pelabuhan Lama, Pusat Bandar Sandakan, 90000 Sandakan, Sabah, Malaysia
San Da Gen Kopitiam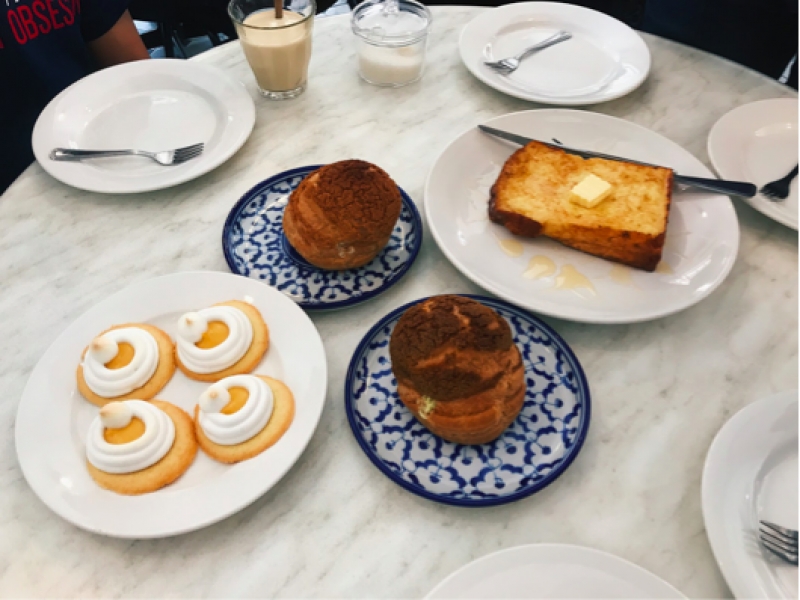 Alternatively, before you depart, chill out at San Da Gen Kopitiam for an afternoon tea session. This hipster cafe channels Chinese vintage vibes but its food is very Instagram-worthy.
Best known for its UFO tarts, get yourself a plateful of these biscuit-like tarts topped with meringue. Also, indulge in their Custard Puffs with two tantalising flavours of durian and avocado.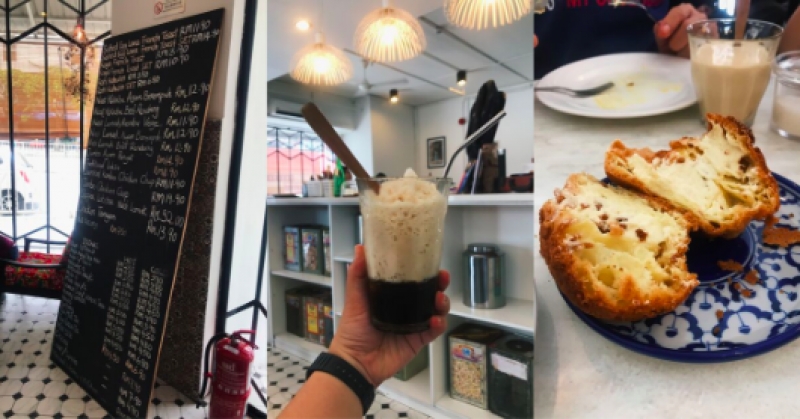 Still feeling hungry? Don't miss out on their Salted Egg French Toast! Wash it all down with their cooling Soya Bean with Grass Jelly drink.
Address: Lebuh Dua, Pusat Bandar Sandakan, 90000 Sandakan, Sabah, Malaysia
Hours: Daily, 8am – 5pm
Over five days, you will be able to explore the history, culture, local cuisine and fascinating wildlife of Lahad Datu and Sandakan. Not only will you leave Sabah with a greater appreciation for nature, but also the rich heritage found here. 
---
Special thanks to Malaysia Tourism Board, Sabah Tourism Board, Malaysia Airlines, MASwings, Sandakan Tourist Association, Myne Resort Kinabatangan and Tabin Wildlife Resort for making this trip so memorable.