Beyond the beautiful skylines, world-renowned tourist attractions, and delectable food — some might think: What else is there to do in Singapore? 
Well, Singapore has a thriving art scene, punctuated by world-class art events that make it one of the best art hubs in the region! Whether it's ambient art exhibits filled with sculptures by internationally-renowned artists, or film screenings and local performances by burgeoning local artists — one thing's for sure: Singapore has an abundance of art to showcase. 
As such, we've compiled a list of Singapore's hottest art events that art lovers need to check out throughout the year. Read on for the most comprehensive guide to Singapore's world-class art events and find out more about each one of them. 
Want to experience the vibrant art scene in Singapore? Then don't miss Singapore Art Week and its vibrant light shows, engaging exhibitions, and memorable artistic performances!
Make the most of your vacation and drop by Singapore's many art events and festivals that are certain to impress!
Singapore Art Week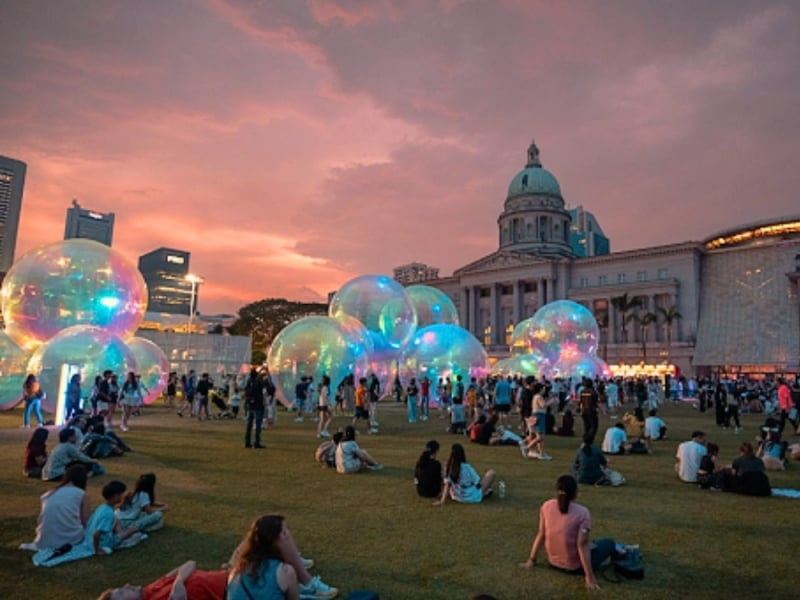 When: 19 – 28 Jan 2024
Where: Marina Bay, Civic District, Gillman Barracks, Little India, Katong-Joo Chiat, Bras Basah.Bugis and various neighbourhoods across Singapore
Arguably the biggest visual art affair in Singapore, Singapore Art Week is an annual celebration of Singapore's vibrant art scene! Helmed by the National Arts Council (NAC), Singapore Art Week pulls out all the stops to showcase the artistic side of Singapore through various art exhibits, interactive activities, and memorable experiences. 
Admire the unforgettable night views at Light to Night Singapore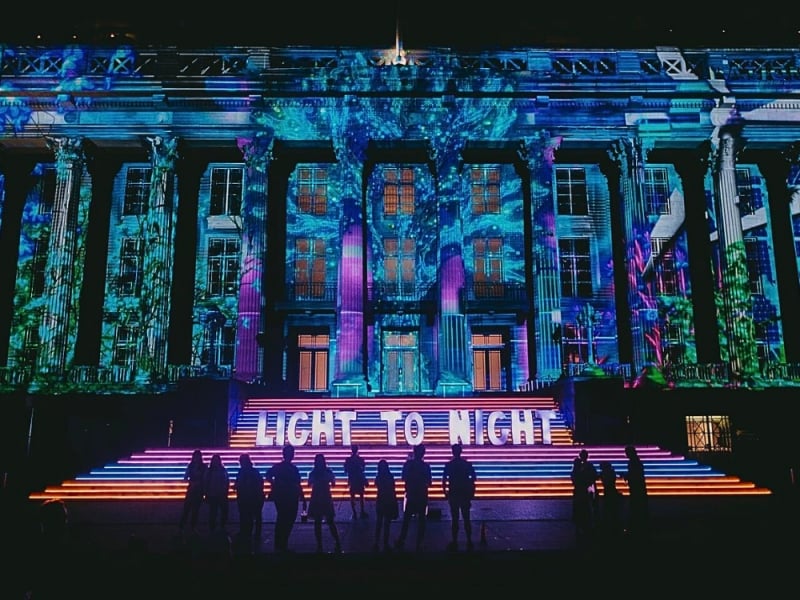 When: 19 Jan – 8 Feb 2024
Where: Civic District 
One of the most popular events at Singapore Art Week is undoubtedly Light to Night Singapore, organised by National Gallery Singapore. After all, who doesn't like eye-catching light displays against the dark night sky? Their iconic Art Skins (aka light projections) on our famous monuments like the National Gallery and Asian Civilisation Museum truly captivate all who pass by. Plus, the larger-than-life public art exhibits both wow visitors and invite them to interact with the art pieces.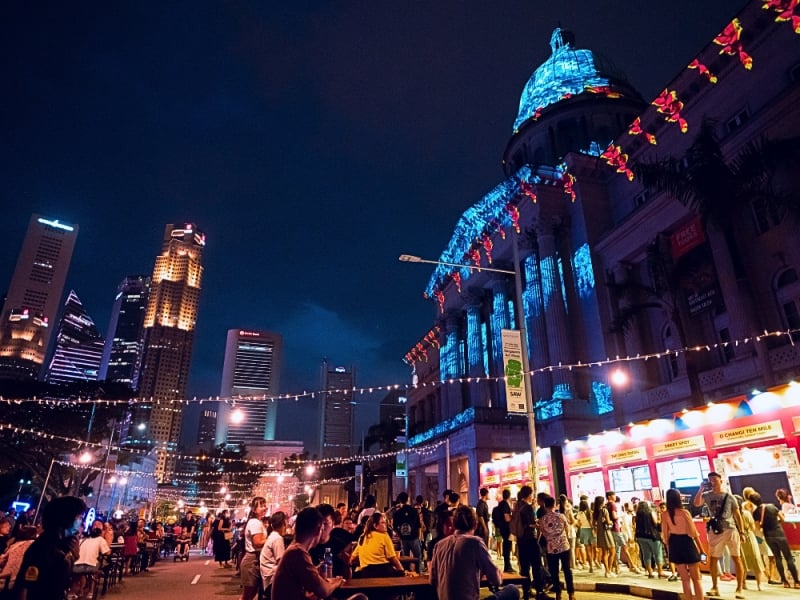 Beyond these exhibits, there are live performances, food options, and amazing photo spots during this night extravaganza! So, why not take a stroll around the Civic District, and see what captures your eye?
Visit Southeast Asia's most significant global art fair – ART SG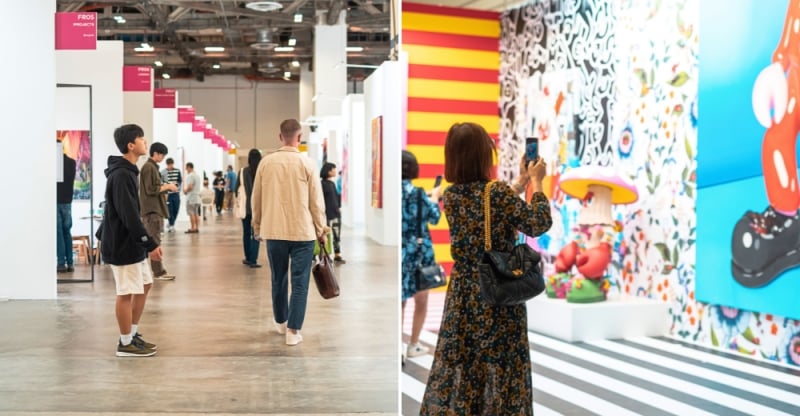 When: 19 – 21 Jan 2024
Where: Marina Bay Sands Expo and Convention Centre
Whether you're an art aficionado or looking for something fun to do over the weekend, ART SG is the art fair to drop by! This is Southeast Asia's most significant global art fair, making it a keystone event of Singapore Art Week. I mean, who could forget this year's stunning lineup of contemporary pieces by famed artists all across the region and the world? 
Apart from the eye-catching artwork, ART SG continues to foster collaboration and cultural discourse across Southeast Asia and the broader Asia Pacific region with its boundary-pushing galleries, installations, films, performances, and panel discussions. With the fantastic turnout of this year's events at Singapore Art Week, next year's exhibits will surely be even more enticing! 
Stroll around Singapore's art-embedded streets at ARTWALK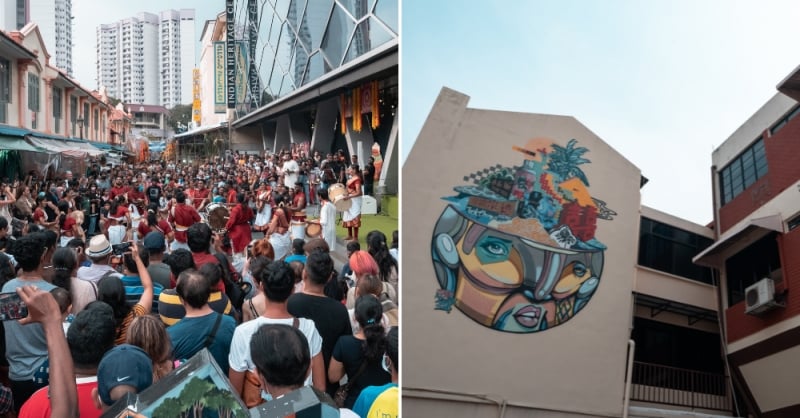 When: 19 – 28 Jan 2024
Where: Little India and Katong-Joo Chiat
Travellers might think of towering skyscrapers when they think of Singapore. But this vibrant island is definitely not a concrete jungle. Neighbourhoods and streets are embellished with public art features, towering street murals, and striking street performances, which draw crowds to these precincts during Singapore Art Week. In particular, don't miss the ARTWALK event, which transforms the city's cultural areas such as Little India and Katong-Joo Chiat into vibrant artistic havens with fun art workshops, engaging performances, and lively music!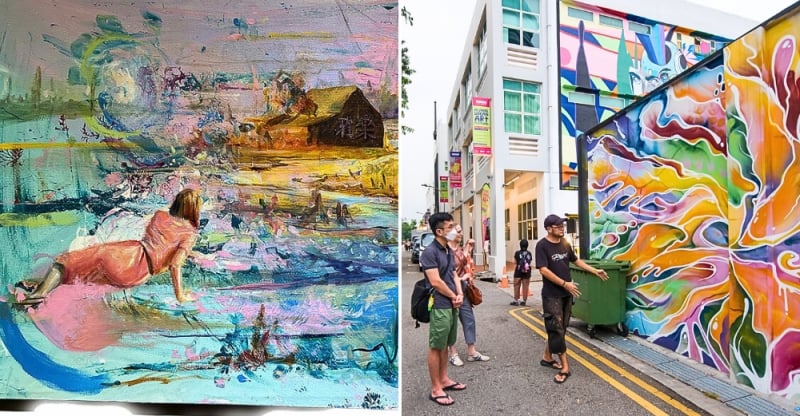 And to fans of our local artists, tucked away in our shophouses, malls, and even HDB void decks are hidden gems of local art. Festival-goers also got to experience Singapore's buzzing street culture during the Aliwal Urban Art Festival, where you can learn about our youthful urban art scene in the form of visual art, performances, talks, and workshops!
And if you've missed this festival of creativity, don't fret! There are permanent exhibitions at these galleries that are available all year round. Plus, there's also next year's edition to look forward to!
The world's first exhibition to take a comparative approach across two regions at Tropical: Stories from Southeast Asia and Latin America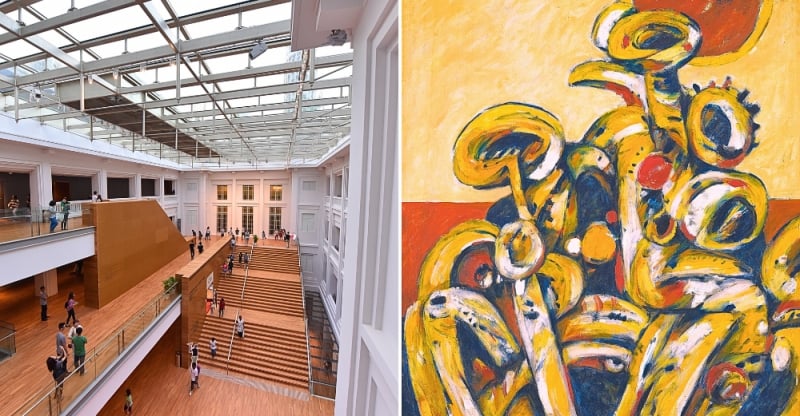 When: 18 Nov 2023 – 24 Mar 2024
Where: National Gallery Singapore
Amongst the numerous exhibitions housed at National Gallery Singapore, Tropical: Stories from Southeast Asia and Latin America is a thought-provoking showcase that deserves a shout-out! It is the world's first large-scale exhibition to take a comparative approach between artistic expressions from Southeast Asia and Latin America, united by their struggles against colonialism.
Featuring more than 200 paintings, sculptures, drawings, performances and sensorial installations, this exhibition showcases the works of distinguished artists. Many of these artworks are presented for the first time in Singapore and showcased through radical exhibition designs that the gallery has developed in close collaboration with an acclaimed architecture firm. So, mark their opening dates down and get your tickets to this exciting exhibition!
i Light Singapore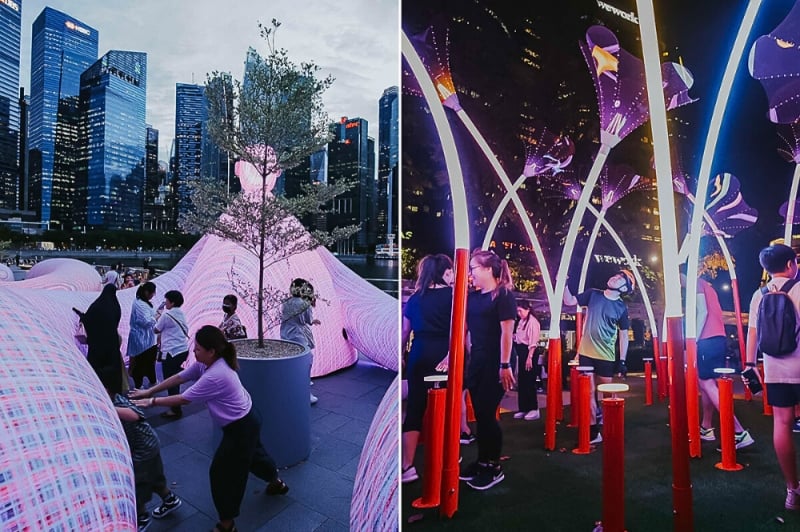 When: Jun 2024
Where: Marina Bay
One of the other events for art lovers in Singapore would be i Light Singapore; lighting up Singapore's night sky annually in the middle of the year! Other than its brilliant light installations that make for superb Instagram-worthy backdrops, it is also Asia's leading sustainable light festival. The festival features works by Singaporean and international artists, which are sustainably-designed and encourage festival goers to adopt eco-friendly habits, making this both a beautiful and educational art festival that deserves a visit!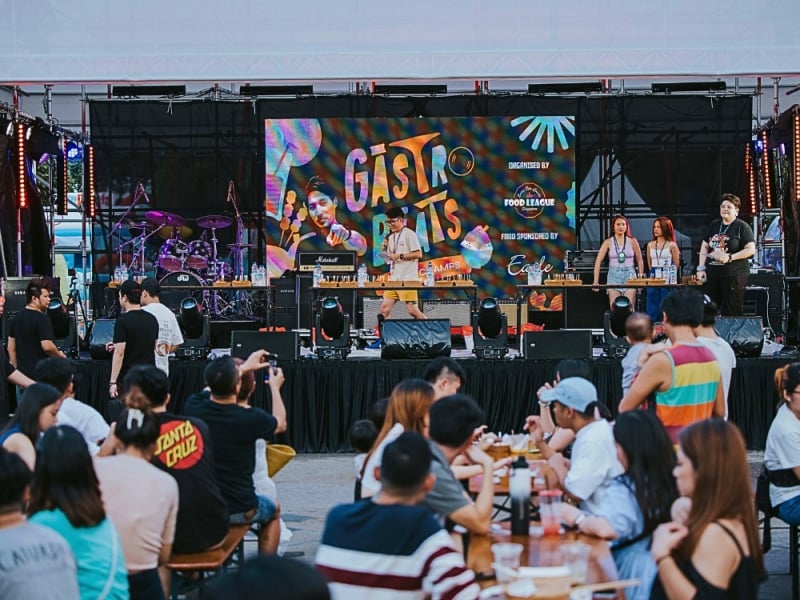 Their lively festival village, GastroBeats, also boasts some of the trendiest dishes by local F&B owners. So, ride the wave of the beats of the live music and enjoy the scrumptious food before continuing on with your journey along the picturesque Marina Bay area.
Singapore International Festival of Arts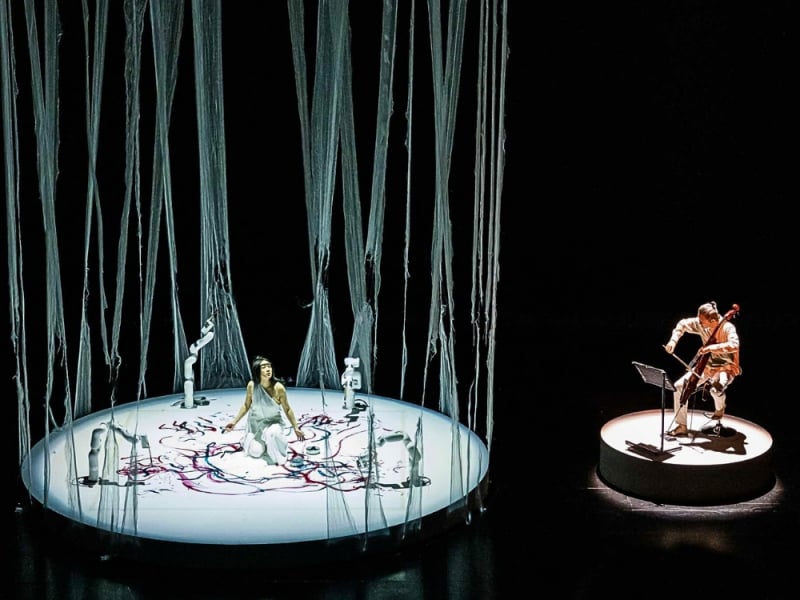 When: 17 May – 2 Jun 2024
Where: Esplanade, Victoria Theatre & Concert Hall, Goodman Arts Centre, The Arts House, and various locations in Singapore
The Singapore International Festival of Arts stands out amongst the world-class events for art lovers in Singapore for their focus on performative art. Art lovers will be delighted at this artistic spectacle, where over 200 artists from 11 countries showcase the cultural aspects and artistic styles from all over the world! Whether it's dance, theatre, or interactive performances with installations, there's definitely a performance here that will wow you! 
Singapore Night Festival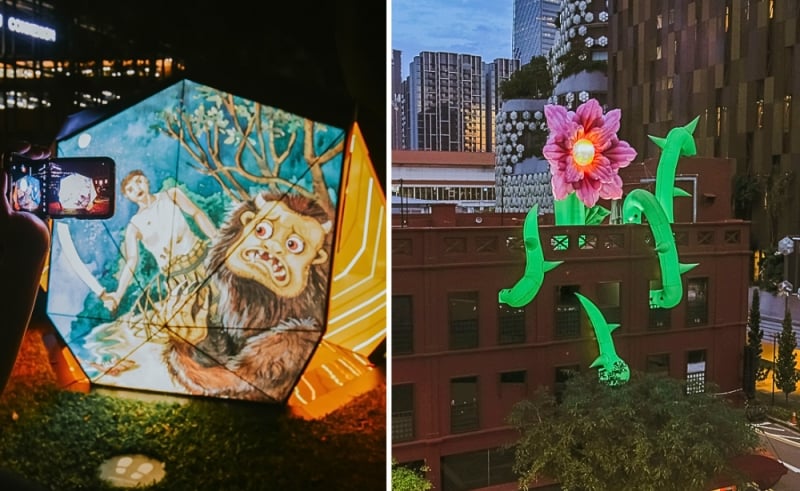 When: Aug 2024
Where: Bras Basah.Bugis 
Singapore Night Festival sets itself apart from others by merging art with history. You have your regular night festival affair; glowing installations to narrated light projections, but each display is inspired by a piece of Singapore's evergrowing heritage and culture.
So, get ready to learn (or re-learn) Singapore's history and heritage in a totally new way as you stroll down the Brash Basah.Bugis area! 
Also read: Why Singapore Should Be Top of the List for Your Next Family Vacation

And there you have it! Singapore Art Week is an annual event that is widely anticipated every year. As the world evolves, art follows suit to reflect the changes in society and culture. So, visiting this extravagant celebration of art is the perfect way to usher in the new year! Not to mention, there are several other world-class art events sprinkled throughout the year to quench your thirst for some artistic rejuvenation. 
So, why not pay a visit to Singapore Art Week and the Other Events For Art Lovers in Singapore? For more events you can experience all year round, Visit Singapore.
---
Brought to you by Singapore Tourism Board.