Bored of going to the same places every time you cross the border to Johor? With many establishments opening up every now and then, there are so many new places to explore and experience. Here is a list of 10 cafes you can go to have a meal someplace new!
1. Mrs. Who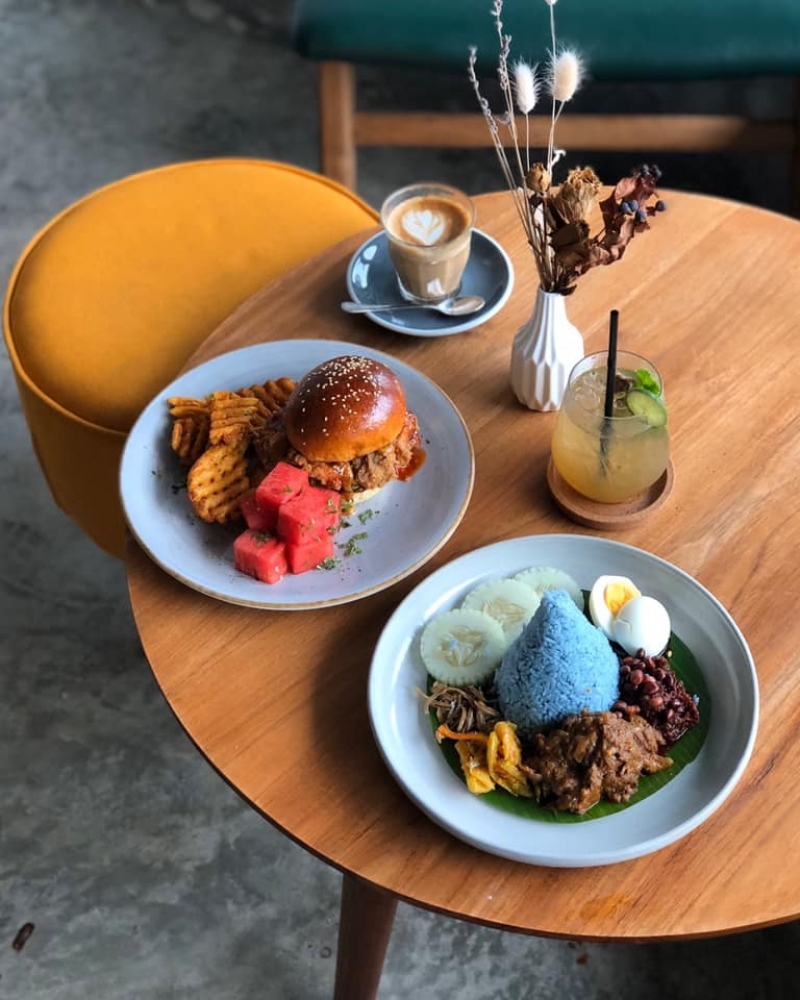 Mrs. Who is a Muslim-owned cafe with a large and comfortable space, perfect for those looking for spot to hang out, relax and enjoy good food. Specialising in brunch menus, you could have a field day just choosing what to have. The brunch menu includes pancakes, Krabby Bao and a variety of specialty toasts. There is also a seperate menu for mains as well which includes a variety of burgers, pastas and local delights like Nasi Lemak and 'Hawker-fry' Noodles. For those who want to try something different, try their Assam Pedas Soft-Shell Crab or Laksta which includes ingredients like pasta, clams, prawns and of course, spicy laksa gravy. For those looking for something lighter and sweeter, there are also desserts to choose from including ice cream and waffles, cakes and crepes!
Address: Jalan Storey, Bukit Senyum, 80300 Johor Bahru, Johor, Malaysia
Business hours: 
Tue – Thu, 12PM – 9PM
Fri, 2PM – 10PM
Sat, 10AM – 10PM
Sun, 10AM – 9PM
Mon, Closed
Website: http://www.ohmywho.com/
2. CATS Cafe JB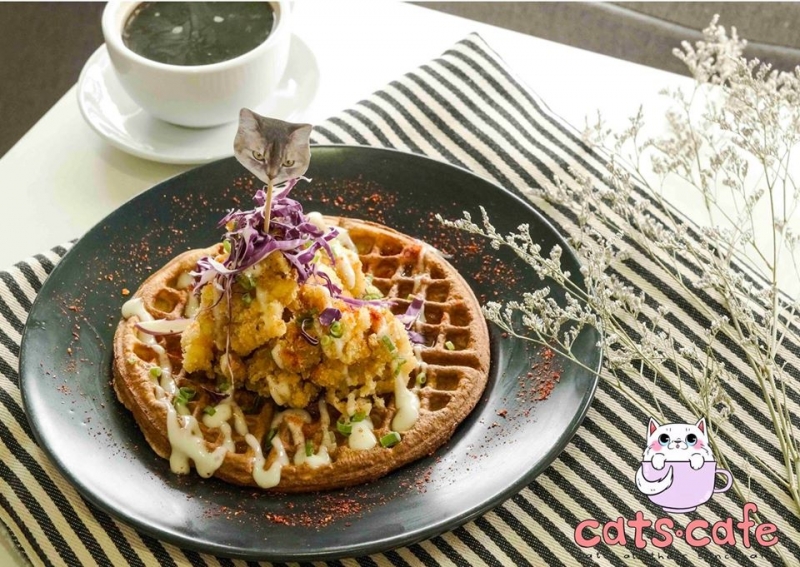 Love cats and love food? Then CATS Cafe JB is the perfect spot for you! The 1st CATS Cafe in Johor, this cafe is filled with cuddly kitties that accompanies you as you feast on the food and drinks sold here. Opened since 2015, this cafe is well loved for the lovely company you get as you lounge and relax here. While this is a cat cafe, you can expect this cafe to be clean and the cats well taken care of and groomed! Some of the dishes available here includes Teriyaki Chicken Rice, Aglio Olio, Curry Chicken and more.
Address: 31A Jalan Abdul Samad, Johor Bahru, 80100 Malaysia
Business hours: 1PM – 9PM, daily; Closed on Wednesday
3. Drop Off Industry Cafe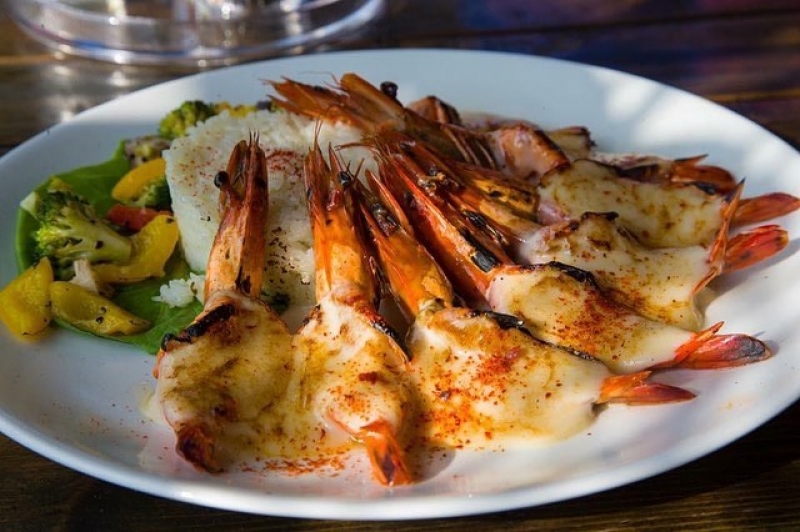 Having a late night craving and not sure where to go? Drop Off Industry Cafe is perfect for you night owls! This cabin-themed cafe also features a variety of dishes from Sirloin Steak to Lemak Cili Api Pasta. With a spacious area for all the patrons and a live band, this establishment is perfect for your supper needs. If you need to stay awake to lepak more, this cafe also boasts a variety of coffee!
Address: Lot 2928, Jalan Kempas Baru, 81200, Johor Bahru
Business hours: 6PM – 1AM, daily; Closed on Tuesday
4. Coca-Cola Cafe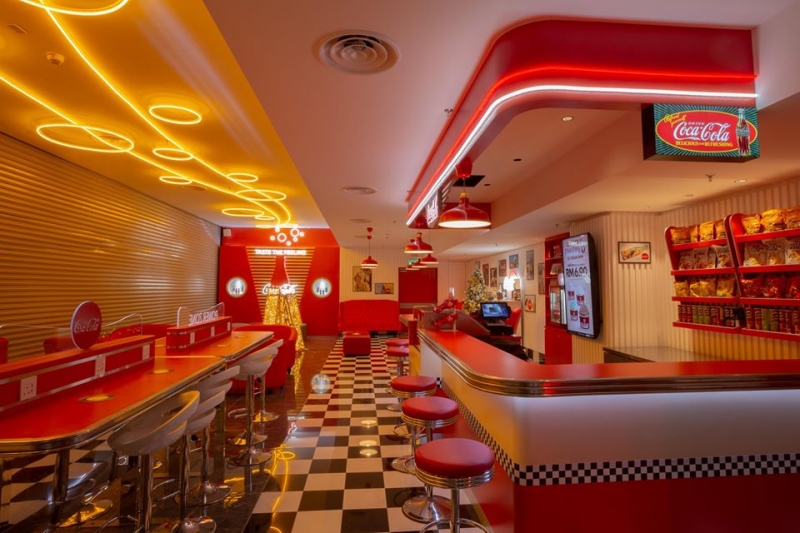 Want to visit a cafe that is out of the ordinary and would definitely bring a nostalgic vibe to your instagram feed? Head on down to the world's first ever in-theatre Coca-Cola Cafe located in Tebrau's Toppen Shopping Centre! This 50s-themed diner pays homage to the iconic and well-loved drink and it is the one place where you can find coca-cola merchandise in every corner of the cafe. Fully decked out in the classic bright red color of the drink, this cafe boasts a menu of popcorn, sweet treats and of course, coke! You can also find a jukebox, high-speed wi-fi and even a charging area for phones to be charged.
Address: TGV Cinemas, Toppen Shopping Centre, No.33 Jln Harmonium, Taman Desa Tebrau, 81100 Johor Bahru
Business hours: 10AM – 10PM, daily
Also read: Travelling to Johor Bahru? Here Are 5 Things Muslim Travellers Need to Know
5. Chaiwalla and Co. Container Cafe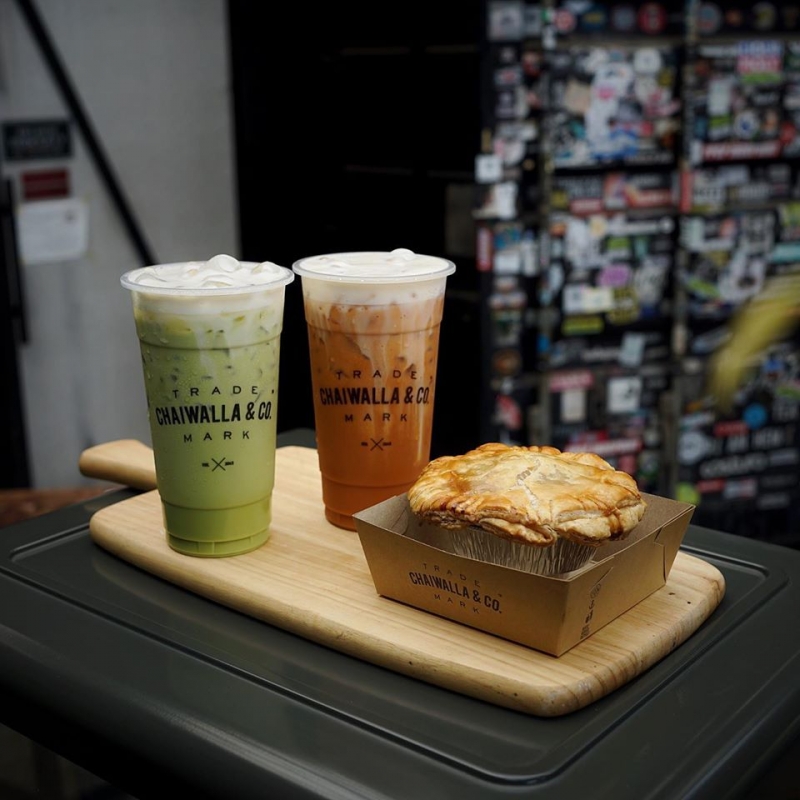 Hang loose and lean back with a cup of good chai in hand at Chaiwalla and Co. Container Cafe. Located in the Little India of Johor Bahru, this cafe operates out of an actual container providing a different dining experience for all its patrons. Not only that, the chai sold are also reasonably priced, with choice of flavors and served hot or cold! If you want something different, there are also beverages like latte, smoothies, tea and thai milk tea. You can also pair your beverage of choice with some food to go from a variety of pies including Black Pepper Beef or desserts like brownies and blondies!
Address: Lot 2810, Tan Hiok Nee St., Johor Bahru 80000, Malaysia
Business hours: 
Mon – Thu, 12PM – 12AM
Fri – Sat, 12PM – 1AM
Sun, 12PM – 12AM
6. Shakespeare Milkshakes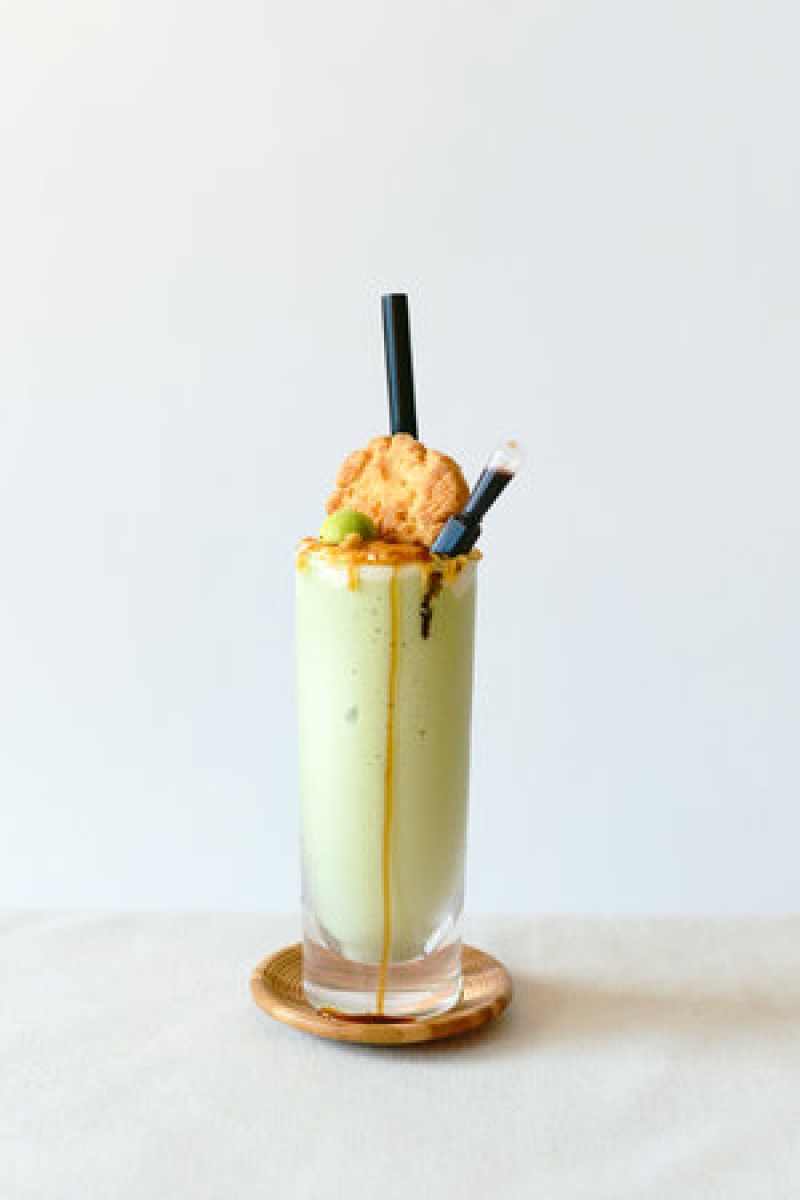 Established in September 2016, Shakespeare Milkshakes serves refreshing milkshakes, soft serve ice cream and scrumptious snacks for you to have on the go! Perfect for small gatherings and a little stopover for a little treat, this cafe only uses halal ingredients making it a Muslim-friendly caef. Known best for its specialty milkshakes and hot chocolates, don't forget to also have a taste of their popular waffles coupled with their house-made ice-cream!
Address: 9 Jalan Trus, Johor Bahru 80000
Business hours: 
Mon – Fri, 12PM – 11PM
Sat & Sun, 12PM – 12AM
7. Cupchai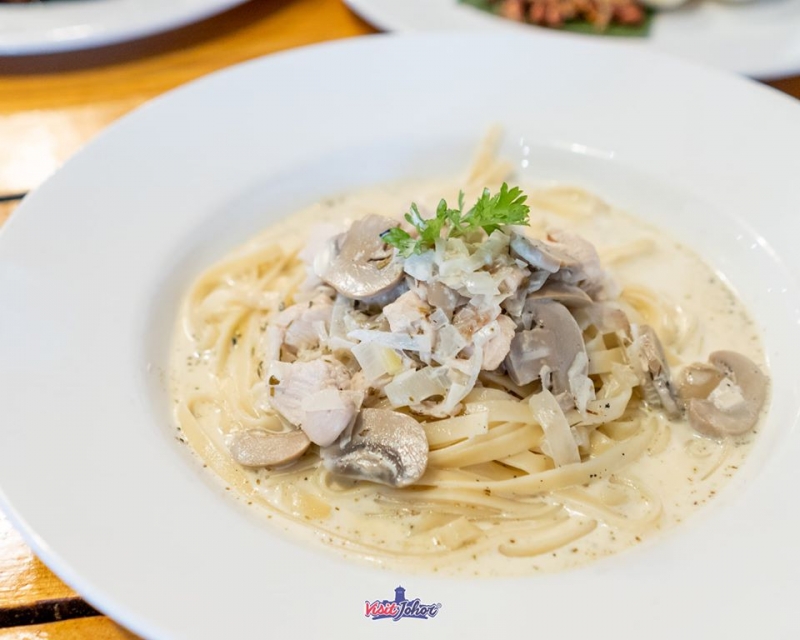 Nestled in the heart of Johor Bahru, Cupchai is a container cafe and restaurant boasting a menu from Malay to Western cuisine. Some of their more popular dishes here include Kacang Pool, Nasi Kukus Ayam Berempah, Nasi Masjid and more! For those who wants to have a little break or have a full meal, this is the go-to place with its laid back environment, it is perfect for all.
Address: 83 Jalan Tampoi, 81200 Johor Bahru
Business hours: 3PM – 12AM, daily
8. Faculty of Caffeine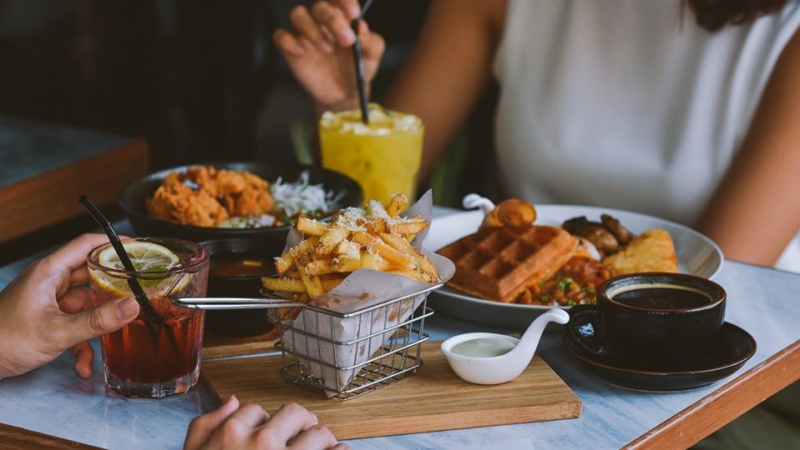 Dedicated to serving homely and comforting food, Faculty of Caffeine boasts a menu of modern fusion dining with a playful twist. Initially focused on a lunch menu, this cafe now hopes to create a richer culinary experience for the community. Their menu is varied from a wide option of mains including Chicken Leg Confit with Gravy & Fries, Japanese Tendon, Maze Ramen and more. They also still serve brunch menu and small plates that includes Avocado & Baked Beans, Sambal Fried Chicken, Truffle Fries and more. For those looking for something sweeter, the dessert menu will also keep you happy!
Address: 106, Jalan Trus, Johor Bahru
Business hours: 9AM – 6PM, daily
9. Molten Chocolate Cafe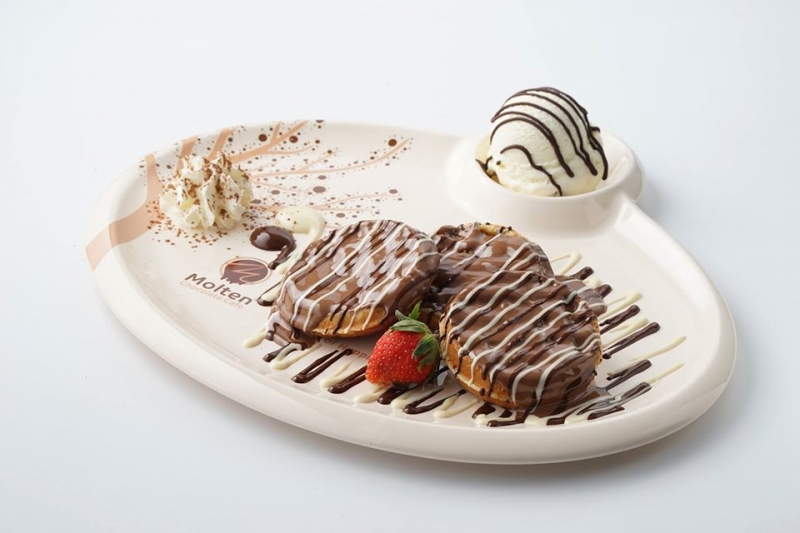 Love sweet treats? Then Molten Chocolate Cafe is the cafe for you. The best place for all chocolate lovers, this cafe boasts a rich loving chocolate experience to satisfy any sweet tooth. Some of their menu include crepes, waffles, churros and pancakes on hot skillet. 
Address: Lot No. G40, AEON Mall Tebrau City, Johor Bahru
Business hours: 10AM – 10PM, daily
10. bloom by Mokmok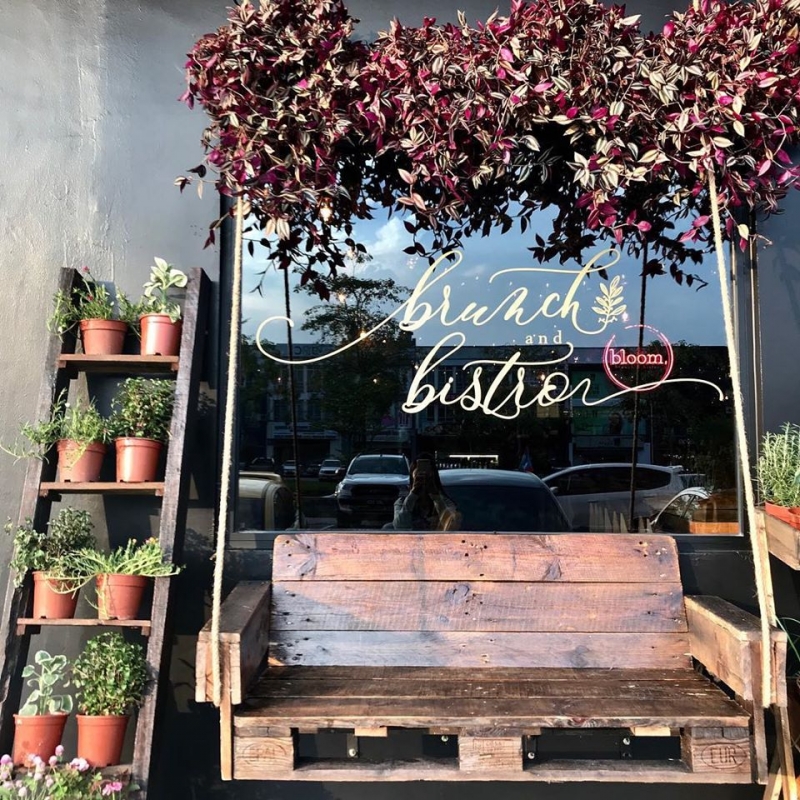 With a varied menu of fusion food that includes rice bowls, ramen, burgers and a plethora of desserts, bloom by Mokmok is also one of the most Instagrammable cafes! The tasteful decor will surely take your breath away, perfect for a meal out with your friends to chill and relax. Some of the dishes sold here includes Kaarage Chicken Bowl, Salmon Ramen and more. While it is not halal-certified, all the ingredients sourced are from halal-certified suppliers.
Address: 87, Jalan Mutiara Emas 2a, Taman Mount Austin, 81100 Johor Bahru
Business hours: 12PM – 11.30PM, daily
Also read: 5 Halal Supper Spots in Johor Bahru For Your Late Night Feasts