Through the years, Penang has made quite a name for itself as one of the world's top food capitals. After all, it's home to a fascinating culinary scene, thanks to its multiethnic and multicultural population. From the traditional mix of Malay, Indian, and Chinese dishes, to Burmese and Thai influences; the choices are as diverse as it gets. 
For the uninitiated, the plethora of dining options in this Malaysian state might feel daunting at first. While most tourist attractions here are Muslim-friendly, it might get tricky to figure out where to get halal food. Apart from that, most of you are probably on the lookout for dining spots with Insta-worthy interiors as well. Hence, we've put together a list of the best halal cafes in Penang you have to try!  
Ready to go cafe-hopping in Malaysia's Pearl of the Orient? Guess what — you can now fly to Penang for free!
That's right! From now till 5 Jun 2022, AirAsia is offering free seats* on their flights to Penang! Book your flight and travel from today till 31 Oct 2022 for a revenge tour that's well worth the wait.
In addition, here's something else to sweeten the deal: Book your hotel in Penang via AirAsia and use the code [PENANG10] to enjoy a 10% discount on all hotels on the platform!
* Terms and conditions apply.
1. Jawi House Cafe Gallery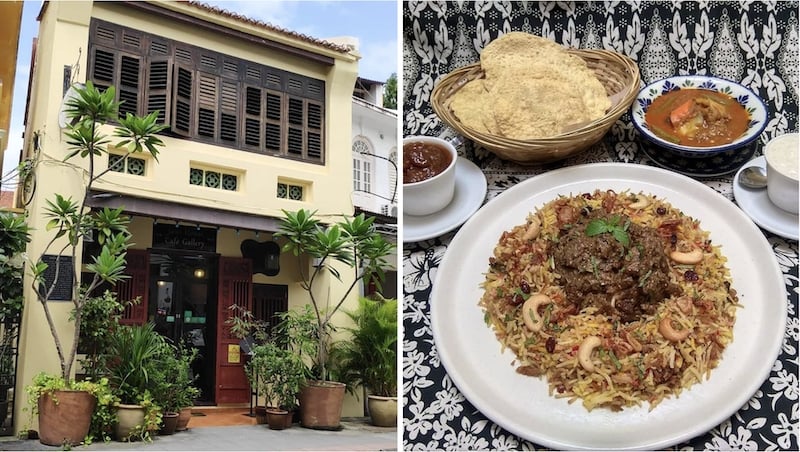 Jawi House Cafe Gallery is inside the ancestral home of a Punjabi-Jawi Peranakan family that now serves as a cafe-slash-exhibit. Its menu blends Malay, Middle Eastern, and South Asian heirloom recipes with a twist, making it a great pick for a cross-cultural gastronomic experience. 
A stone's throw away from iconic George Town attractions, this Muslim-owned cafe is every bit welcoming with its cheery yellow walls and antique furniture. While you're at it, might as well immerse further by browsing through their collection and souvenir items. 
Must-try items: Lamb Masala Biryani; Nasi Lemuni; Laksa Lemak; Fish Curry; and Malay Caramel Pudding Cake
Address: 85, Lebuh Armenian, 10200 George Town
2. Rumah Kacha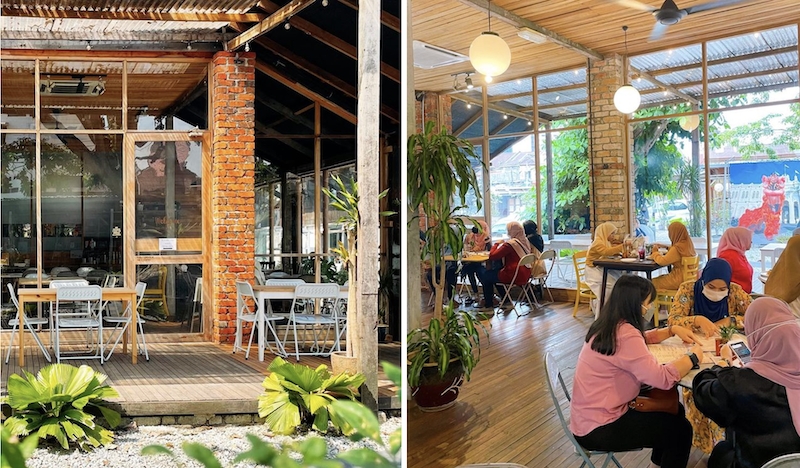 Also among the prettiest halal cafes in Penang is Rumah Kacha, a laid-back space surrounded by lush greenery. Its interiors feature wood and exposed brick for that rustic vibe, and floor-to-ceiling windows for lots of natural light. Overall, it reminds one of slow weekend mornings, when you seem to have all the time in the world. (Although, if you're here on vacation — then you probably do!) It's located at Hin Bus Depot, a creative hub that caters to hip young locals and tourists alike. 
Must-try items: Masak Lemak Cili Api with Prawns Pasta; Grilled Chicken; Sticky Thai Glazed Chicken Wings; Mango Fizz; and Cold Brew
Address: 31a, Jalan Gurdwara, 10300 George Town
3. Kota Dine & Coffee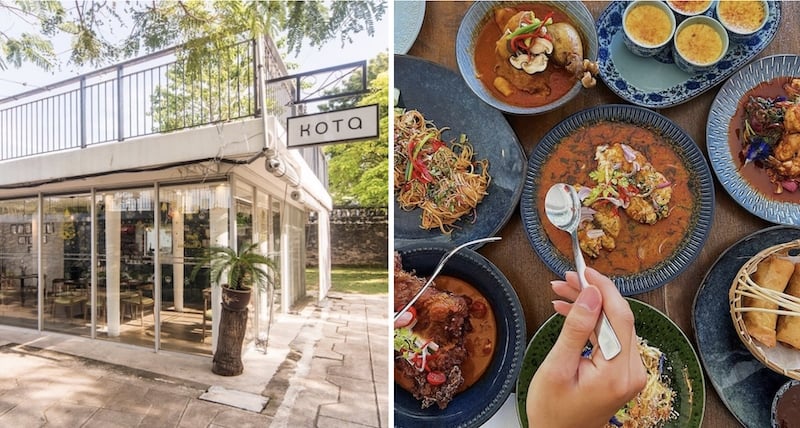 Ever heard of a chic glasshouse cafe standing on a historic site? Such is the allure of Kota Dine & Coffee at Fort Cornwallis: The oldest and largest fort in Malaysia that dates back to the late 1700s. Now you know where to go for a bite in between learning more about Penang's colonial past! Of course, don't forget to take lots of photos; the minimalist aesthetic of this halal-certified spot certainly makes for a splendid backdrop. 
Must-try items: Nyonya Lemak Salad; Penang Laksa Capellini; Deep Fried Whole Chicken Leg With Tomato Curry; and Ondeh-ondeh Cake
Address: Fort Cornwallis, Jalan Tun Syed Sheh Barakbah, 10200 George Town
4. Lagenda Cafe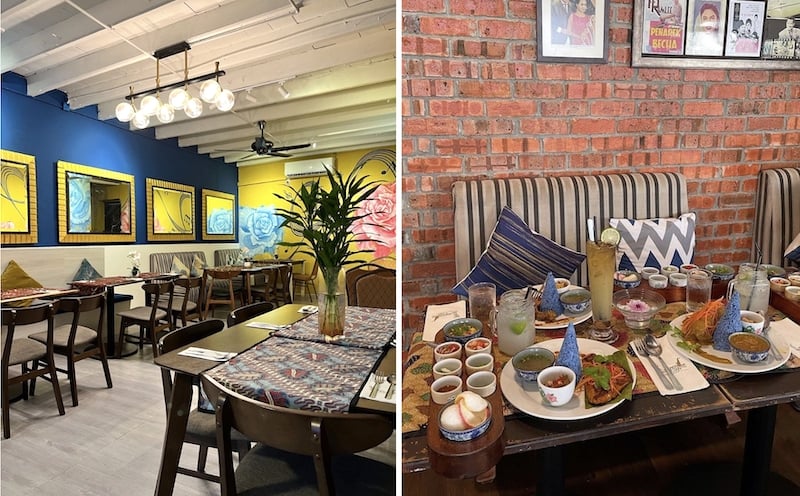 Wondering where to enjoy a halal dinner in Penang? Lagenda Cafe is a crowd favourite among locals, as proven by the frequently long queues that'll compel you to book a table, stat. Upon stepping inside, you'll find murals and other artistic pieces (including the furniture!) — some of which are homage to P. Ramlee, a legendary Malaysian actor, filmmaker, and musician. That said, the vibrant atmosphere is clearly a welcome sight, especially as you wait to tuck into Malay-Indonesian dishes. 
Must-try items: Prawn Lemak Pineapple; Gado-gado; Banana Bakar; Ais Kacang Astaka; and Teh Tarik
Address: 2, Lebuh Carnarvon, 10100 George Town
5. The Warung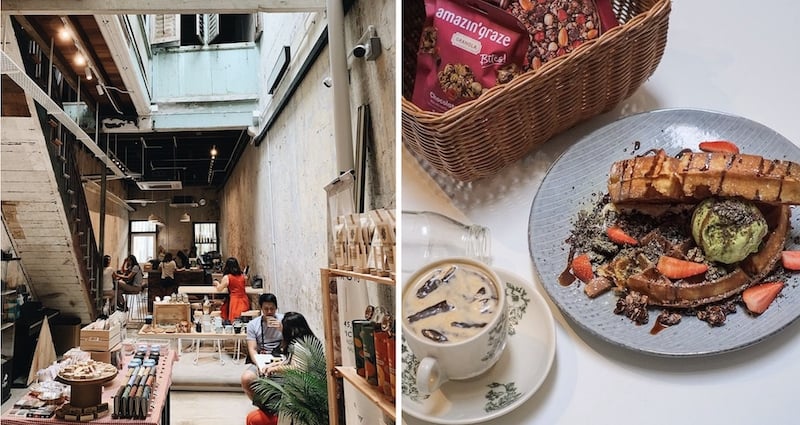 With its tropical-meets-industrial interiors, many would say that The Warung is the trendiest halal coffee shop in Penang. Of course, you'll have to see for yourself! Expect earthy colours, tropical accents, and exposed brick walls that complement the equally Instagrammable food and drinks. It even doubles as a lifestyle store showcasing homegrown artisanal brands — further solidifying its rep in the hip millennial and Gen-Z scene. 
Must-try items: Signature Sweet Waffle; Nasi Lemak Waffle; Lemon Pound Cake; Latte; and Matcha Goddess
Address: 145, Lebuh Victoria, 10300 George Town
6. Brown Pocket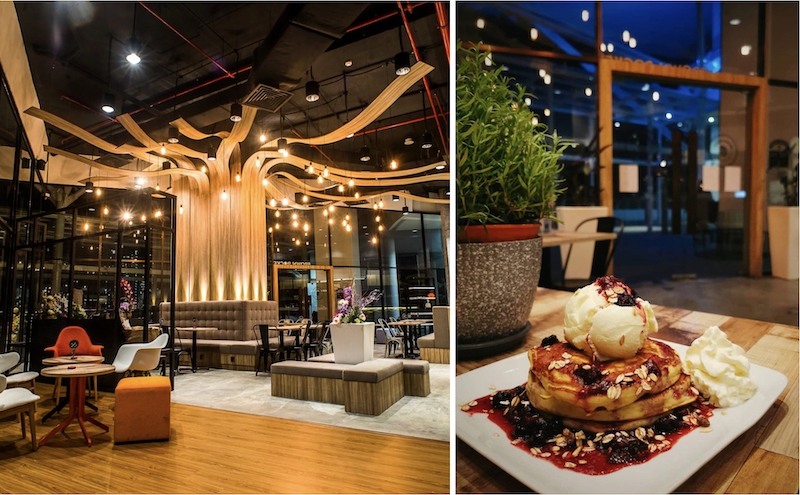 For halal cafes in Penang with sleek contemporary design and mouth-watering treats, look no further than Brown Pocket. Their selection of drinks and dishes will surely satisfy your post-shopping cravings; whether it's something sweet, savoury, or a mix of both! 
What's more, it's housed at Gurney Paragon Mall, complete with overlooking views of the cityscape. Say what you will about touristy shots, but surely, those are something you'd want to snap photos of (or with). 
Must-try items: Asian Curry Laksa Prawn; Berry Rock Pancake; Triple Chocolate Waffle; Angry Dragon Bowl; and Affogato
Address: Gurney Paragon L- 10250 6, 11, Jalan Kelawai, 10250 George Town
7. Ferringhi Coffee Garden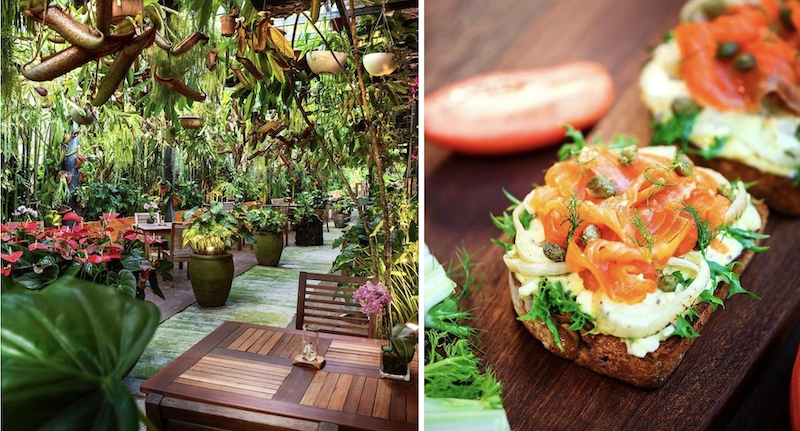 Tucked away in the northern town of Batu Ferringhi is Ferringhi Coffee Garden. This cafe offers a respite from the bustling parts of Penang, with its verdant al fresco area and curated works by Malaysian artists. It's practically like being privy to a well-kept secret!  Apart from hearty Western dishes, they also serve all-day breakfast and house-baked pastries. Top it off with their espresso drinks for full-on countryside relaxation. 
Must-try items: Smoked Salmon & Sourdough Rye; Pulled Lamb & Olive Baguette; Baked Lobster Thermidor; Multicoloured Sourdough; and Cinnamon Cappucino
Address: 43D, Jalan Batu Ferringhi, Kampung Batu Feringgi, 11100 Batu Ferringhi
8. Brown Sugar Eatery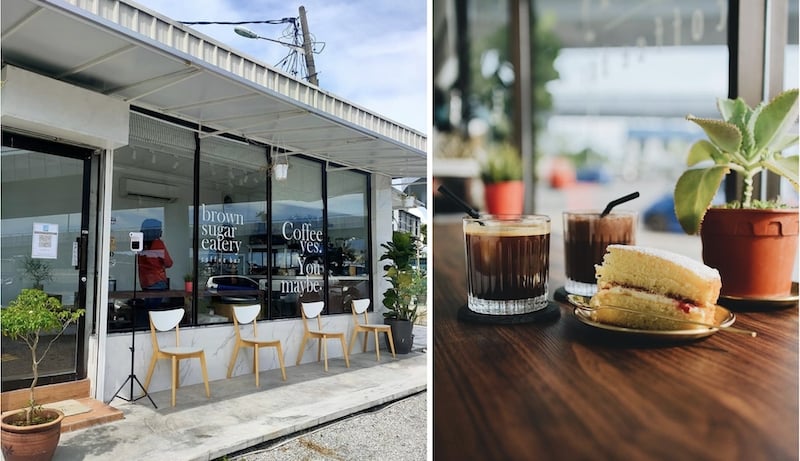 Meanwhile, down south in Bayan Lepas stands Brown Sugar Eatery. This quaint container cafe is a study in dominantly-white minimalism done right. When visiting, you'll probably feel like you've been transported to a K-drama set in a small town. Further upping its charm is the fact that it's a go-to among local cyclists. Oh, and did we mention that it's run by an all-Muslim team? Needless to say, it's one of those underrated halal cafes in Penang worth venturing out for! 
Must-try items: Classic Victoria Sandwich; Burncheese Cake; Americano; Mocha Fredo; and Pandan Latte
Address: 188, Jalan Sultan Azlan Shah, 11900 Bayan Lepas
9. Areca Cafe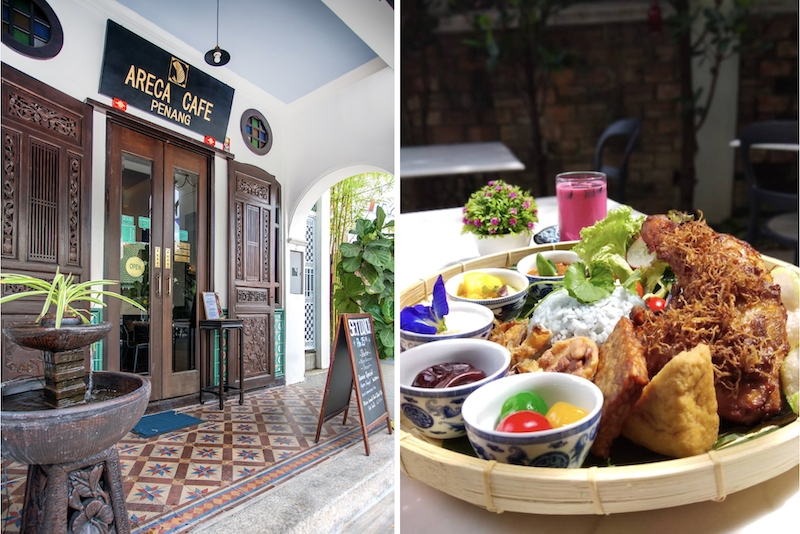 Areca Cafe occupies the ground floor of a boutique heritage hotel along a quiet street. This one's your best bet for an extensive range of halal Eurasian food — no matter what time of the day! Bonus points for the charming presentation of each dish, which might as well be edible art. Inside, the vibe is just the right balance of cosy and elegant, while the terrace area feels every bit like an urban oasis. 
Must-try items: Kam Heong Spaghetti; Truly Malaysian Platter; Grilled Veggie & Wasabi Cream Burger; Pandan Cream Caramel; and Iced Lemongrass Tea
Address: 27, Jalan Khoo Sian Ewe, 10050 George Town
10. Pinwheel Resto Cafe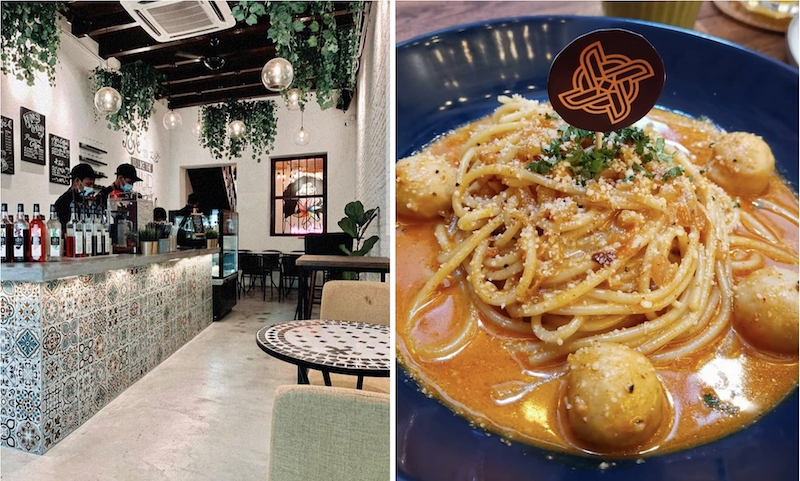 When we talk about lounging at a halal coffee shop in Penang, Pinwheel Resto Cafe is a good place to start. It sets the mood for photoshoot-worthy relaxation, with its warm lights, mosaic-tiled furnishing, wall murals, and ceiling decor. The quaint, unassuming ambience would likely make you forget that it's actually situated on a buzzing old-town street. Not to mention, their fusion comfort food and sweet drinks are perfect after a long day of sightseeing around the area! 
Must-try items: Carbonara Tomyam; Butter Chicken Masala Pizza; Triple Chocolate Waffle; Matcha Gula Melaka; and Biscoff Shake
Address: 461, Chulia Street, 10200 George Town
Catch free seats* to Penang via AirAsia today and enjoy a well-deserved vacation in Malaysia's foodie haven!
Booking period: Now till 5 Jun 2022
Travel period: Now till 31 Oct 2022
Book your preferred choice of hotel with AirAsia and enjoy a 10% rebate on booking fees with the promo code [PENANG10]! Make your dream Penang vacation happen today!
* Terms and conditions apply.
So, which of these halal cafes in Penang are you checking out first? Whichever it is, we're looking forward to hearing all about your trip afterwards! 
---
Brought to you by AirAsia.
Featured image credit: Ferringhi Garden | Official Instagram Page