Jet-setting to Dubai for a trip anytime soon? Well, tourists visiting Dubai no longer need to fret over exorbitant roaming charges or finding Wi-Fi hotspots thanks to this new initiative. You'll have a much easier time staying in touch with your loved ones and updating your social media feeds.
The "Connect with Happiness" initiative was launched earlier this month in the presence of Her Excellency Dr Aisha Bint Butti Bin Bishr, director-general of the Smart Dubai Office in collaboration with mobile network du. "The project aims to help achieve the Dubai Happiness Agenda which is being implemented by the Smart Dubai Office to make Dubai the happiest city on earth," Major General Al Marri added.
Upon arrival, every tourist above the age of 18 will get a free local du SIM pack from immigration officers at the airport's passport control desks. These travellers include those arriving on tourist visas, visa on arrival and even transit visas.

Travellers coming from other countries in the Gulf Cooperation Council (GCC) such as Saudi Arabia, Kuwait, Qatar, Bahrain and Oman will also have the option of receiving a free SIM pack.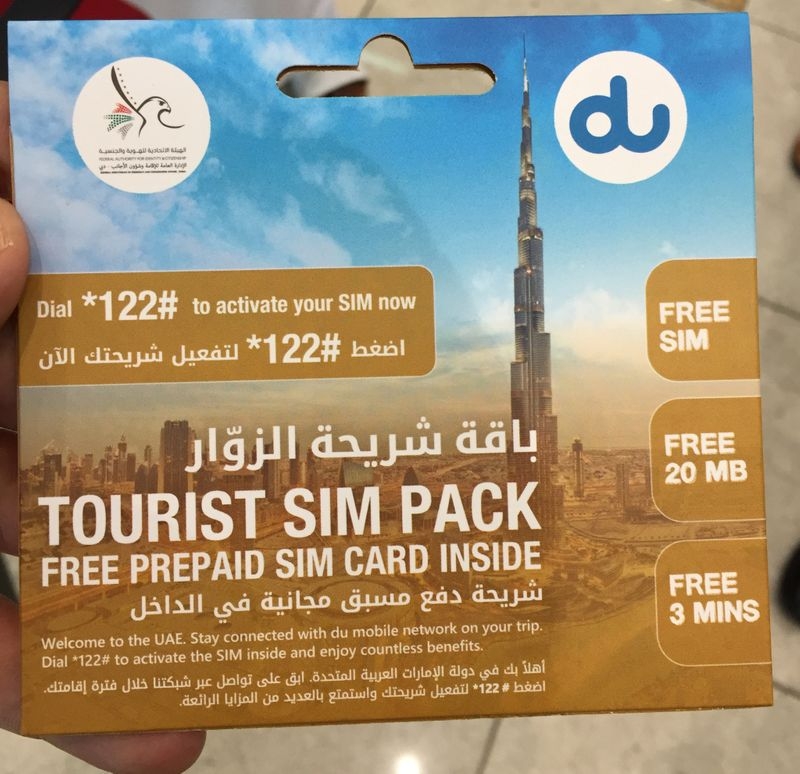 The pre-paid SIM cards include three minutes of talk time and 20 MB of mobile data valid for three days. The allowance is valid for one month after activation. Travellers who require more can then recharge their SIM cards with a choice of three different packages, depending on visit duration and usage.
For Dhs25 (~S$9.20), visitors will get 150MB of data and 10 flexible minutes, valid for three days. For Dhs55 (~S$20.30), enjoy 500MB data with 20 flexible minutes, valid for seven days. For the ultimate data user, get two gigabytes of data with 40 flexible minutes, valid for 14 weeks for Dhs110 (~S$40.50).
All SIM card details will be linked to passengers' travel information. This ongoing project will run across all three terminals at DXB. Till date, over 10,000 cards have already been handed out to passengers at Dubai International Airport (DXB).
Also read: Glamping in Dubai: A Modern Twist to Desert Camping