Spain continues to lure Muslim travellers across the globe with its vibrant culture, colourful history and of course, paella! The south of Spain is full of Islamic heritage as it was home to the Moorish empire for almost 800 years. There are still remnants of Islamic influence in this once powerful Spanish kingdom as seen from the preservations of majestic mosques and colossal palaces infused with Islamic architecture.
Plus, the influence of Islamic culture in the past and the current Arab migrant presence also make these cities incredibly Muslim-friendly as you can easily find halal food around.
Granada
Getting there and moving around
Upon arriving in Barcelona, I immediately took a connecting domestic flight to Granada on Vueling Airlines (~ SGD$130). This is the fastest way to get to the south of Spain before moving your way back to Barcelona over the course of the trip. The flight to Granada would take about an hour and a half.
When you arrive at Granada domestic airport, you can either rent a car to get around or take the ALSA bus, €3 (~S$4.60) per person, to get to the city centre. I would advise against exploring Granada via car because the roads are rather narrow and tricky to navigate around. The best way to see the city is by walking! It may get tiring due to the steep hills but you can always board the red buses that will take you to Alhambra and Albaicin for only €1.40 (~S$2.20).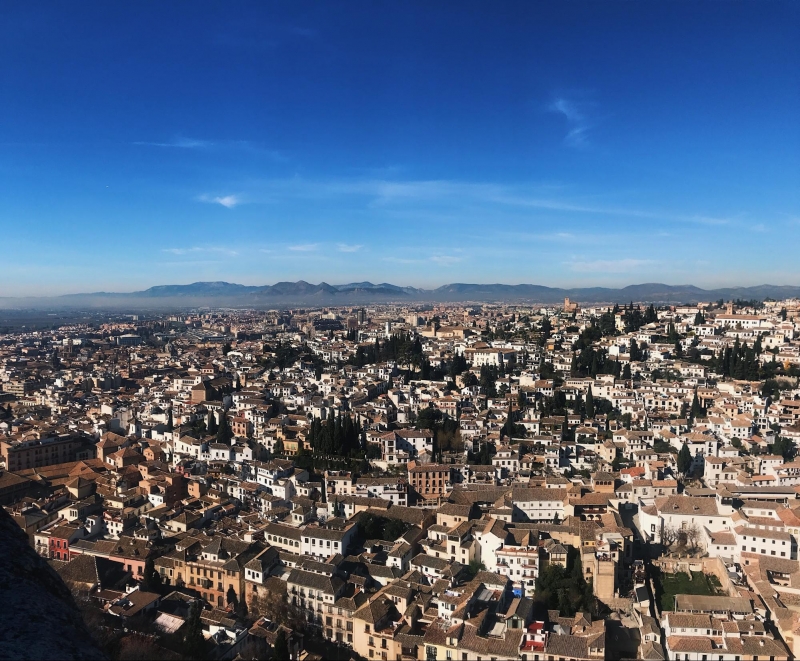 Day 1: Get Lost in the Alleyways of Granada
Start your trip with a visit to the Granada Mosque or the Mezquita Mayor de Granada. The Granada Mosque is a quaint mosque nestled in the hills of Granada. Wander around the garden of the mosque where you will also be treated to a view of the Alhambra fortress.

You might see a barrier before you enter the main area of the mosque. Fret not, just approach a staff of the mosque as only Muslims are allowed to enter the main prayer hall. You will be guided to the ablution area and prayer halls of the mosque. Take your time to soak in the quiet ambience of the mosque.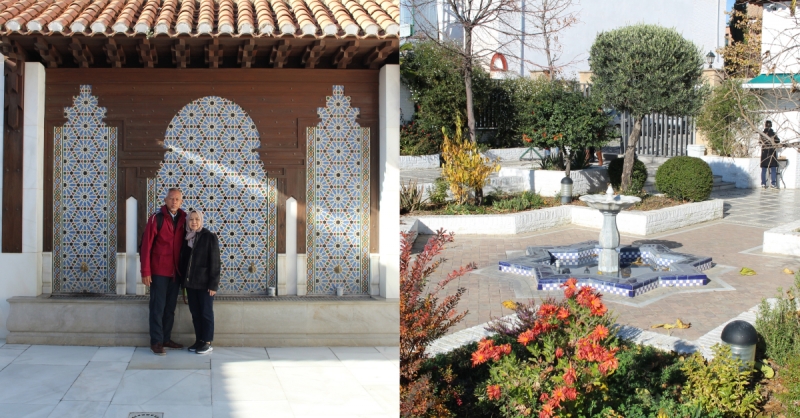 Located next to the mosque is Mirador San Nicolas, a popular viewpoint among travellers where you can get a panoramic view of Alhambra fortress. The area is filled with live musicians and local merchants selling crafts and souvenirs.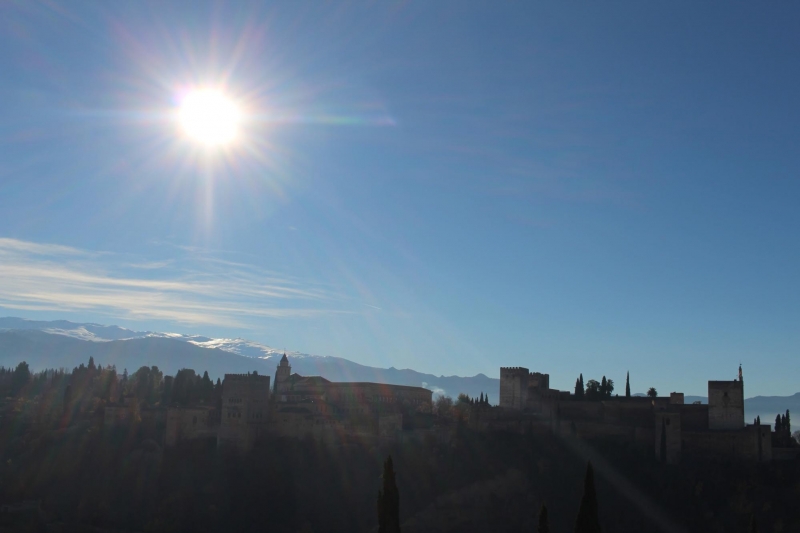 If you are feeling peckish, you can enjoy lunch here as there are many halal eateries around this area. Just as you exit the main entrance of the mosque, you will find Restaurante Teteria Marrakech. This quaint eatery serves up a variety of Mediterranean dishes such as lamb meatballs. You should also give their unique Moroccan-style crepes a try!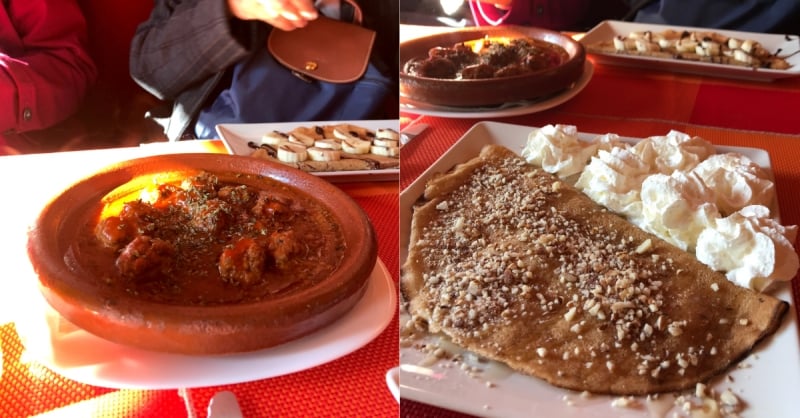 Continue your exploration of Granada as you walk down the hills of Albaicin and peruse through locally crafted leather goods at the Alcaiceria Market. It is definitely a good place to pick up some souvenirs to remind you of mesmerising Granada.
Day 2: Explore the Alhambra Fortress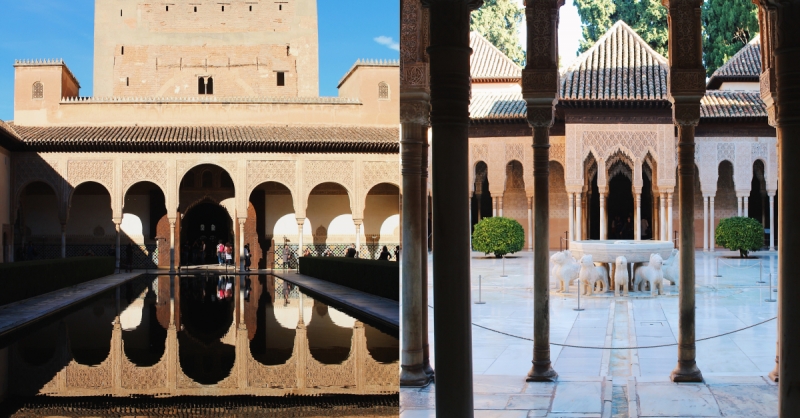 This UNESCO World Heritage site is a definite must-visit when you are in Granada. Named after its red walls, Alhambra is a palace and fortress complex filled with beautiful Moorish architecture, intricate Islamic carvings and lush gardens. You could easily spend a day exploring this surviving antiquity of ancient Islam in Spain.
#HZTip: Before planning your itinerary, please book your tickets to the Alhambra fortress months in advance as there are limited tickets and stipulated entrance timing for the Nasrid Palaces. Also, remember to print your ticket before your visit.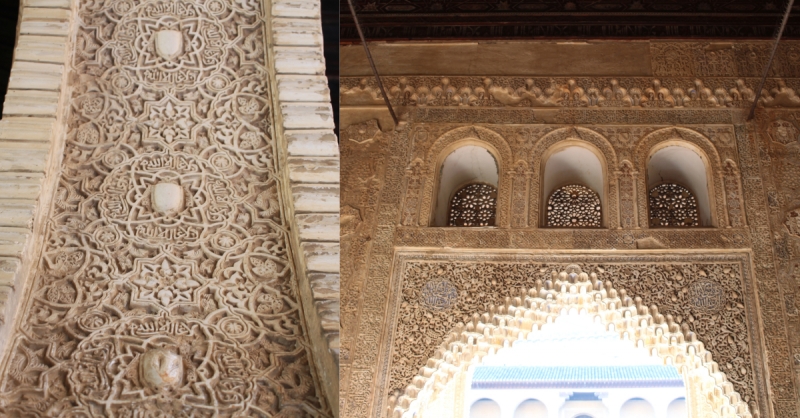 The main areas of the Alhambra Fortress are the Generalife, Alcazaba, Nasrid Palaces, Palace of Charles V and the Bath of the Mosque. For history buffs, you may rent an audio guide which comes with a guided tour function available for purchase at the entrance.
There are many affordable halal eateries located next to Plaza Nueva. Before you continue to explore the rest of Granada, take a break at Shawarma King Restaurant. This restaurant serves up usual Muslim favourites such as doner kebabs but you could also try some Spanish dishes such as paella. Their generous portions and affordable prices also make it a budget-friendly meal option. Spend the rest of your time in this beautiful city by exploring other attractions such as the Palacio de la Madraza or Catedral de Granada.
Cordoba
Getting there and moving around
Due to continued disruptions at Granada train station, you have to take a bus from Granada train station to Antequera Santa Ana before hopping on a Renfe train to Cordoba. My continuous journey from Granada to Cordoba took three and a half hours. Cordoba is best explored via walking or bus. There are many bus services available with waiting times displayed at each bus stop.
Day 3: Uncover Islamic Spain at Mezquita-Catedral de Cordoba
After settling into your accommodation, begin your tour of Cordoba at Calahorra Tower where you'll be able to learn about the daily lives of Andalusians and the importance of Cordoba as an Islamic Emirate in the past. The entrance ticket is inclusive of an audio guide that will provide an interactive experience as you browse the various exhibitions.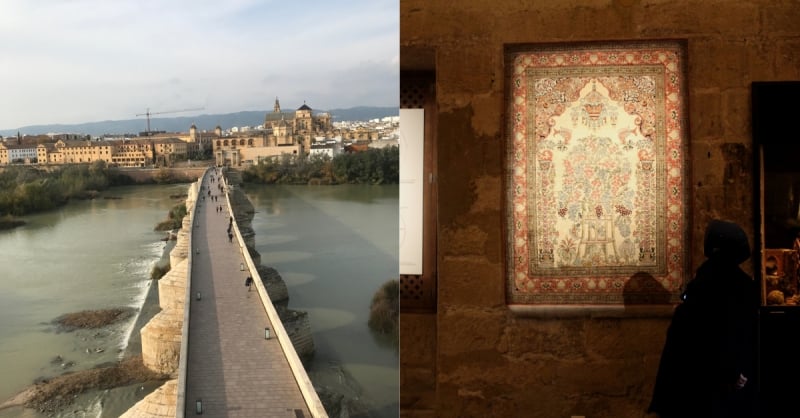 Make your way to the top of the tower where you'll have a bird's eye view of Guadalquivir River, Roman Bridge and Mezquita-Catedral de Córdoba. Appreciate the scenic views of Cordoba and when you're ready, head over to the famed mosque-cathedral of Cordoba just across the bridge.
#HZtip: It is encouraged for you to visit the Calahorra Tower before heading to the mosque-cathedral if you aren't planning on going for a guided tour. The exhibition at the Calahorra Tower will give you an overview and insights of the Mezquita-Catedral de Córdoba.
As one of the most accomplished monuments of the Moorish dynasty, Mezquita-Catedral de Cordoba features a design that served as a template for other Moorish architectural designs. Besides the over 856 columns, you will notice the striking red and white arches that were inspired by the Dome of Rock. The former caliph of Cordoba, Abd al-Rahman III, also added a minaret which you can climb up to enjoy a panoramic view of Cordoba for an extra €2 (~S$3).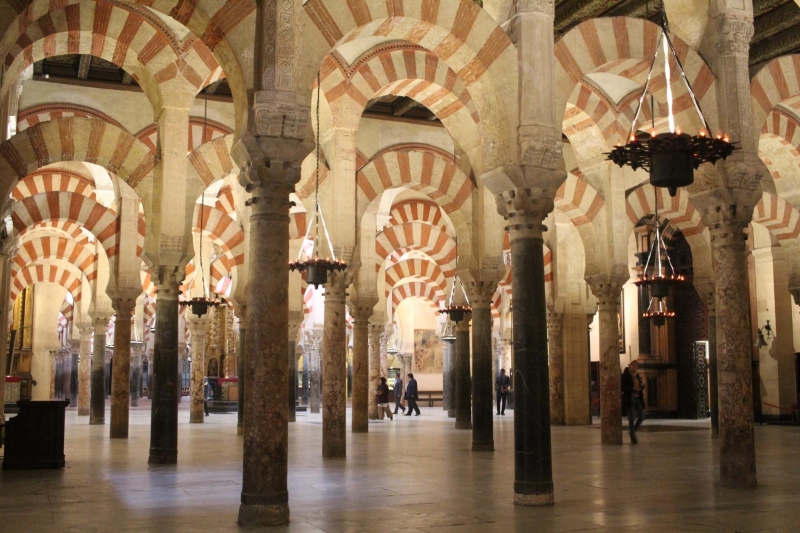 All that history and discovery will get you feeling peckish. As you discover the narrow alleyways of Cordoba, you will come across El Patio Andaluz Restaurant. This halal-certified Spanish restaurant serves up some gastronomic and authentic Spanish and Mediterranean dishes. Be sure to come either with a large appetite or some travel buddies because their portions are perfect for sharing.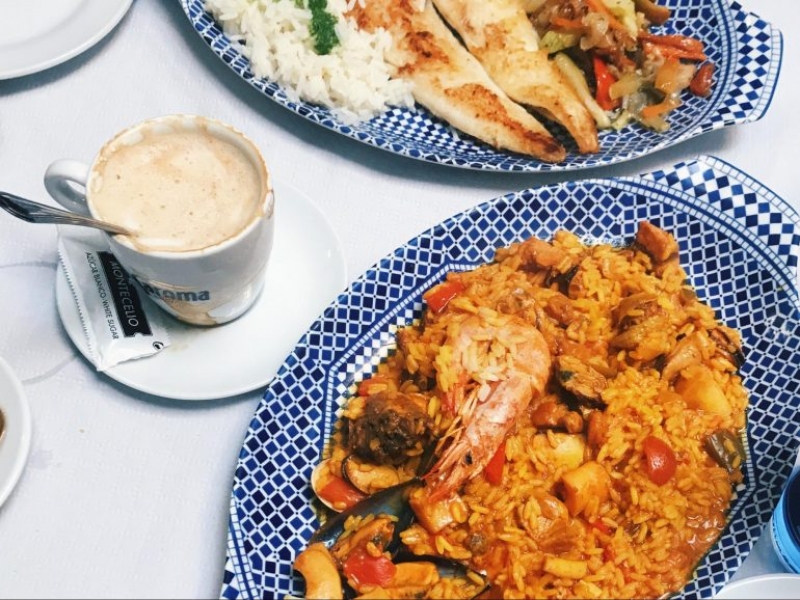 Day 4: Take a trip to Medina Azahara
Continue your history lesson of the Moorish dynasty by heading to Medina Azahara. This archaeological site is located approximately less than half an hour at the outskirts of the city. Also built by Abd al-Rahman III, Medina Azahara is the ruins of a fortified Moorish medieval palace-city and was once the administrative capital of Andalusia. Check out the museum before heading to the ruins to have a better understanding of the historical site.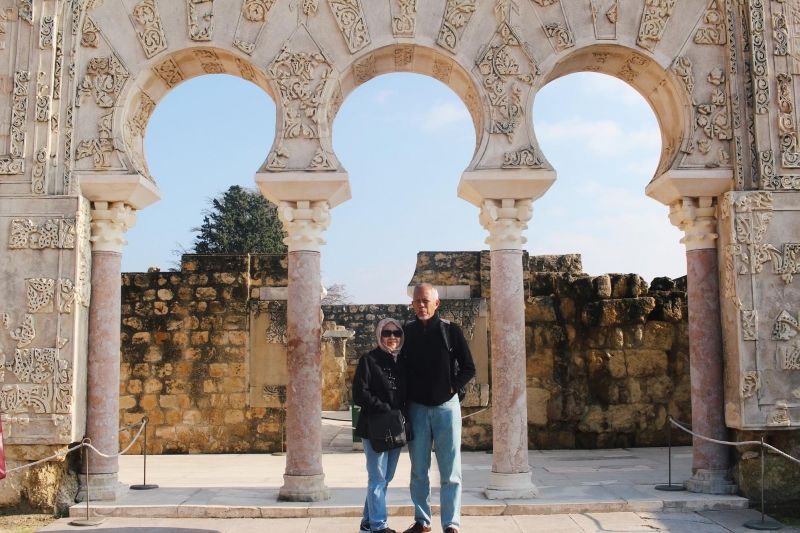 #HZtip: To avoid disappointment, be sure to book your tickets online and select the option for return bus tickets to the city. You will also have the option of following a bilingual guide which could come in handy as he explains the history and significance of the ruins.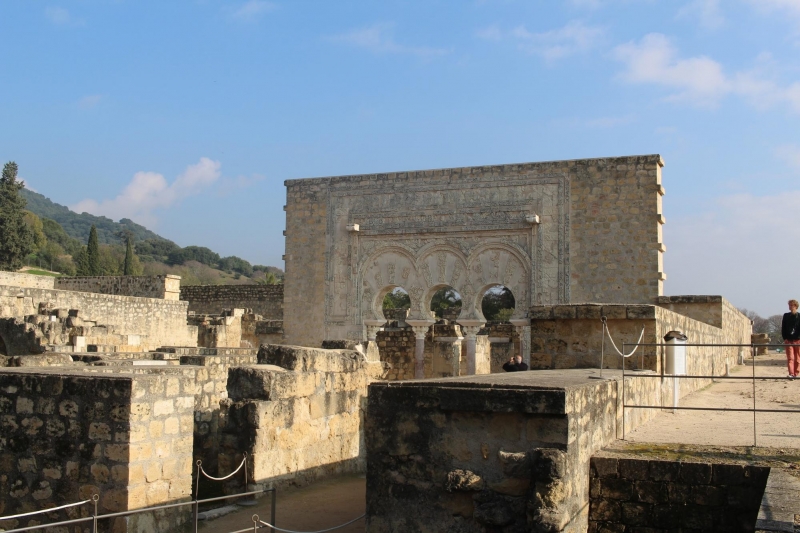 Once you're ready, head back to the city to explore the rest of Cordoba. You can spend the rest of your day exploring the various local Spanish shops sprawled across the city. Pick up your unique keepsake to remind you of your time in this Andalusian city. Take your time to appreciate the quiet and peaceful ambience of Cordoba before heading to bustling Madrid and Barcelona.
For those who are still keen to learn more about the architectural wonders of the Moorish dynasty, you might want to check out the Museo Arqueológico de Córdoba. This museum houses an extensive collection of pieces that go as far back as Prehistory and the Late Middle Ages.
Madrid
Getting there and moving around
From Cordoba, you can hop on a direct train to Madrid's Atocha train station which will take at most two hours. From the Atocha station, you can easily access the local metro to take you around the central capital of Spain. Do purchase the city's reloadable metro cards from the machines at each metro station before you go about your day. These cards can be used for both local trains and buses.
Day 5: Palacio de Cristal, Royal Palace of Madrid and Mercado De San Miguel
As compared to the calmer atmosphere of Granada and Cordoba, Madrid presents itself as a bustling metropolis. But that doesn't mean that Madrid has any shortage of stunning architecture and European art. Before embracing the busy city streets of Sol-Gran Via, head out to El Retiro Park where you'll find a beautiful gem in the form of the Palacio de Cristal.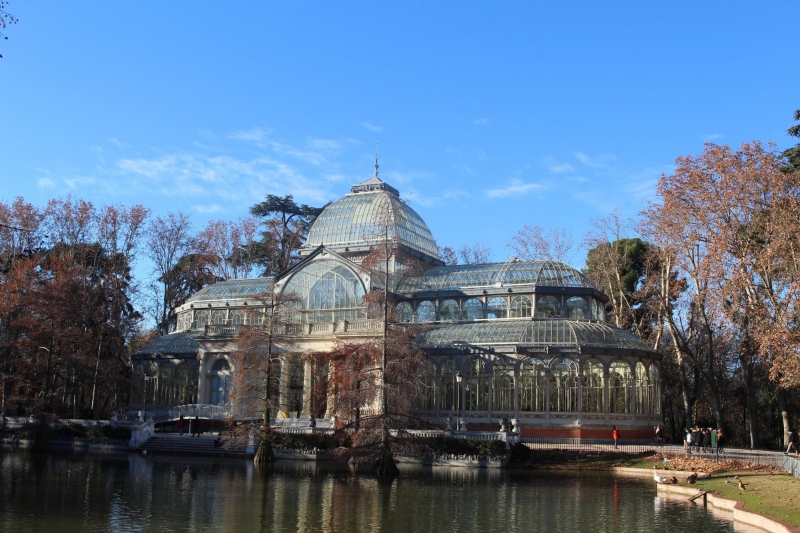 Though El Retiro Park is one of the largest parks of the city, you will be able to spot the grandiose structure of glass and iron of the crystal palace, which houses various art galleries throughout the year. If you find yourself visiting during the warmer seasons, you try your hand at boating where you'll be able to cruise on the Retiro Park Lake. Or simply pack yourself a picnic and enjoy a quiet moment on the grass. Also, you'll be able to spot a myriad of sculptures and monuments scattered around the park.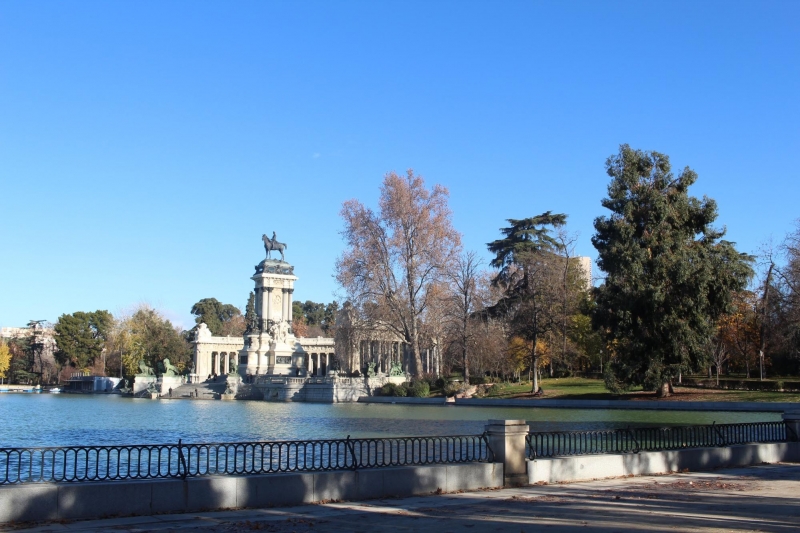 Continue on your discovery of the city and head to the Royal Palace of Madrid. Though you wouldn't be able to meet the Spanish royal family since this palace is only used for ceremonial purposes, there is still so much to see at the largest palace in Europe. The palace used to be the site of the Muslim fortress in the 9th century when Muhammad I of Cordoba ruled. Sadly, photos aren't allowed except in foyer so be sure to take your time to take in all the lavish halls, the throne rooms and various artworks on display.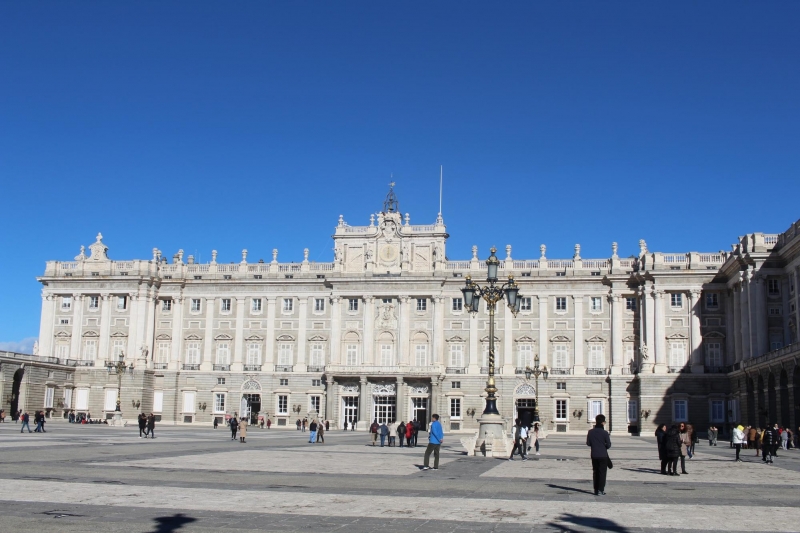 #HZtip: To avoid waiting in line for hours, it is best to book your tickets online and in advance.
If you want to avoid other tourists and see Madrid in the eyes of the locals, find your way to Mercado De San Miguel. As one of the world's most gastronomic markets, a walk through would expose you to the various sights and smells of Spanish cuisine. Although you won't be able to find halal food here, there are plenty of Muslim-friendly snacks you can fill your tummy with such as seafood platters and vegetarian options for tapas.
Day 6: Shop at Gran Via and Calle Preciados
You might have had enough historical sites for now. Spend your morning (and afternoon) and treat yourself to a shopping spree at Madrid's most famous shopping district, Gran Via and Calle Preciadoes. Don't be intimidated by the rows of stores featuring familiar brands like Bershka, Massimo Dutti and Zara. There are usually three stores of the same brand within 10 minutes of each other so don't be put off by the crowds of shoppers.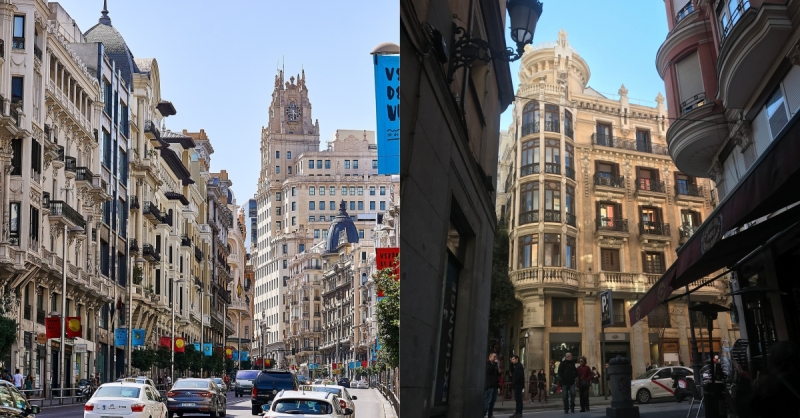 Be sure to wear comfortable shoes because you'll have to explore five storeys of clothes, shoes and homeware at Primark. When you're done, regain your strength after your strenuous shopping spree by heading to one of the many kebab stalls along the streets.
For dessert, make your way to Chocolateria San Gines for some crispy churros dipped in piping hot melted chocolate sauce. This famous chocolate shop is definitely worth lining up for! The moment you indulge in their famous churros, the rest is history. When you're done, head to their other store just opposite, where you can purchase some chocolate to bring home with you. Their plethora of chocolate products will definitely make it hard for you to choose.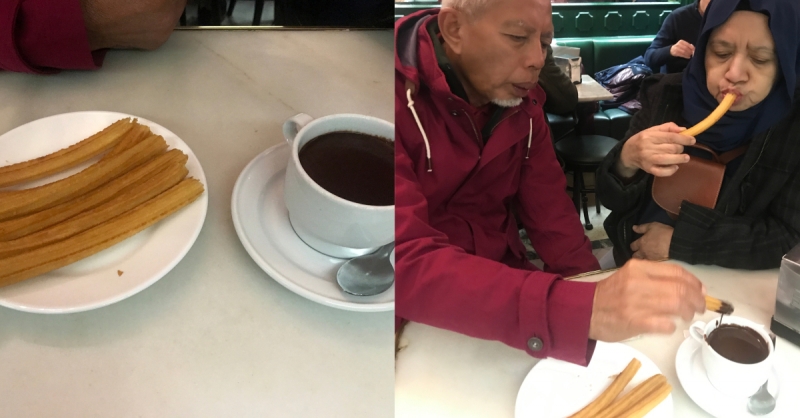 Barcelona
Getting there and moving around
Brace yourself for the last leg of your train journey when you board the three-hour high-speed train to Barcelona. Due to the popularity of this train route, it is highly recommended to book your tickets in advance especially during popular travelling months such as the holiday season. Once you arrive in Barcelona, you can easily navigate your way using the local metro.

As Europe's third most visited city, Barcelona is constantly crowded with throngs of people so be mindful of your belongings and when travelling on the local trains. Also, if you're travelling with two or more people, do buy the T10 transport ticket where you will be entitled to 10 rides on the metro and can be used for multiple persons.
Day 7: Walk along La Rambla and explore La Boqueria Mercat
You might be a little tired from your long train ride to Barcelona. After settling into your new accommodation, you might want to take it easy and allow yourself to recover before exploring the streets instead of the popular attractions of the city.
Begin your introduction to Barcelona at La Rambla, its most famous street. You'll be able to spot all kinds of people walking the street from tourists to locals. This iconic street starts at Plaça Catalunya or Catalonia Square and stretches through Liceu Theater, Plaça Reial (Royal Square) and many more. There are many halal eateries that line the street. Be on the lookout for delicious Turkish kebabs if you're feeling peckish.
#HZtip: Be careful of pickpockets here as it is a popular tourist area.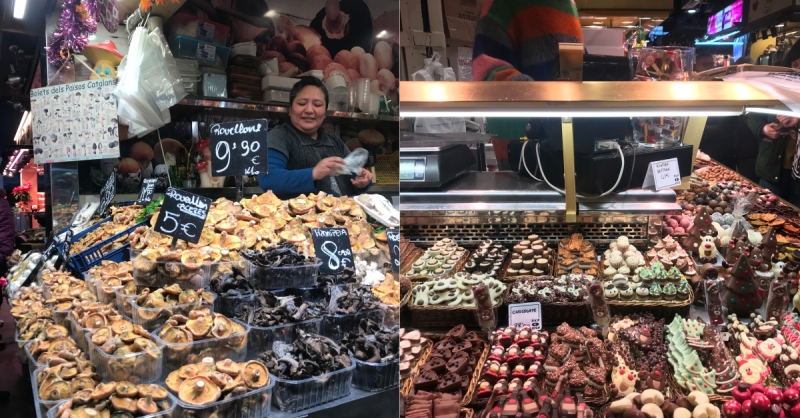 Along La Rambla, you'll come across La Boqueria Mercat. Similar to Mercado De San Miguel, this public market has rows of stalls selling everything and anything. From seafood to chocolate, sample some local delights as you walk the alleys. Although there aren't halal-certified eateries here, there are Muslim-friendly options like seafood. Be sure to buy yourself some Barcelona chocolate as they make great souvenirs and are extremely delicious.
Day 8: Visit the ever popular Park Güell and La Sagrada Familia
Just like the other 32 million travellers who visited Barcelona last year, you will be entranced by this lively yet overcrowded city. As you uncover the beauty within Barcelona, you will understand everyone's obsession with its unique Gothic architecture and funky art scene.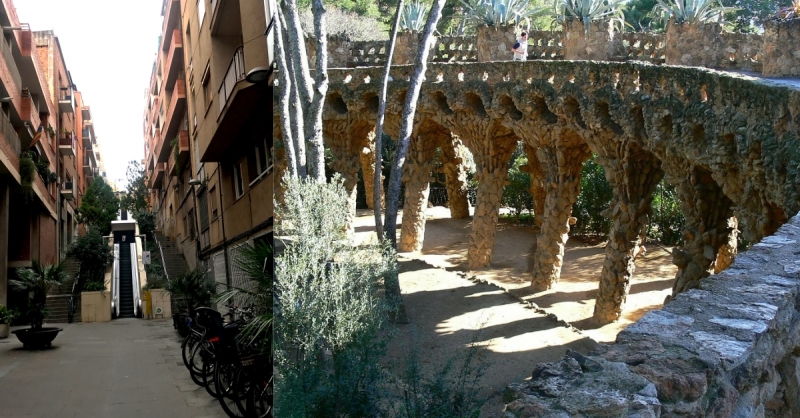 Start your day at Park Güell, the site of one of Gaudi's works. It is important to note that only a portion of the park require tickets so you could still visit this public park without buying a ticket. Take your time to stroll along the gardens and appreciate Gaudi's famous work that is littered around the park.
#HZtip: If you're planning to walk from Vallcarca metro station, be sure to take the third left turn where you'll be able to find escalators that will take you to the top of Park Güell.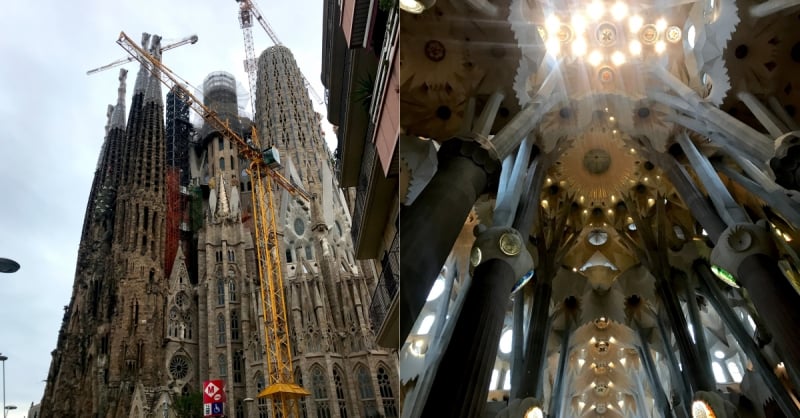 Next, head over to Gaudi's other famed work, La Sagrada Familia. This huge Roman Catholic church is known for its unique Gothic architecture and for being largely unfinished. After going through security checks, grab your audio guide and begin your tour of this historic attraction. Take your time to appreciate the different architectural features and spot the varying sections of old and new.
#HZtip: Book all your tickets for the various attractions online beforehand as most attractions have stipulated entry timings. You can either print your tickets or save some trees by showing your tickets from your phone. Also, be sure to check out the opening hours of the various attractions as most popular sites such as La Boqueria Mercat closes on Sunday.
With this itinerary in hand, you'll be ready for your next adventure to Spain. Your holiday here will be filled with so much culture, history and delicious Spanish cuisine will leave you wanting for more. From the more traditional South to the bustling metropolitan cities of Madrid and Barcelona, your eight days here will reveal the best of Spain. Time to book your tickets and say Hola!
Also read: 5 Muslim-Friendly Travel Tips For Your Next Trip to Spain