Bali is an island paradise with promises of colourful sunsets and of course, mouthwatering traditional cuisine — some of which are even certified Halal! Nature, culture, and culinary adventures await you as you plan your next long weekend trip to Muslim-friendly Bali. Let's dive right into it! muslim-friendly itinerary bali
Traveloka takes care of all your travel needs, from booking flight tickets and stays to irresistible package deals to many destinations. Now, you also get to enjoy the most popular thrills in Bali with Traveloka Xperience! Get a 10% discount, with a maximum value of IDR 100,000 (~SGD 10), if you book through Traveloka Xperience till January 2020!
This discount is valid for all Traveloka Xperience products except films and events. Use the coupon code XPRZILLA to get this exclusive discount!
Getting around Bali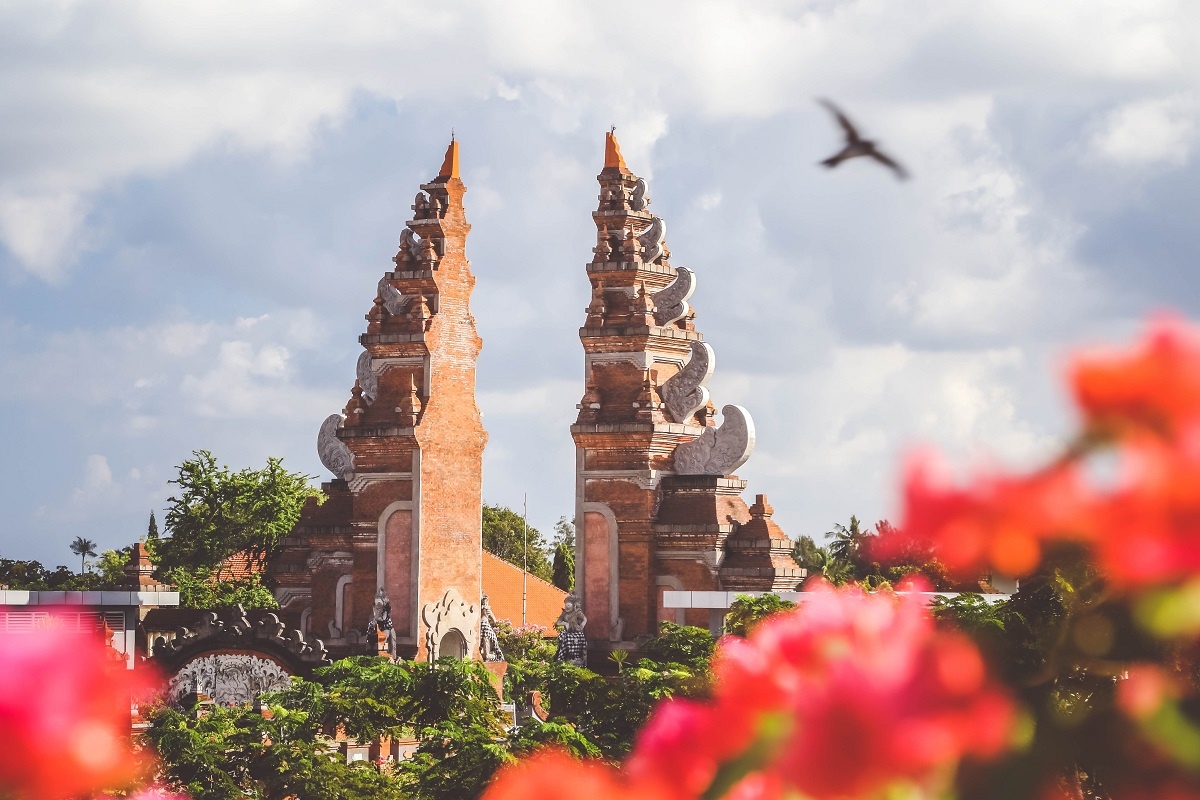 Image credit: Jeremy Bishop
There are many ways to explore any city, especially a magical place like Bali. But if you're prioritising convenience and comfort, your best bet is to book private cars in Bali with or without a local guide. Many local drivers speak in English so communication would not be a problem. You could otherwise opt for ridesharing services, but it's not available everywhere and travellers would normally be caught in the middle of fierce competition amongst local cab drivers. So do yourself a favour and opt for worry-free transportation.
#HZtip: Here's another hack — secure your own Bali travel sim card while you're at it, so you can enjoy seamless connectivity while out and about on the island!
Halal food in Bali
muslim-friendly itinerary bali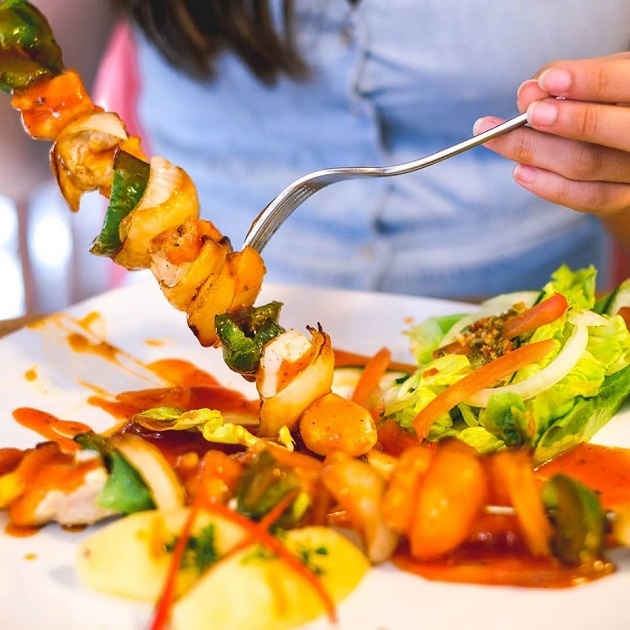 Image credit: Café De Dapoer Official Facebook Page
Despite being a Hindu-majority city, Bali is definitely still a Muslim-friendly travel destination. There are numerous Muslim-friendly eateries in Bali especially in areas like Ubud, Seminyak, and Denpasar.
Many Halal restaurants in Bali serve up a myriad of cuisines — you're not limited to the local Indonesian fanfare. Café De Dapoer, Warung Nikmat, Sunda Kelapa, and Queen's Tandoor are some must-try options, but most of them do not possess an official Halal certification. Muslim travellers are advised to check with restaurants individually. Happy eating!
Also Read: Search Halal Food in Bali: 19 Places to Visit When You're Hungry
Your go-to Muslim-friendly Bali itinerary
Day 1: Tegenungan Waterfalls, Sacred Monkey Forest Sanctuary, and Campuhan Ridge Walk
Arriving in Bali and travelling to Ubud
From Ngurah Rai International Airport, hop into your Bali rental car and get an early (and refreshing!) start to Ubud. Just in the fringes of Ubud, you'll make your first stop at Tegenungan Waterfall, also known as Blasinga Waterfall. Grab your swimwear and get ready for full day at Tegenungan Waterfall as you explore it's beautiful wonders. There's no better way to start your trip in Bali!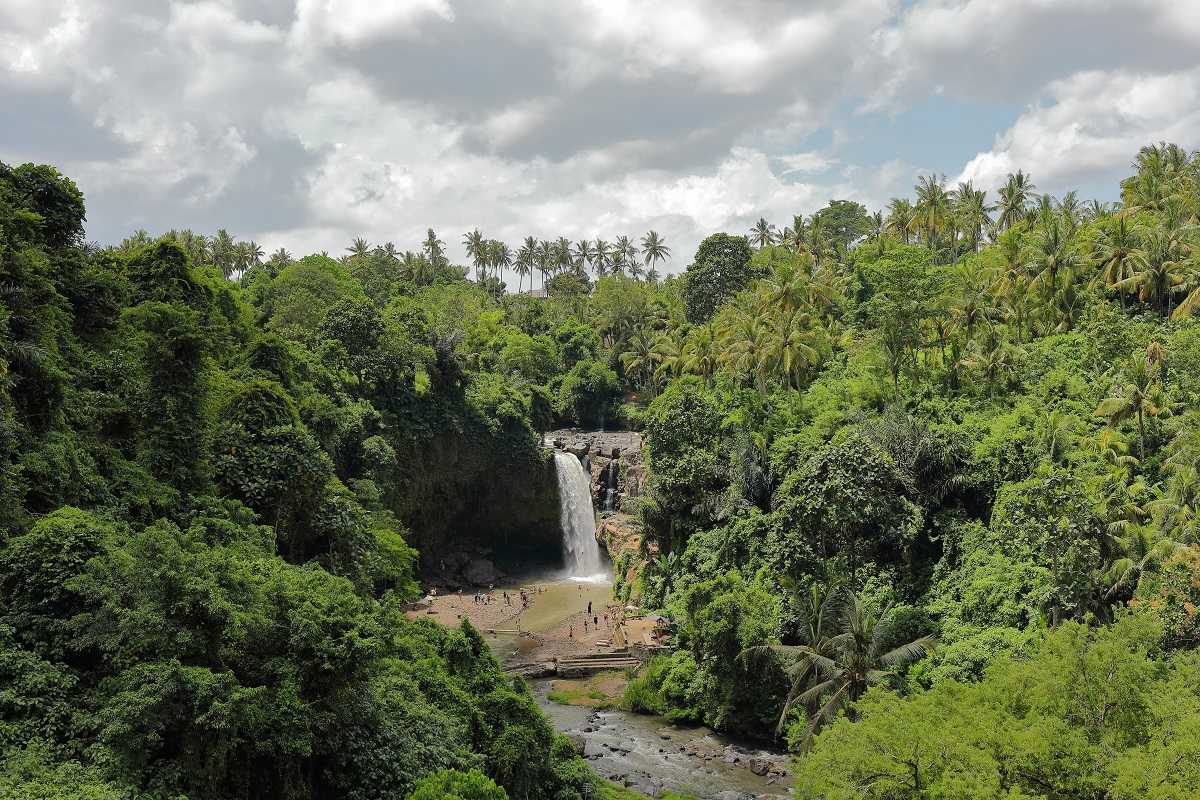 Blasinga Waterfall, also known as Tegenungan Waterfall | Image credit: Maksim Shutov
#HZtip: Though the pathways and stairs are well-maintained, travellers are advised to wear trekking shoes, especially if you're hoping to escape the crowds to visit the various viewpoints. 
Address: Jl. Ir. Sutami, Kemenuh, Kec. Sukawati, Kabupaten Gianyar, Bali 80581, Indonesia muslim-friendly itinerary bali
Operating Hours: Daily, 6.30am – 6.30pm
Admission Fee: S$1.50 (Adult), S$1.00 (Child)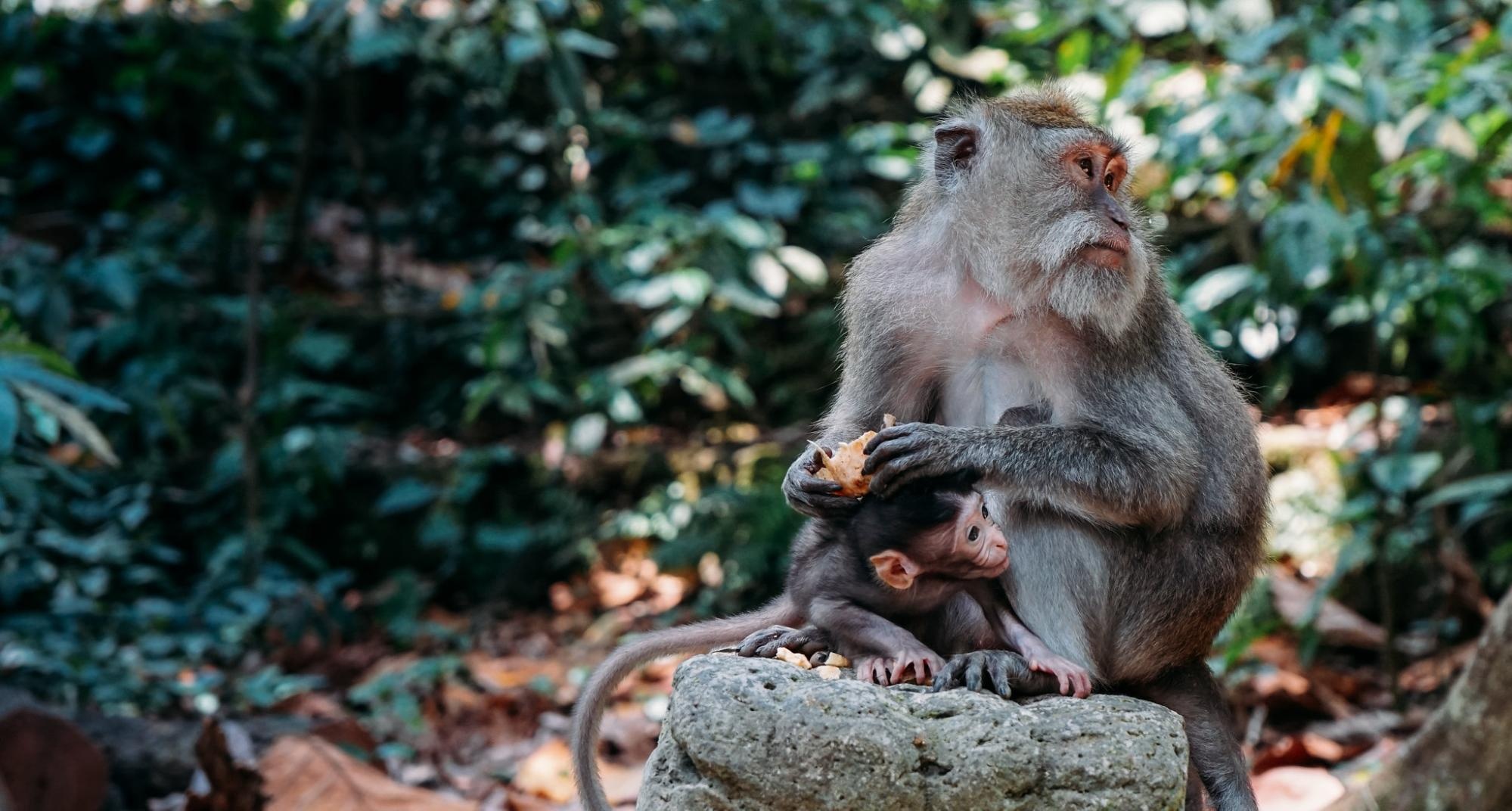 Sacred Monkey Forest Sanctuary | Image credit: Jannes Glas.
When you've dried off, head towards the heart of Ubud. The lush rainforests, terraced rice paddies, and historic Hindu temples form Bali's most beautiful landscapes. Exploring these areas will take a while and all that walking must leave you hungry.
Grab quick lunch at Warung Igelanca, a restaurant that specialises in Indonesian cuisine. We recommend the MSG-free Igelanca specialities, but you could sample their pancakes, too.
You could then make your way to the Sacred Monkey Forest Sanctuary — home to over 750 Balinese long-tailed monkeys. Walk along the boardwalks to spot these adorable creatures in their natural habitat!
Address: Jl. Monkey Forest, Ubud, Kecamatan Ubud, Kabupaten Gianyar, Bali 80571, Indonesia
Operating Hours: Daily, 8.30am – 6pm
Admission Fee: S$8.00 (Adult), S$6.00 (Child)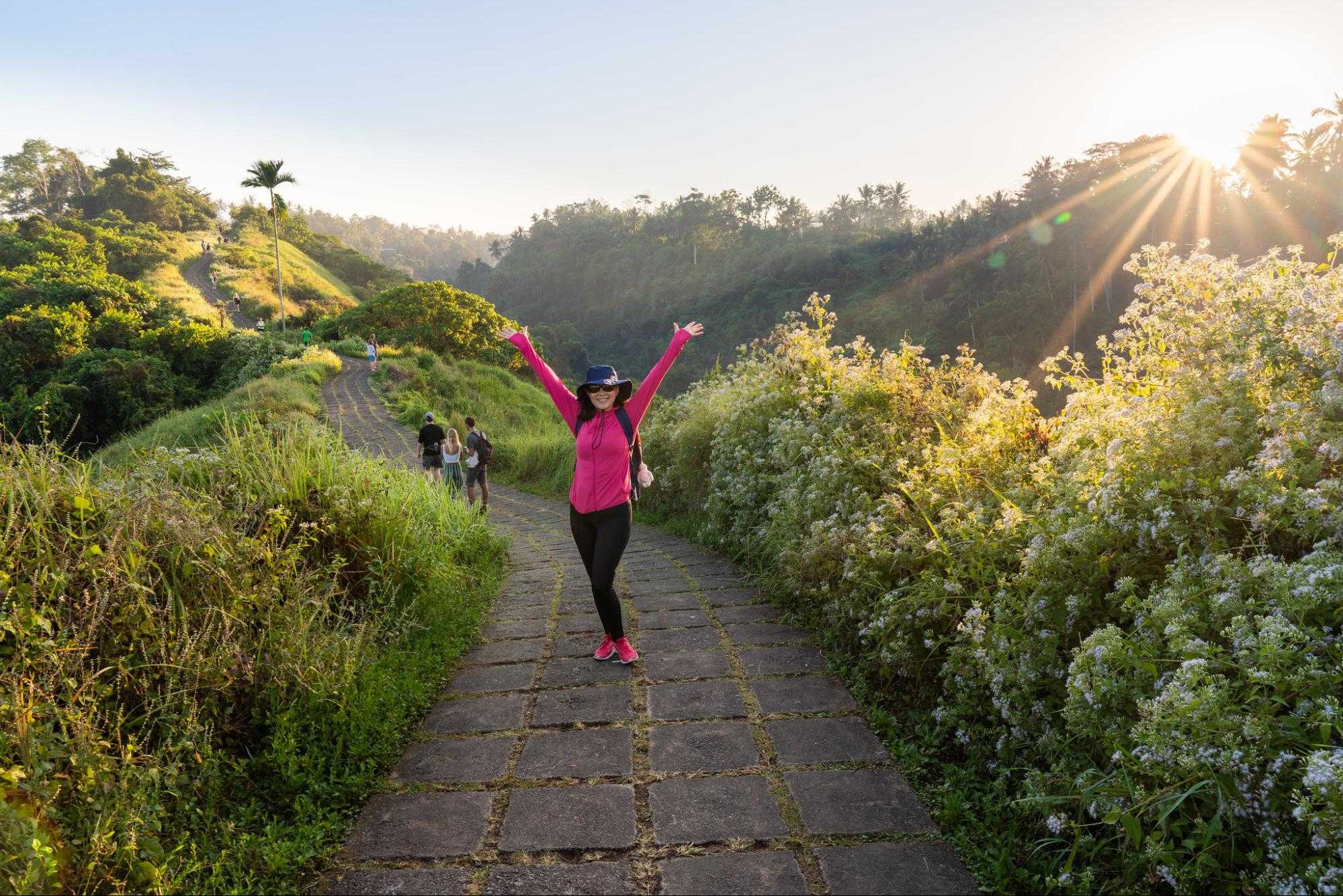 Campuhan Ridge Walk | Image credit: Big Ben in Japan
If you're looking for a little more adventure on your first day, head around the corner to Campuhan Ridge Walk. Take a quiet two-hour hike up the gentle slopes while taking in the scenic views. Maybe you'll even get lucky enough to watch the sunset in Ubud.
#HZtip: Be sure to get your driver to drop you off near the 'Warwick Ibah Hotel' sign — where you'll begin your hike. Also, it would be advisable to bring along a torchlight as it might be dark when you're making your way back.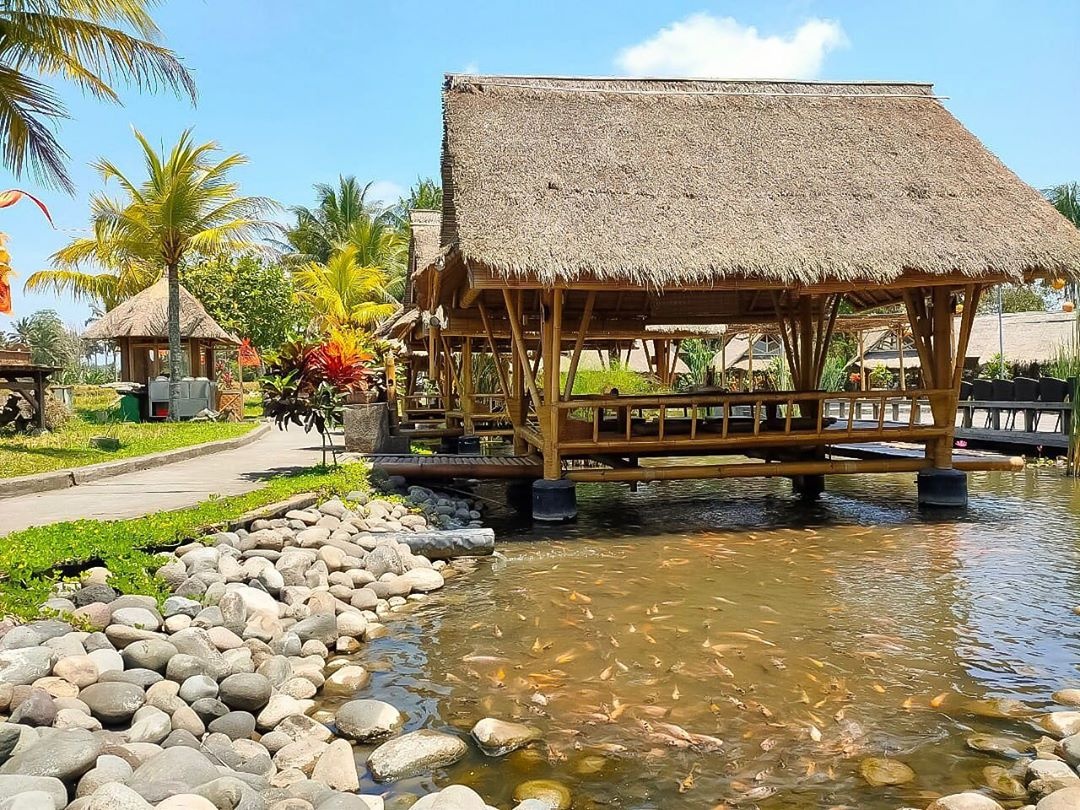 Bale Udang Mang Engking Ubud | Image credit: Bale Udang muslim-friendly itinerary bali
Wind down with a delicious dinner at Bale Udang Mang Engking Ubud for an authentic Indonesian dining experience. Muslim travellers can dine in a bale (bamboo hut) while savouring its speciality udang (prawn dishes).
Address: Jl. Raya Goa Gajah, Peliatan, Ubud, Kabupaten Gianyar, Bali 80571, Indonesia
Operating Hours: Daily, 11am – 10pm
Day 2: Pura Kehen, Tukad Cepung Waterfall, and Tegallalang Rice Terrace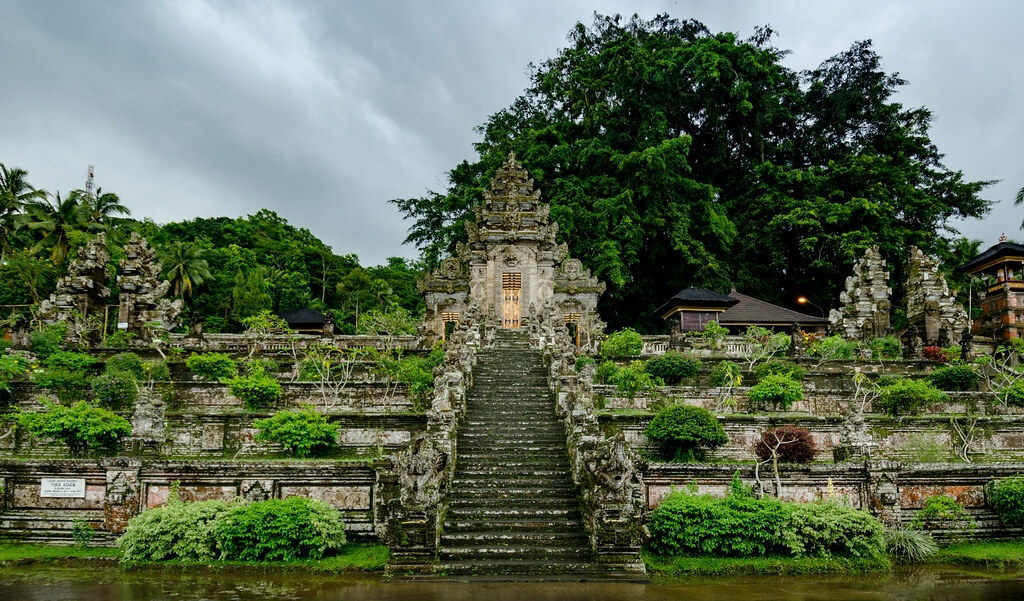 Pura Kehen | Image credit: xiquinhosilva
Begin the day early with a two-kilometre drive towards Pura Kehen. This Balinese Hindu temple was the royal temple of the Bangli Kingdom in the 13th century and is set at the foot of a wooded hill. Get ready to climb the steep stairs where you'll spot the guardian statues of this mystical temple.
#HZtip: Muslim travellers should take note to dress appropriately for their visit — long pants or dresses. Otherwise, you could rent a sarong at the entrance.
Address: Jl. Sriwijaya No.8, Cempaga, Kec. Bangli, Kabupaten Bangli, Bali 80613, Indonesia
Operating Hours: Daily, 9am – 5pm
Admission Fee: S$3.00 (adult), Free entry for children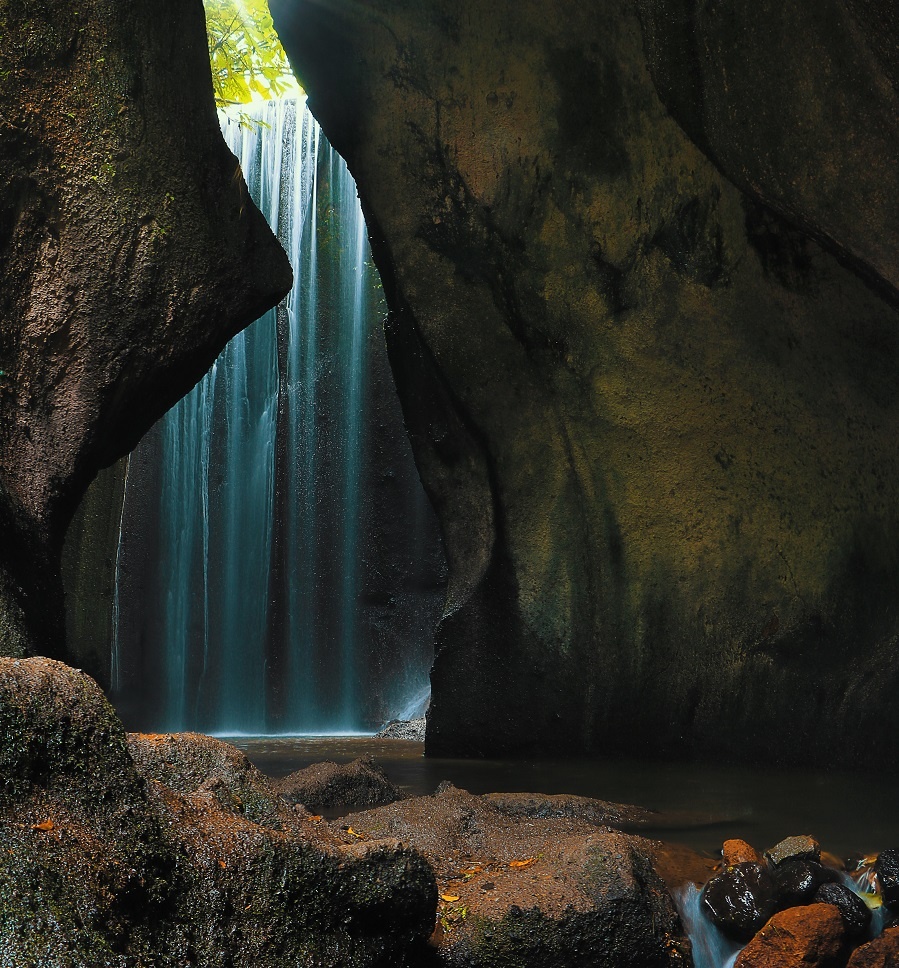 Tukad Cepung Waterfall | Image credit: Marco Tjokro
Next, make your way to the Tukad Cepung Waterfall and marvel at this charming hidden gem. Unlike Tegenungan Waterfall, this natural beauty isn't crowded. The waterfall is actually located in a cave, which is a mere five-minute walk from the entrance. If you're here early enough, you'll get to capture the sun rays dancing off the many surrounding rock formations — perfect for your Instagram feed!
Address: Jl. Tembuku, Dusun Penida Kelod, Tembuku, Kabupaten Bangli, Bali 80671, Indonesia
Operating Hours: Daily, 6am – 6pm
Admission Fee: S$1.00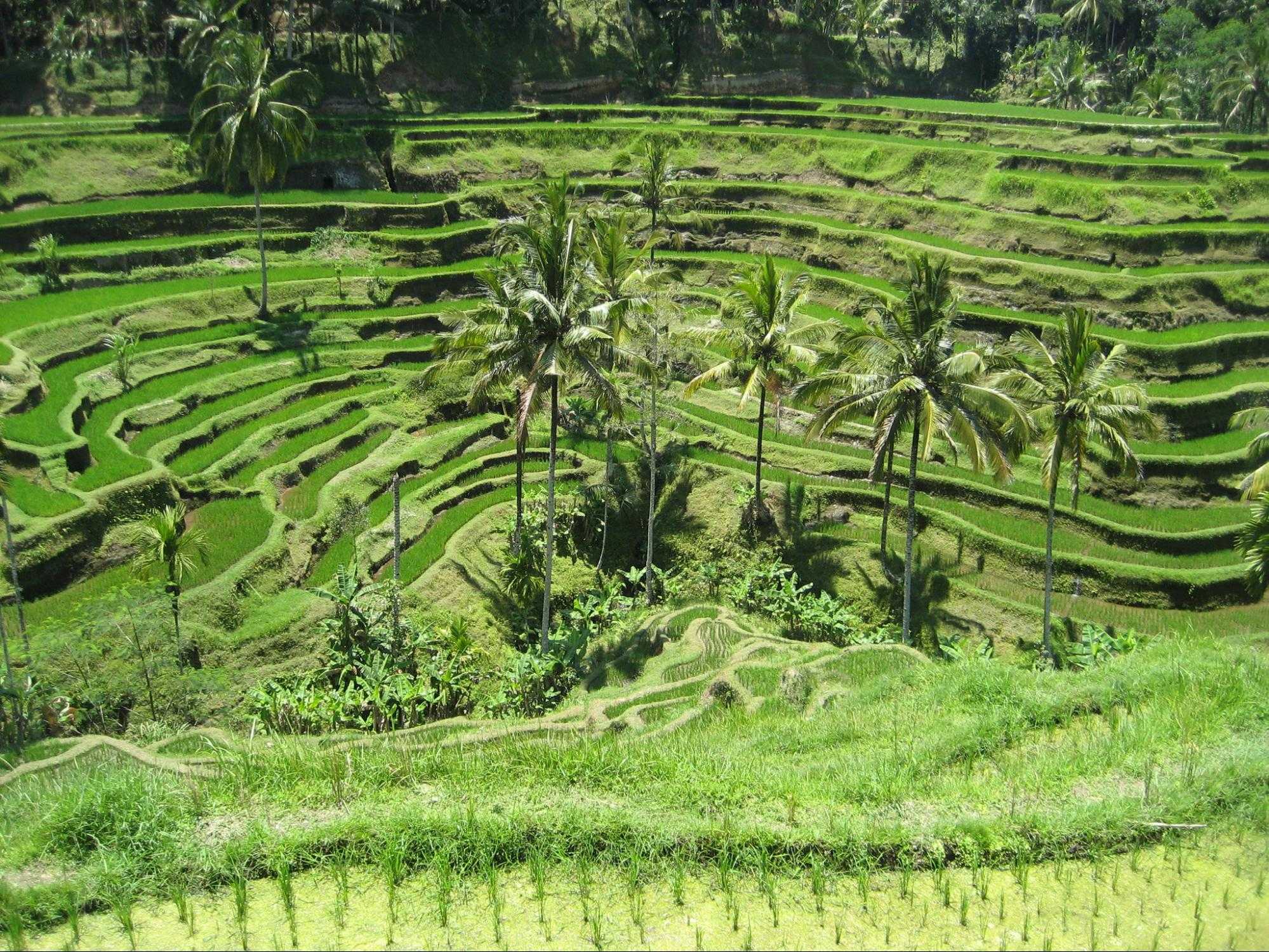 Tegallalang Rice Terrace | Image credit: Joan Campderrós-i-Canas
Before heading to Seminyak, Muslim travellers should visit the famed Tegallalang Rice Terrace. The step-like platform on the hills is easily one of the most popular attractions in Bali. These dazzling rice terraces are synonymous with Ubud, and it's no surprise that they are one of the most photographed places here.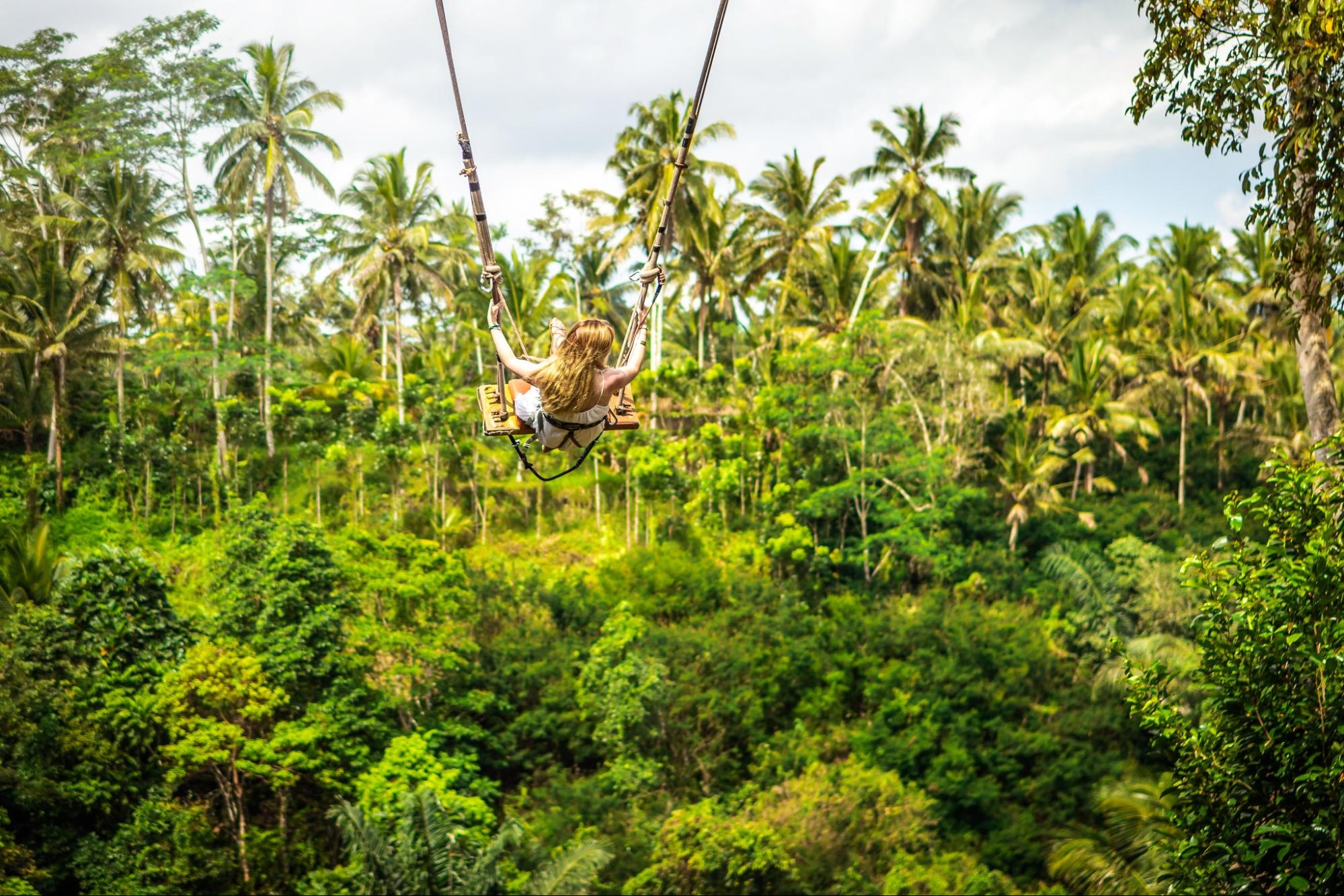 Image credit: Artem Beliaikin
Take your time to breathe in the stunning views and feel the cool breeze as lush foliage sway with the wind. Alternatively, for an additional fee, you could take a ride on the famous Bali swing for a different view of the rice terraces.
Address: Jl. Raya Tegallalang, Tegallalang, Kec. Tegallalang, Kabupaten Gianyar, Bali 80561, Indonesia
Operating Hours: Daily, 8am – 6pm
Admission Fee: Free entrance, but donations are welcomed when venturing further into the rice terraces muslim-friendly itinerary bali

BOOK AN E-BIKE TOUR OF TEGALLALANG RICE TERRACE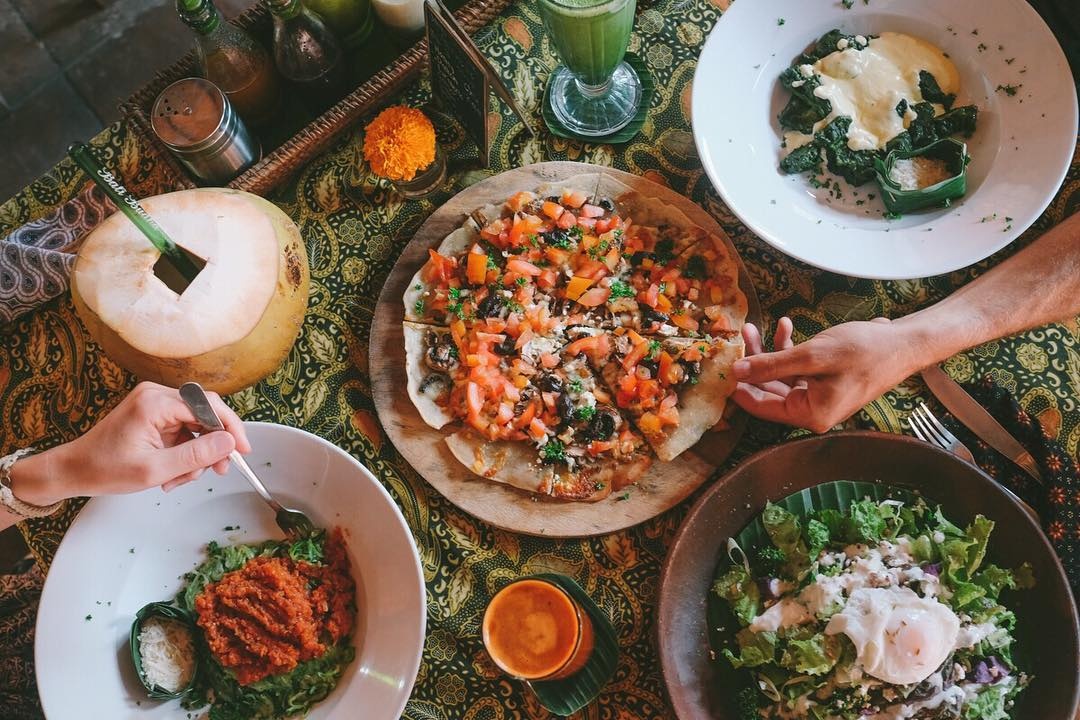 Image credit: Bali Buda Café & Health Food Shops
After your exhilarating ride on the Bali swing, pop over to Bali Buda Ubud for lunch. This unique Muslim-friendly eatery serves up some of the freshest Indonesian fare as they only use local, organic, and sustainably sourced ingredients. Their gourmet burgers, Italian pizzas, and tacos are hot favourites, but if you're feeling healthy, opt for anything on their vegan menu!
Address: Jl. Jembawan 1 No.1, Ubud, Kabupaten Gianyar, Bali 80571, Indonesia
Operating Hours: Daily, 7am – 10pm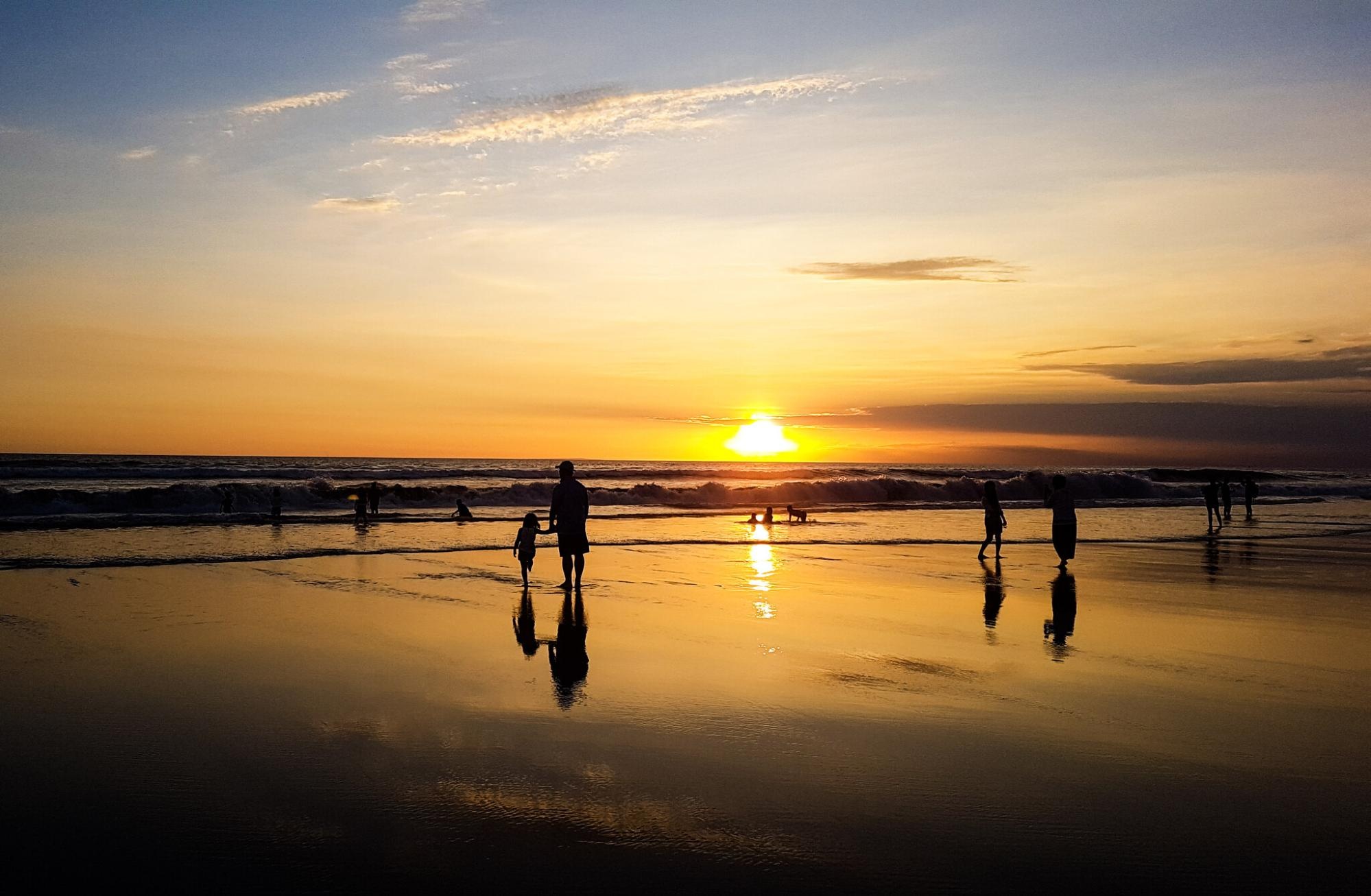 Seminyak Beach | Image credit: Jason Thibault
Now, it's time to bid farewell to Ubud and head towards Seminyak or Kuta, which are both about two hours away, but don't fret! The transit time will be the perfect chance for you to catch up on some shut-eye. Muslim travellers could choose Seminyak or Kuta as a home base for the next two nights. Unlike Ubud, these districts are known to be lively beach towns in Bali. Since they are popular tourist areas, just brace yourself for the crowd!
Planning for travel has never been this easy. If you sign up with Traveloka Xperience, you treat yourself and your travel buddies to a wide array of exciting tours and travel conveniences. Complete payment methods assure you that the entire booking process is quick and worry-free. Plus, customer service is available to valued clients 24/7.
Make your stay in Bali more memorable and hassle-free with Traveloka Xperience!
Before retiring into your comfy beds for the night, dine at the Halal-certified Café De Dapoer. Not only does this eatery feature unique Indonesian dishes like Mie Godog Si Jontek and Sop Buntut Si Mpok, but the cafe is also beautifully decorated with the owner's keepsakes and memorabilia.
Address: Jl. Raya Kuta No.88R, Kuta, Kabupaten Badung, Bali 80361, Indonesia
Operating Hours: Daily, 10am – 11pm
Day 3: Take a day trip to Nusa Penida

muslim-friendly itinerary bali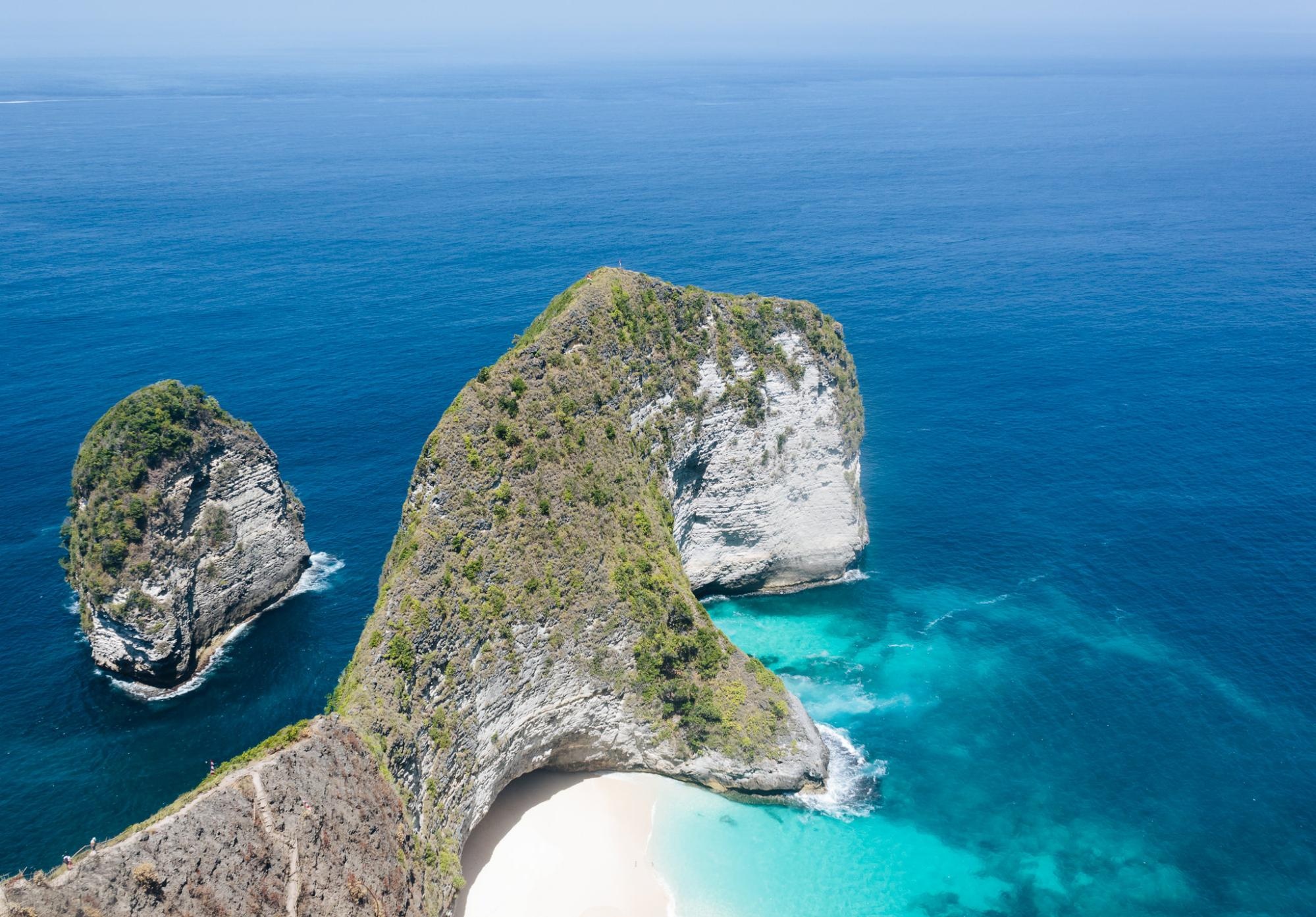 Kelingking Beach | Image credit: Anastasia R
You could hop on a speedboat from Sanur Beach or Tanjung Benoa to reach Nusa Penida in 30 minutes! Boasting white sandy beaches, crystal blue waters, and spectacular cliff landscapes, you could easily spend a whole day roaming around this island.
While a day trip to Nusa Pedina would suffice for most travellers, you may want to stay a day or two to make the challenging hike down to the beach; the view from there is simply amazing! Roads are bumpy and loaded with traffic, but there are many ways to explore this island — from renting motorbikes to cars.
#HZtip: Worried about limited time? No problem! Muslim travellers could easily arrange a day tour to Nusa Penida. Or if you can extend your stay in Bali, you could stay a few nights to fully explore the island!
BOOK A DAY TOUR TO NUSA PENIDA
While scuba diving is a popular activity here, there's as much to see (and do!) on land as there is underwater. Alternatively, you could go for a quick snorkelling session at Crystal Bay or Gamat Bay, where you'll see colourful corals and schools of fish. This is the perfect time to whip out those underwater cameras!
Muslim travellers should explore the many stunning hidden beaches here, too. You could start with the crowd favourite Kelingking Beach, which is probably the most Instagrammed spot in Nusa Penida. You could also make your way to Angel's Billabong and Broken Beach, which are right next to each other.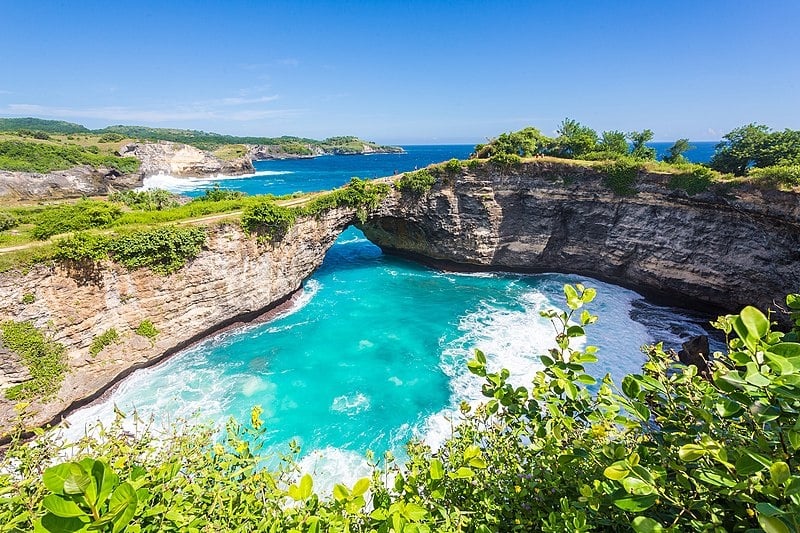 Broken Beach, Nusa Penida | Image credit: I Ketut Arnaya
Angel's Billabong is a natural rock pool, while Broken Beach is a popular viewpoint of an arched tunnel in the cliffs. Swimming in Angel's Billabong might be dangerous as massive waves might sweep you out into the ocean, so you might want to stick to the shore.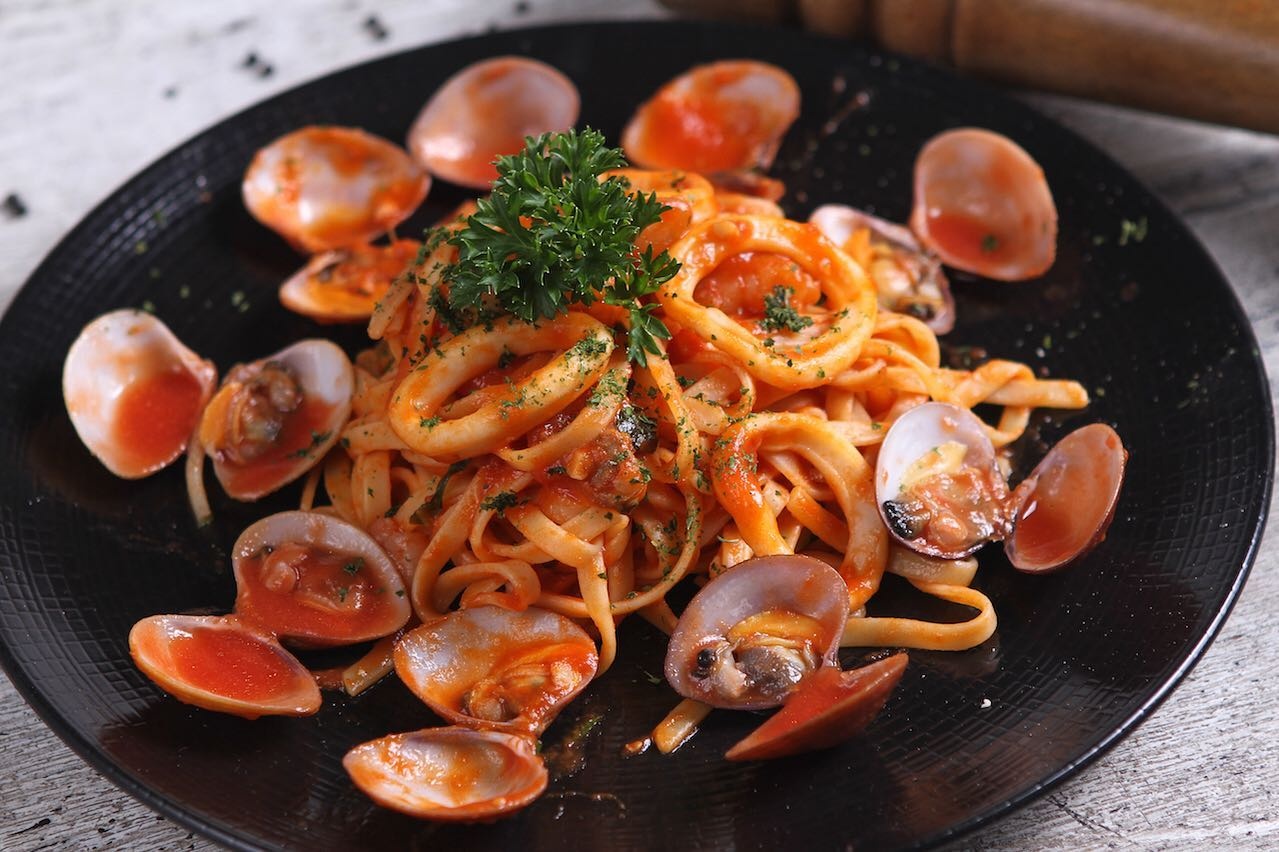 Image credit: Deliziosa Bali
Once the midday sun arrives, you can make your way back to the mainland. Before heading back to your accommodation, grab late lunch at Deliziosa Pizza & Pasta. You should take a break from Indonesian cuisine and get the Beef Bacon Benedict. Otherwise, go for the Tongseng Chicken Ala Mamak. Buon appetito!
Address: Jalan Popies II No.47, Kuta, Badung Regency, Bali 80361, Indonesia
OperatingHours: Daily, 9am – 12am
Enjoy your evening in Kuta with a stroll along Poppies Lane. This popular walking lane is home to plenty of cafes and restaurants. You could do some last-minute souvenir shopping here — there are many stalls selling paintings, bracelets, clothes, unusual lighters, and other one-of-a-kind knickknacks. Go ahead, treat yourself to a keepsake to remember your time in Bali! muslim-friendly itinerary bali
Address: Jalan Poppies, Kuta, Badung, Bali 80361, Indonesia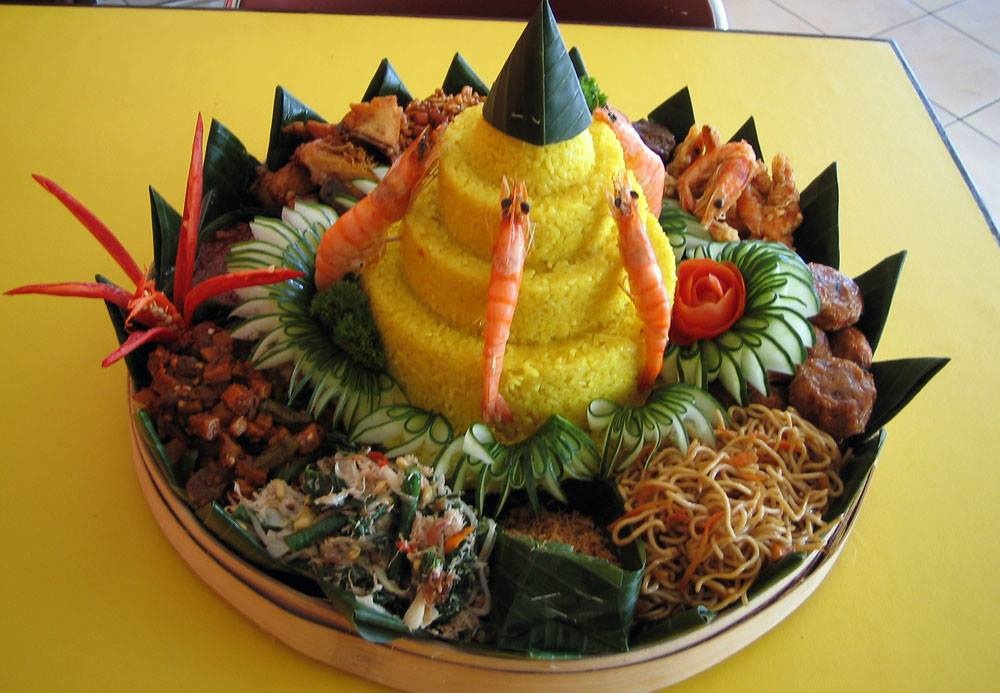 Image credit: Restoran Sunda Kelapa – Bali
Don't leave Muslim-friendly Bali without sampling the beloved Nasi Tumpeng (cone-shaped rice) at Sunda Kelapa Restaurant. This Muslim-friendly restaurant serves up Betawi cuisine, which is a mix of Indonesian, Chinese, Indian, Arab, and European flavours. Take note that you have to place your order in advance if you want to try this special dish.
Address: Jl. Kediri No.41, Kuta, Kabupaten Badung, Bali 80361, Indonesia
Operating Hours: 9am – 10pm
Contact: 0361-233481/0361-756995
Day 4: Suluban Beach and Uluwatu Temple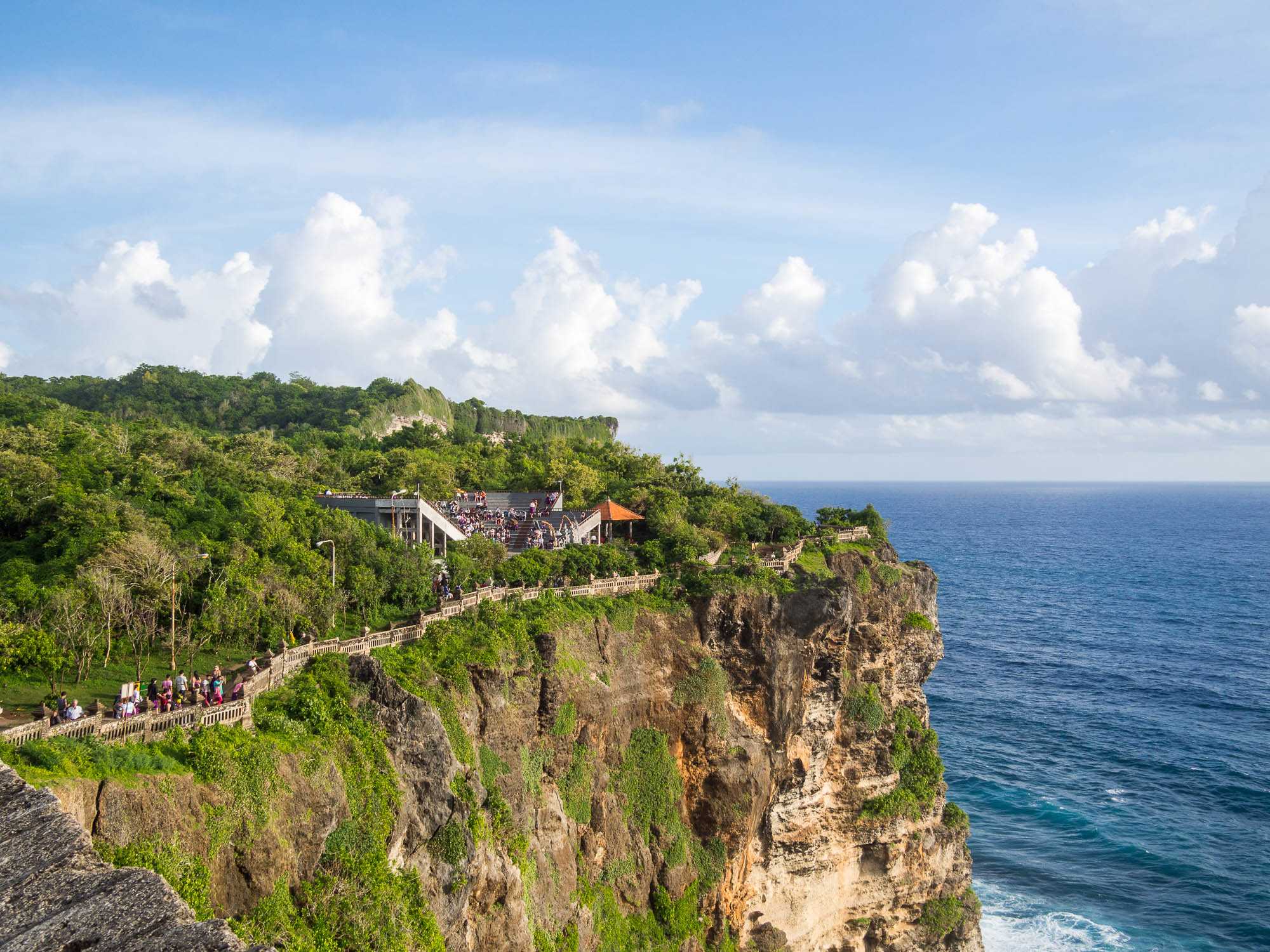 Uluwatu Temple | Image credit: Jumilla
Before catching your red-eye flight, Muslim travellers should make a stop at the southwest coast of Bali to fully soak in its unmatched beauty. As you drive towards Uluwatu Temple, you'll spot this ancient temple sitting at the edge of a 70-metre cliff. Take your time to enjoy the panoramic views from here, but also watch out for those sneaky macaques. Be sure to keep an eye on your belongings at all times!
Address: Pecatu, South Kuta, Badung Regency, Bali, Indonesia
Operating Hours: Daily, 7am – 7pm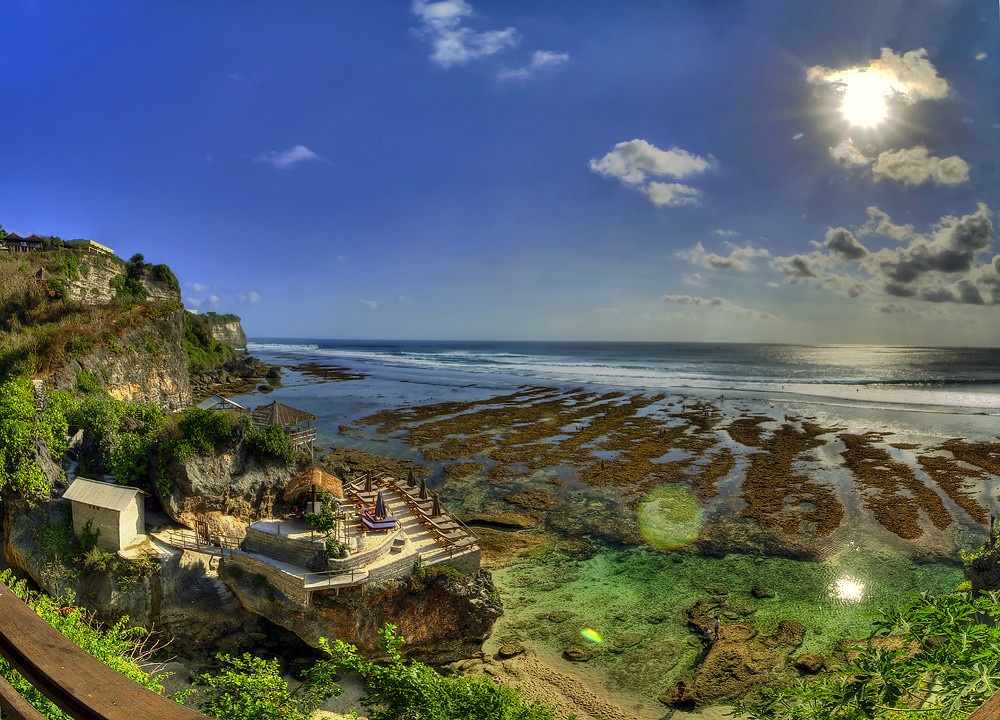 Suluban Beach | Image credit: Alex Hanoko
Also Read: 10 Muslim-Friendly Islands in Indonesia
If you have some spare time, make one last stop at Suluban Beach. Located just 10 minutes from Uluwatu Temple, this is a fairly pristine beach that boasts majestic cliffs, clear waters, and white sandbanks.
Since it's situated at the end of a long, winding staircase, this impressive beach isn't as crowded as Jimbaran Beach. Suluban Beach might not be an ideal place to swim, though, since it's more for surfing — but there's a network of hidden caves in the area for you to explore!
Address: Pecatu, South Kuta, Badung Regency, Bali 80361
Explore breathtaking Bali with Traveloka Xperience, the best booking and vacation-planning platform in Southeast Asia! Here, you can get your daily dose of holiday inspiration and purchase travel essentials with ease. All that in just one website! Cool, right?
There are just too many things to see and do in Muslim-friendly Bali — so much so that you might find yourself wanting to stay longer! These stunning sights mentioned are just some of the marvels and adventures that await you. But before you go, don't forget our top tip: For worry-free trips, arm yourself with Traveloka Xperience — South East Asia's leading travel and lifestyle activities booking platform. Enjoy!
---
Brought to you by Traveloka. muslim-friendly itinerary bali