It's no secret that Penang is a food paradise and Malaysia's capital for food. Just the mere mention of its name will evoke an image of its mouthwatering offerings. Nasi kandar, nasi biryani, mee sotong, pasembor, curry mee, cendol – these are just the tip of the iceberg of what you can expect in this small island.
To make it easier, we've compiled a list of halal places to visit when you're in Penang. Skip all the research and get straight to it. Foodies, you know what that means… it's food hunting time!
George Town
The juxtaposition of old and new in George Town cannot go unnoticed. The eclectic mix of shophouses-turned museums and humble hawker stalls plus modern cafes is an intriguing one. Check out the hipster scene and the community of artists who gravitate towards the Hin Bus Depot especially for the local Sunday flea. Later, embark on the street art trail along Armenian Street, Chulia Street and Love Lane which features wall murals by renowned artists. If you wish to see Penang from a different perspective, head to KOMTAR's The Top where you can enjoy unrivalled panoramas.
George Town is also the only place where you'll find a church right next to a mosque next to a temple. Masjid Kapitan Keling (built in 1801) proudly stands next to St George's Church and the Taoist Goddess of Mercy Temple. To continue your "history" tour, pay a visit to George Town's Green Mansion which is also known as Pinang Peranakan Mansion. Discover the Peranakans' way of life and interesting facts about their culture and heritage.
Speaking of way of life, the Clan Jetties also represent another way of life. These villages on stilts along the wooden pier have been around since the 19th century and house the descendants of Chinese immigrants. The eight different clans still reside here till date and are similar yet share different beliefs!
1. Hameediyah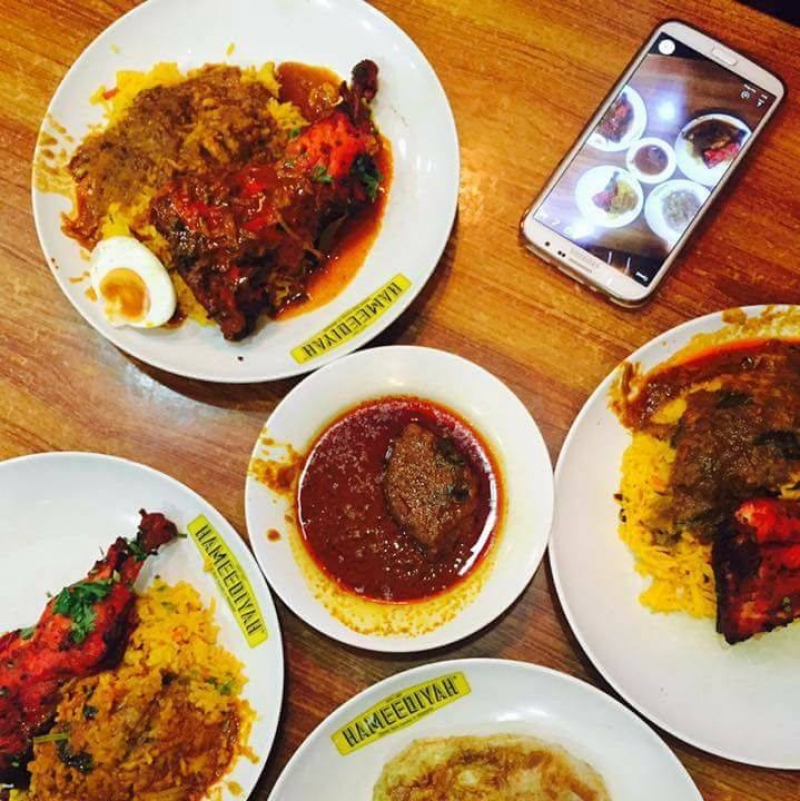 You know you're in for a treat when the eatery has been in business for more than 100 years! The oldest nasi kandar in town since 1907, it has withstood the test of time and since remains a favourite among the locals. Signature dishes include rose chicken, duck curry, chicken kapitan, kurma mutton, and beef rendang – all guaranteed to be finger-lickin' good.
Address: 164, Lebuh Campbell, George Town, 10200, George Town, Pulau Pinang
Opening Hours: Sat -Thur, 10am – 10:30pm, closed on Fridays
Contact: +604 2611095
2. Nasi Kandar Beratur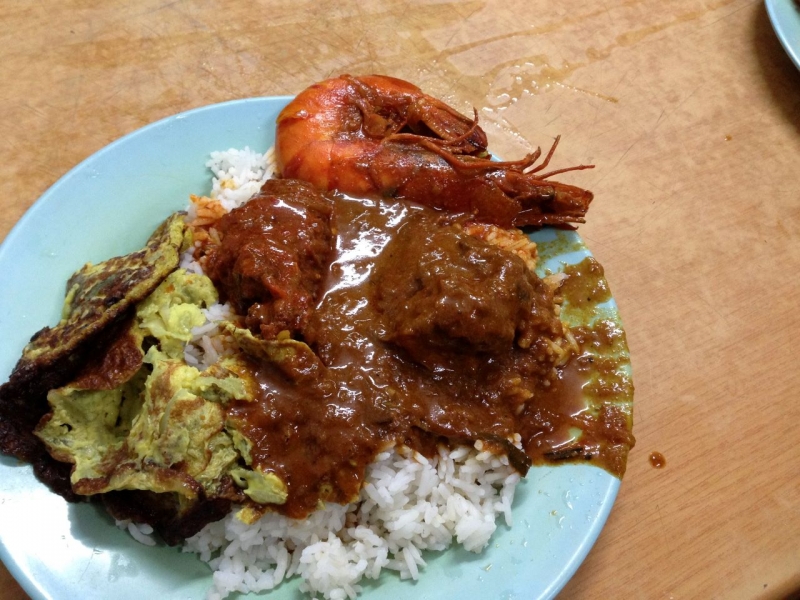 Situated right next to Masjid Kapitan Keling is a nasi kandar vendor that is known for its odd opening hours, 10pm to 9am. As its name suggests, expect to face a queue although when it comes to food, long queues mean one thing: good food! Spice up your taste buds with their red-hot beef curry. Or go with the classic onion omelette doused with mixed curry for that perfect plate of nasi kandar.
Address: 98, Jalan Masjid Kapitan Keling, George Town, 10300 George Town, Pulau Pinang
Opening Hours: 10pm – 9am daily
3. Deen's Maju Nasi Kandar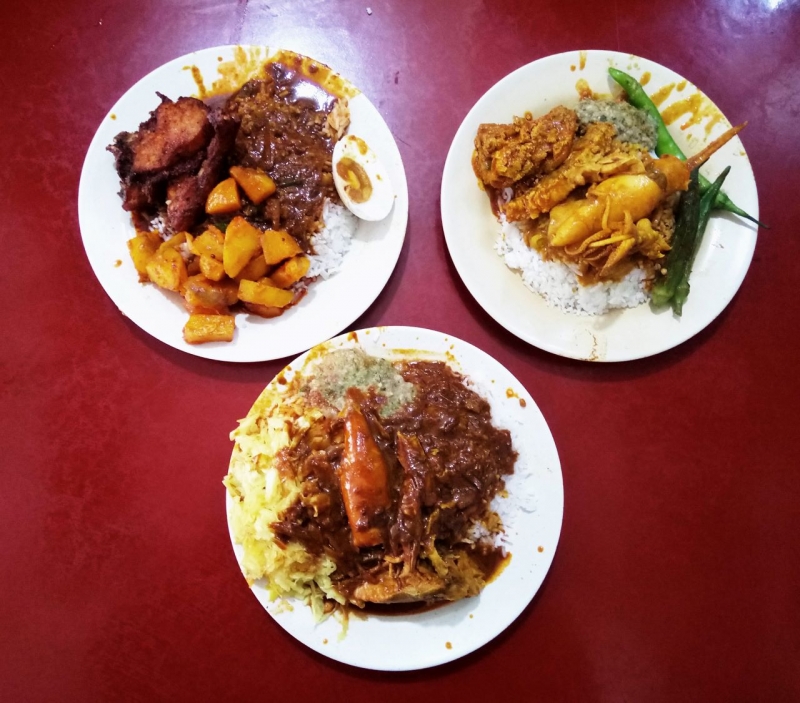 What did we say about long queues equating to good food? Brace yourself for another one for there is no shortage of patrons here at Deen's Maju. One bite of its delish mess of flavourful curries (together with its infamous fried chicken, salted egg, and coconut sambal) and you will surely be hooked as well.
Address:170, Jalan C.Y. Choy (Jalan Gurdwara), 10300 George Town, Penang
Opening Hours: 2:30pm – 11pm daily
Contact: +60 12-425 2421
4. Roti Canai Transfer Road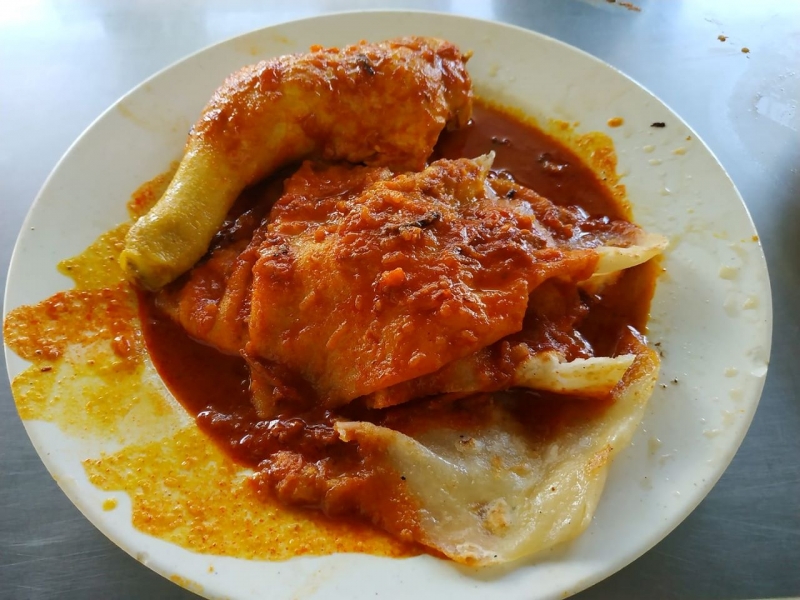 To not include Roti Canai Transfer Road in a Penang food list is blasphemy! Start your day right with their wholesome breakfast of curry-and-sambal flooded roti canai topped with a large piece of chicken on the side. There's also the roti bakar with runny half boiled eggs on top if you prefer a lighter breakfast.
Address:114, 110, Jalan Transfer, 10050 George Town, Penang
Opening Hours: 7am – 11am daily
5. Hameed Pata Special Mee Sotong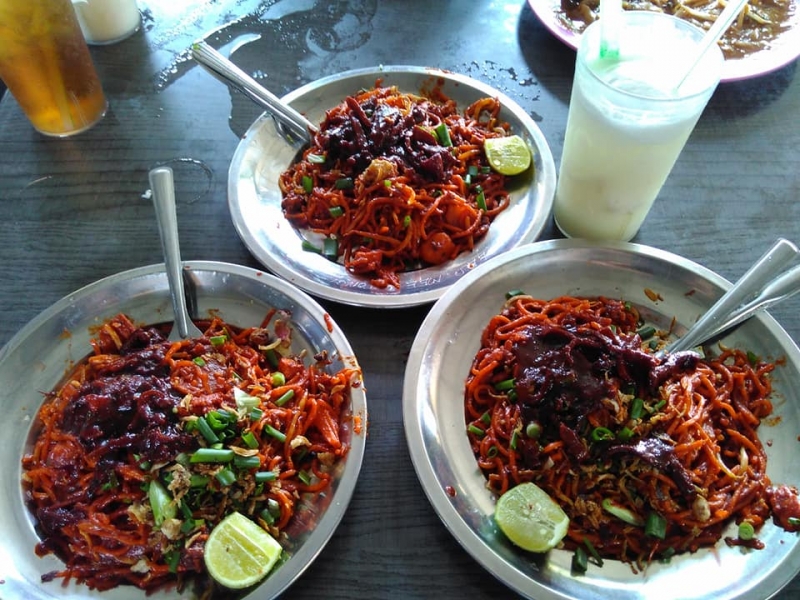 Another must-have in Penang, this eatery is just within walking distance from Fort Cornwallis. Popular amongst the locals, they only dish out two items namely mee rebus and mee goreng. Both of comes with their killer sambal sotong! Pair it with the coconut shake from the neighbouring stall for the ultimate indulgence.
Address: 6, Kota Selera Padang Kota Lama (Fort Cornwallis Food Court), Jalan Tun Syed Shah Barakbah, 10200 George Town, Penang.
Operating hours: Mon – Sat, 11:00am – 8pm, closed on Sundays
Contact: 013 4319384
6. Kareem Pasembur Rojak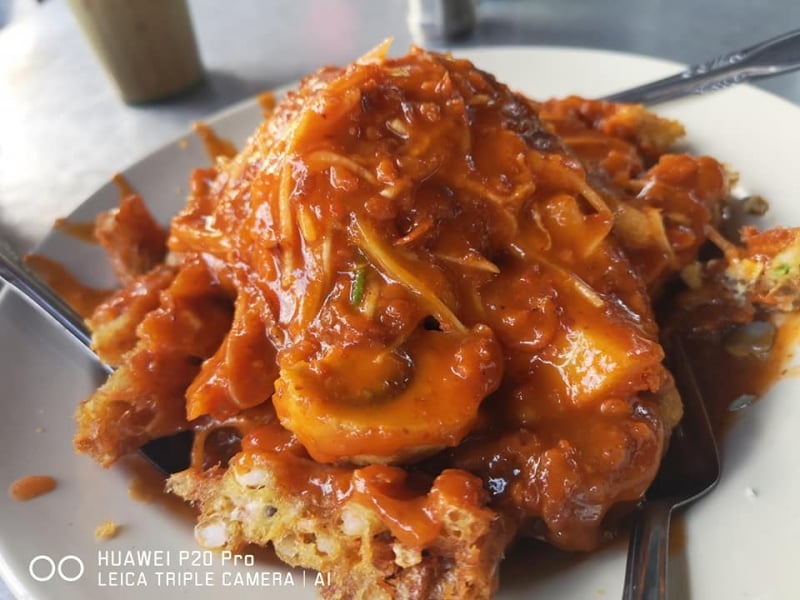 Expect thick and flavourful homemade sauce with an extra kick here! The hearty portions and diverse selection of fritters from prawn fritters to fish cakes, boiled potatoes and fried tofu also make this eatery a hot choice. Kareem Pasembur Rojak has all the recipes of a great pasembur and that is exactly what you'll get!
Address: Kareem Pasembur Rojak, Union Street, 10200 Penang (behind Standard Chartered Bank)
Opening Hours: Mon – Sat, 11am – 6pm, closed on Sundays
7. Sup Hameed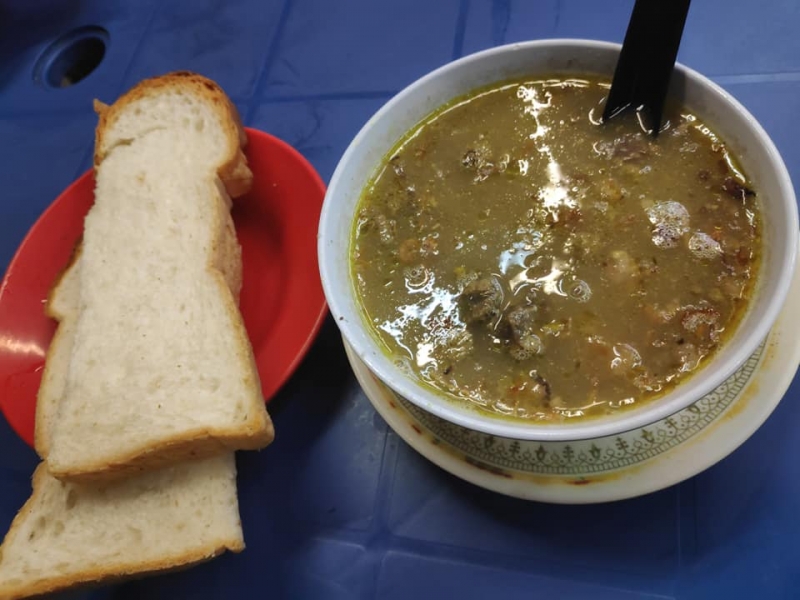 Soup might not come to your mind when you think of Penang, but trust us when we say this is one heck of a good soup place. Served with a side of handmade roti benggali, enjoy a comforting bowl of chicken or beef soup. Or get adventurous and try the cow's tongue or beef entrails soup!
Address: 48, Jalan Penang, 10000 George Town, Penang
Opening Hours: Daily 24 hours
Contact: +604 261 8007
8. Alamak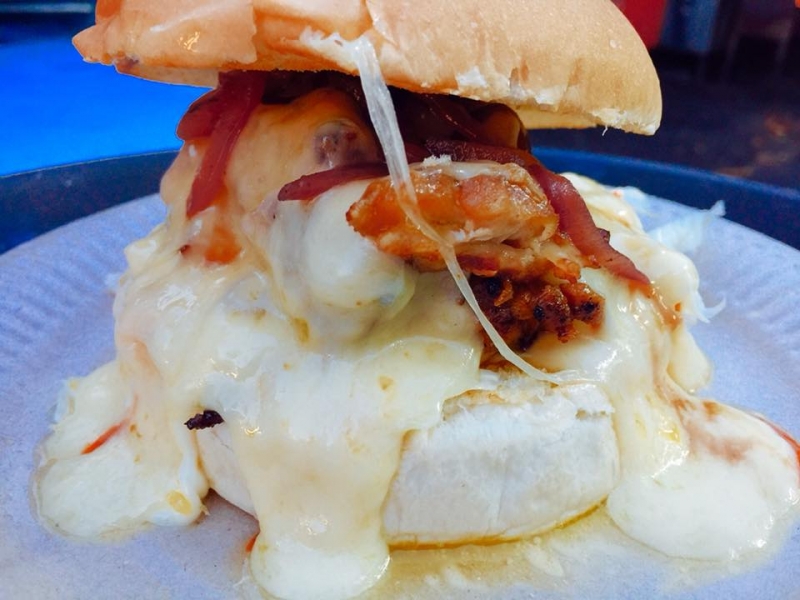 Who can say no to a juicy, mouth-watering burger? What more if it's overflowing with the delicious goodness that is cheese! Famous for their melted cheeseburger, Alamak's burger does not come to fame for only the cheesy ingredient, but also because of their juicy handmade patty and exquisite secret sauce unbeknownst to others.
Address: Jalan Argyll, George Town and Krystal Square, Jalan Bukit Gambir, Bayan Lepas
Opening Hours: 6:30pm – 2:30am daily
Contact: 016-972 8018, 018-9898018
9. Penang Road Famous Teochew Chendul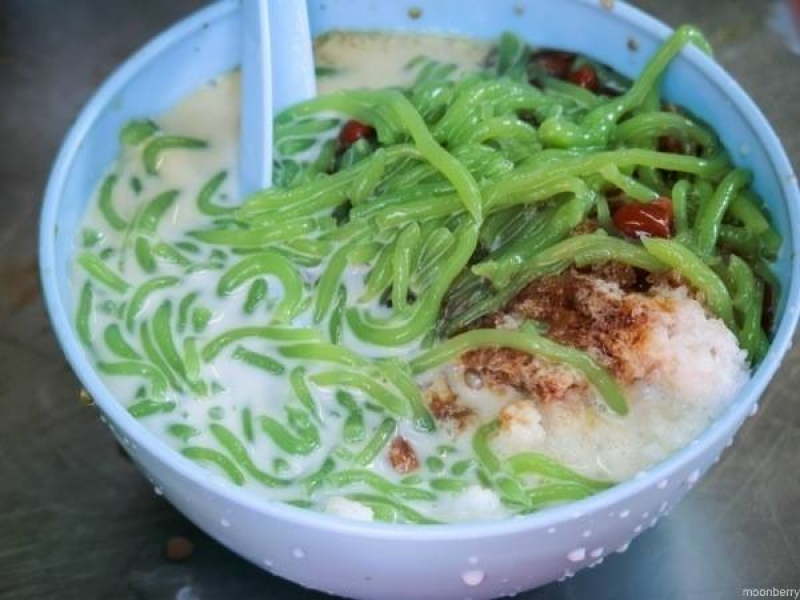 This much-loved local dessert needs no further introduction. Here in Penang, you can enjoy this refreshing bowl of cendol at this original humble stall along Lebuh Kwang Kwee! Besides, nothing beats having a bowl of cendol under the scorching Malaysian sun.
Address: Multiple locations
10. Bee Hwa Cafe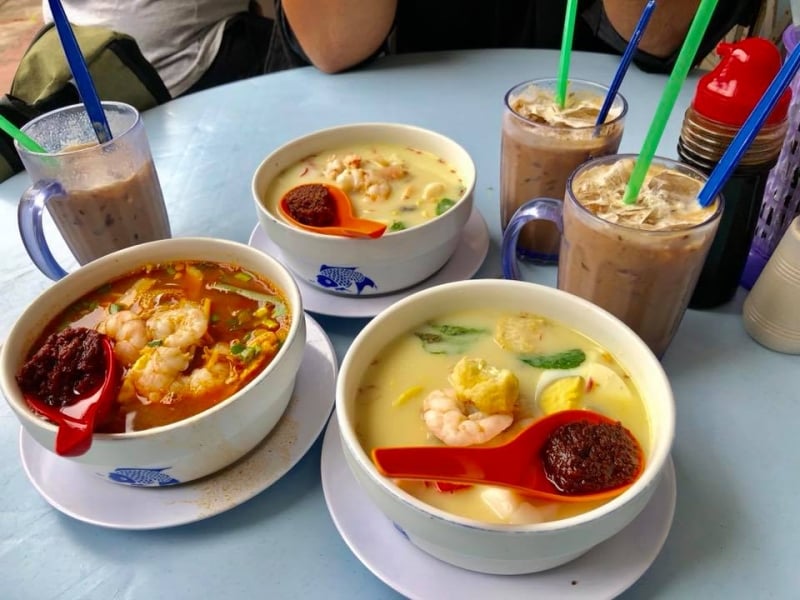 There is no shortage of halal Chinese food in Penang. Bee Hwa Cafe is known for having really good reviews and this kopitiam has been serving halal Hainanese cuisine since 1992. What to order here? Their signature flavourful curry mee and authentic Penang Char Kway Teow.
Address:10, Lebuh Dickens, George Town, 10050 George Town, Penang
Opening Hours: Mon – Fri, 7am – 5pm, Sat,  7am – 3pm, closed on Sundays
Contact: 04-263 6092
11. Kota Dine & Coffee – when Francis meets rempah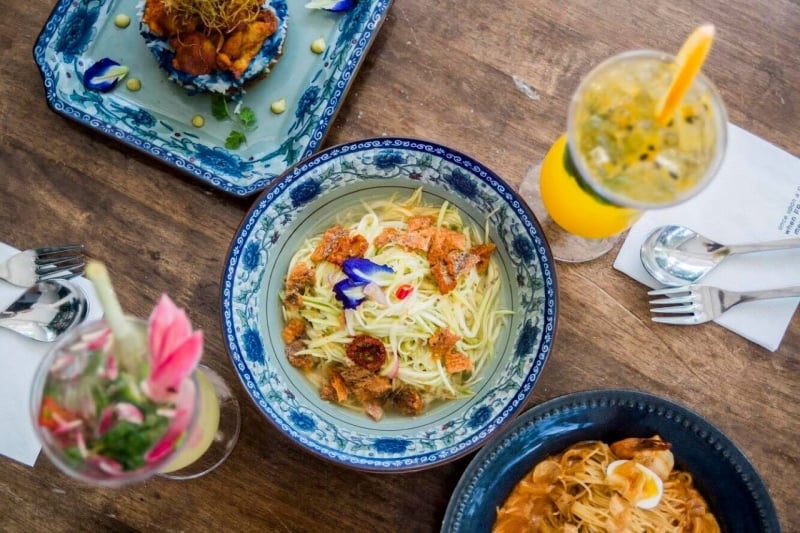 With its chic decor and beautifully-plated dishes, this cafe is hipster heaven. But don't let the aesthetics fool you. Serving up Peranakan-style dishes, their food is just as good as it looks! Although there are minimal entrance fees into the fort, they can be waived if you spend a minimum of RM30 (~S$10) which, looking at its tantalising menu, wouldn't be a problem at all.
Address: Fort Cornwallis, Jalan Tun Syed Sheh Barakbah,10200 George Town, Penang
Operating hours: 10.30am – 10.30pm daily
Contact: 04-371 4929
12. Kopi-C Cafe at China House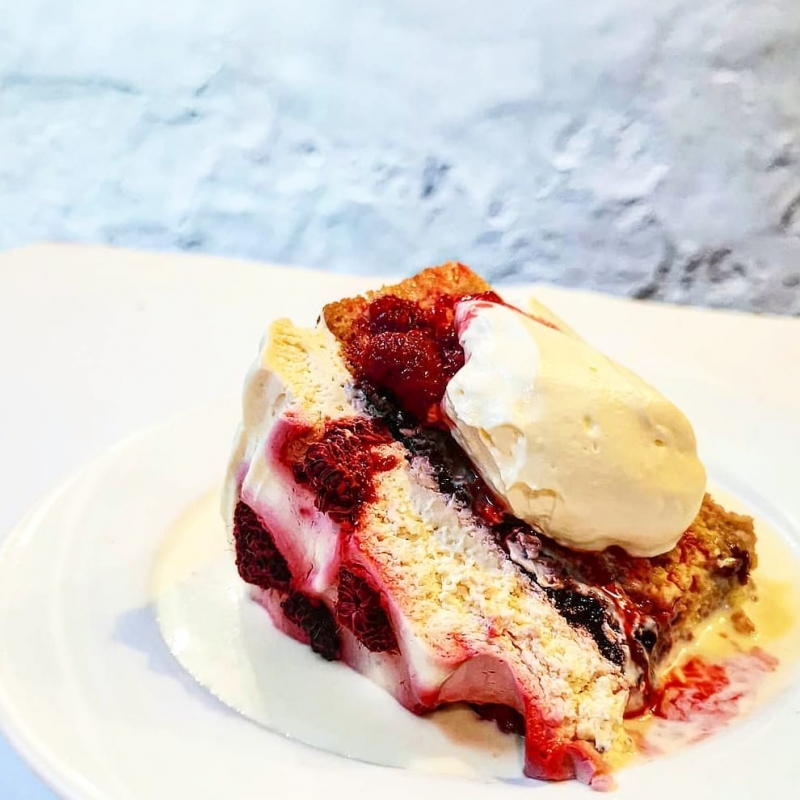 Treat yourself to a slice of heavenly dessert. Those with a sweet tooth will be very impressed by their selection of more than 30 desserts. Housed in a heritage house turned art space known as China House, the coffees here are also an absolute must-try.
Address:153 & 155, Lebuh Pantai and 183B, Lebuh Victoria, George Town, Penang
Opening Hours: 9am – 1am daily
Contact: 04-263 7299
Also read: 7 Halal Buffets to Try in Johor Bahru
Gelugor
The most iconic landmark here has to be the Penang Bridge which connects Butterworth on the mainland side with Gelugor on the island, crossing the Selatan Strait. The bridge is well known as the second-longest bridge in Malaysia and the fifth-longest in Southeast Asia by total length!
If you're driving from the mainland side and feeling peckish after crossing the bridge, this next hot spot is where you should head to refuel!
13. Shariff Nasi Kandar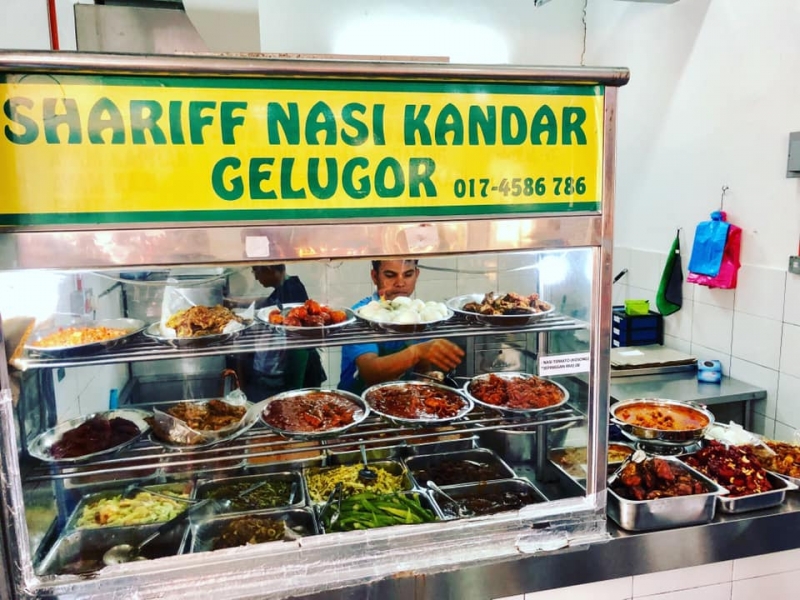 Let's be real. Nasi kandar can be expensive but here at Shariff's, prices are really wallet-friendly. Once a humble stall along Jalan Gelugor, they are much loved by university students particularly for their affordable yet delicious nasi kandar. Their winning combo? It has to be the savoury rose chicken pairs with onion omelette.
Address: Pasar Dan Kompleks Makanan,159, Jalan Permai, Taman Brown, 11700 Gelugor, Pulau Pinang
Opening Hours: Sun – Fri, 5:30pm – 9:30pm, closed on Saturdays
Contact: 017 4586786
BONUS – Butterworth (Mainland Penang)
14. Sin Bee Chew Restaurant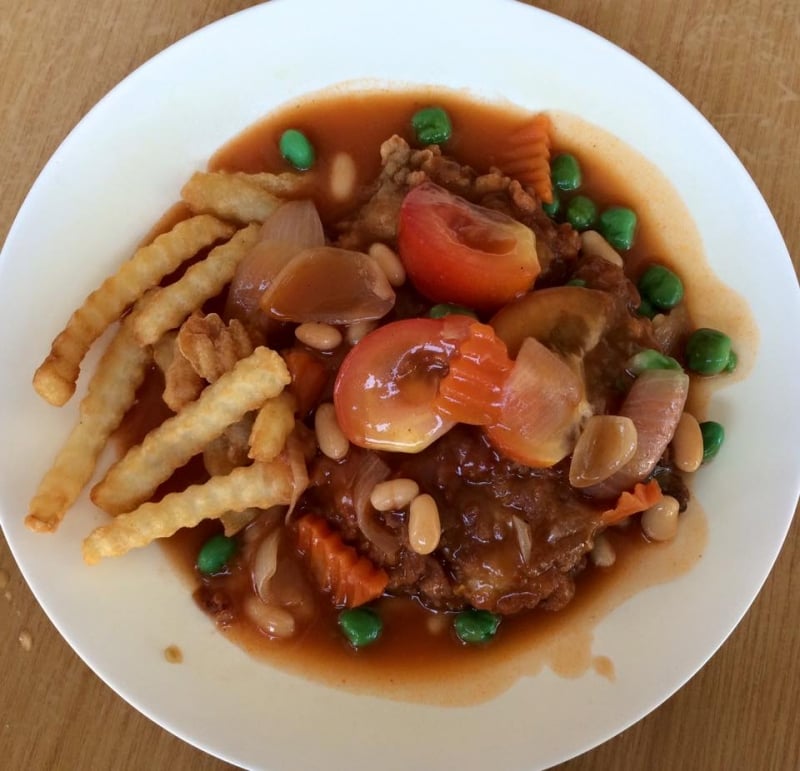 No fuss, no frills, just classic homestyle Chinese food is what you'll get here at Sin Bee Chew. A must order is their Hainanese chicken chop – tender chicken with crispy outside drenched with homemade ketchup-Worcester gravy. And while you're at it, try out their Nyonya Fried Chicken (Inchi Kabin) and Hokkien Char. You won't regret it!
Address: No. 11-A, Lorong Bagan Luar 3, 12000, Butterworth, Penang,
Opening Hours: Mon – Fri, 12pm – 2:45pm, 5pm – 8pm, closed on the weekends
Contact: 04-333 2928
Countless have gushed about how Penang is such a great destination for foodies! Food hunting in Penang is fun and an endless discovery of exotic dishes and unique flavours. Conquer this food-loving capital and start your quest right in the heart of George Town!
Also read: Halal Food in Krabi, Thailand: 12 Places to Visit When You're Hungry