It never crossed my mind that I'd be travelling overseas for the first time in my life in 2023. Guess where I flew to? Hong Kong, everyone! To quote Hilary Duff, 'This is what dreams are made of.' Well, dreams sure are made of unexpected things and butterflies in the stomach. So, buckle up as I take you on an exciting 5D4N adventure in Hong Kong. 
Fun fact: Hong Kong in Chinese literally translates to "fragrant harbour"! 
Also read: Eat, Pray, Love: 6 Places Muslims Must Visit in Hong Kong
During and after the flight
During the flight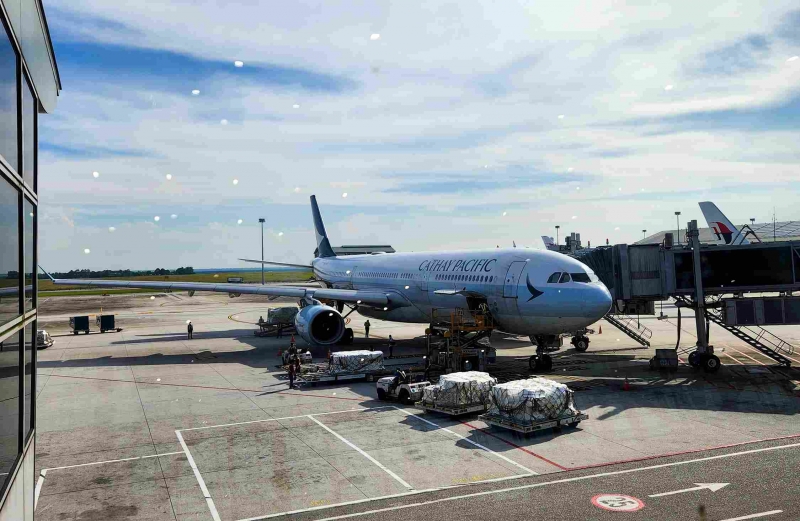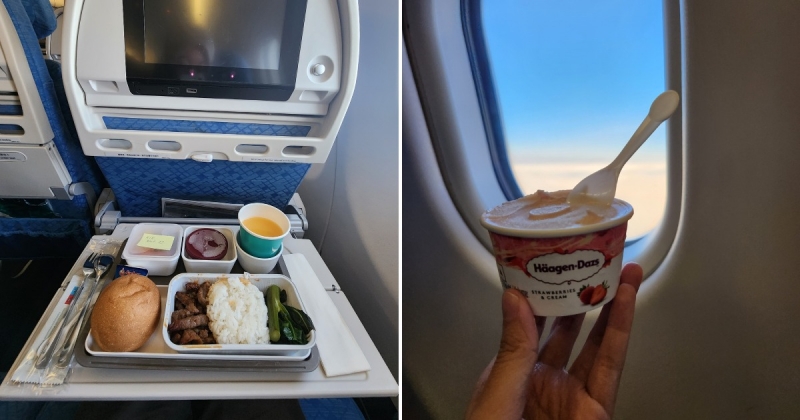 Setting off with Cathay Pacific Airways was a whole new experience for me. I had the best four hours in the night sky accompanied by tasty and, most importantly, halal in-flight meals. 
After the flight
The flight landed at around 9 pm (Hong Kong time), and it felt surreal when I set foot outside the plane. We received a warm welcome from the Hong Kong Tourism Board. Afterwards, we hopped on a half an hour's journey to where we'll be staying for the next few days: InterContinental Grand Stanford Hotel overlooking Kowloon Bay and Hong Kong Island. The room was luxurious and came with a halal in-room dining menu specially made for Muslim visitors!
Where and how to get the internet?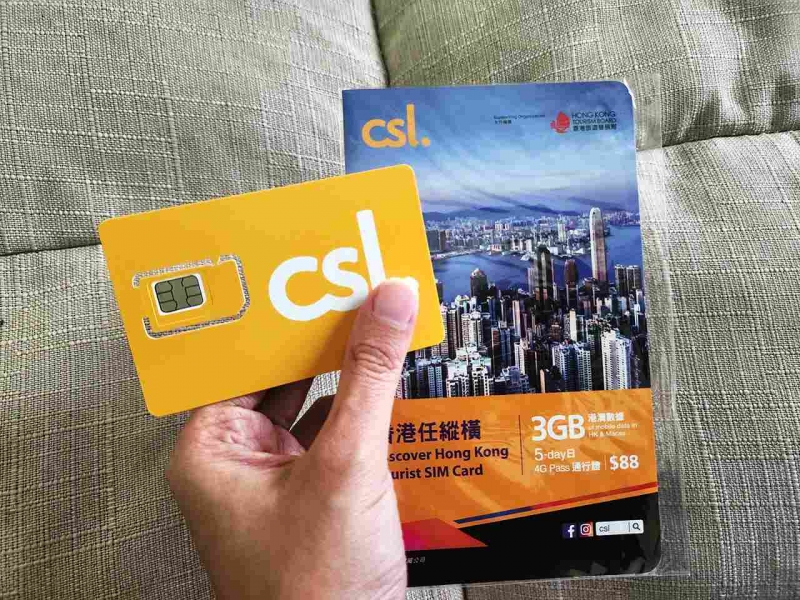 Yes, I get it. You just arrived in a foreign country and need to update your family that you have safely landed in one piece. In that case, I recommend getting a sim card from any of these stores at Hong Kong International Airport (HKIA): 1O1O (CSL Mobile) store, 7-Eleven, China Mobile Hong Kong store, or a Travelex currency exchange counter. The price depends on the type of pass you are purchasing. I got a 3GB, 5-day, 4G pass for HKD88 (~MYR50.89).
Hong Kong Muslim Travel Guide
Day-1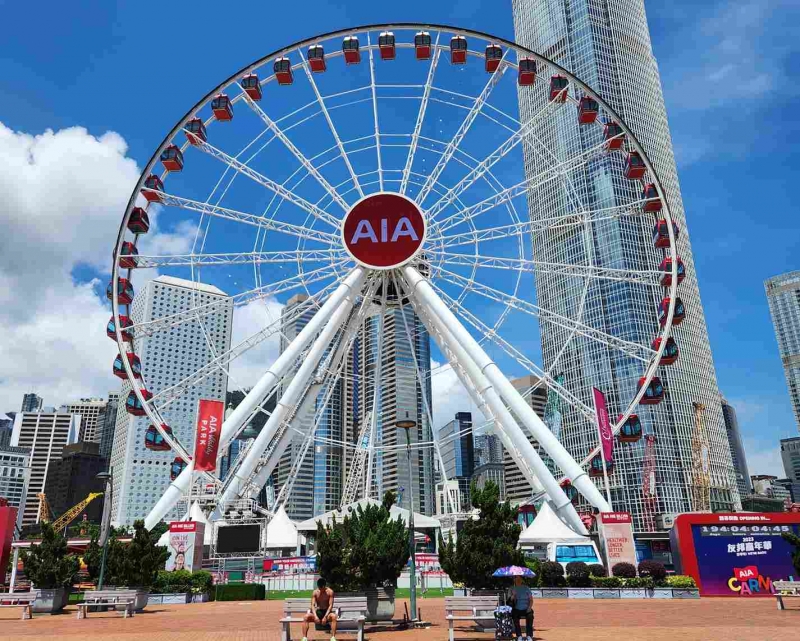 We kicked off the day by visiting the scenic Central and Western District Promenade. I immediately spotted the Hong Kong Observation Wheel, a 60-metre ferris wheel overlooking the Central Harbourfront. We walked along the promenade, and the views were simply breathtaking.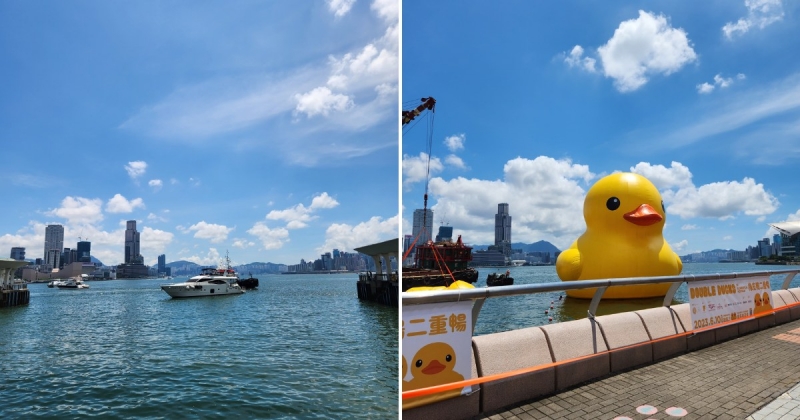 It wasn't long before we were greeted by the adorable sights of Double Ducks — they came back to HK after ten years of hiatus! If you didn't know yet, the two ducks are symmetrically put side by side, resembling the Chinese characters for 'happiness' (囍) and 'friends' (朋). 
The weather was scorching hot when we arrived and one of the ducks had to be deflated for a body check. Nonetheless, we still had a ducking good time seeing its super cute partner across the promenade. Just so you know, the exhibition already ended by the time this article was written, but it's a must visit if it ever comes back to Hong Kong again!
After a refreshing walk along the harbourfront, we headed straight to the must-visit Central Market, around an eight-minute drive from the ferris wheel. It is located on Queen's Road and one of Hong Kong's oldest wet markets. The building consists of three floors which include various shops selling local souvenirs and food, as well as fashion and art exhibitions.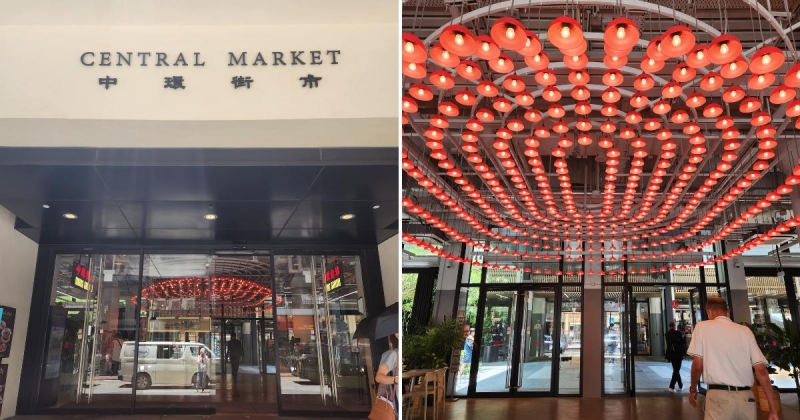 If you're planning to visit this place, I suggest taking a snap or two under the iconic butcher lamps hanging right at the entrance of the market. And do check out the HK Tram Store on the second floor of the building. They're selling tram-themed souvenirs and postcards which can be wonderful gifts for your loved ones back home.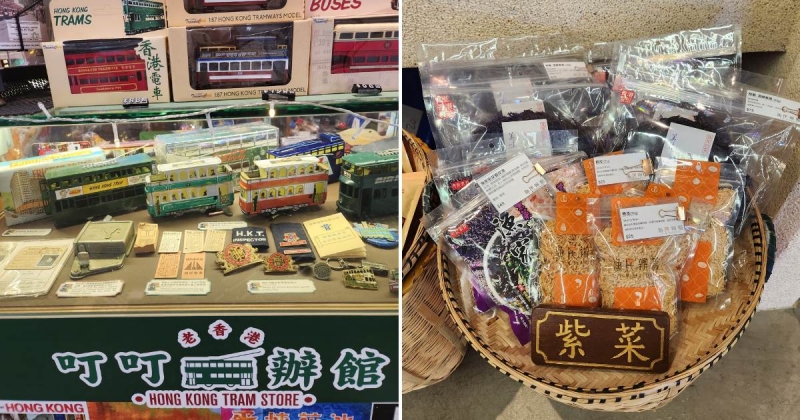 The adventure continued with us taking the longest outdoor covered escalator in the world: Hong Kong's Central–Mid-Levels escalator and walkway! It was a great experience for all of us. We had the chance to see residents in the city going around their daily lives as we rode the open-air, slow-moving escalator. 
Lunch
Our next stop was Jashan Indian Cuisine, where we had hearty Indian meals for lunch. The taste was superb! Is it halal? Yes, this restaurant is halal certified, so worry not about having to go through the menu carefully.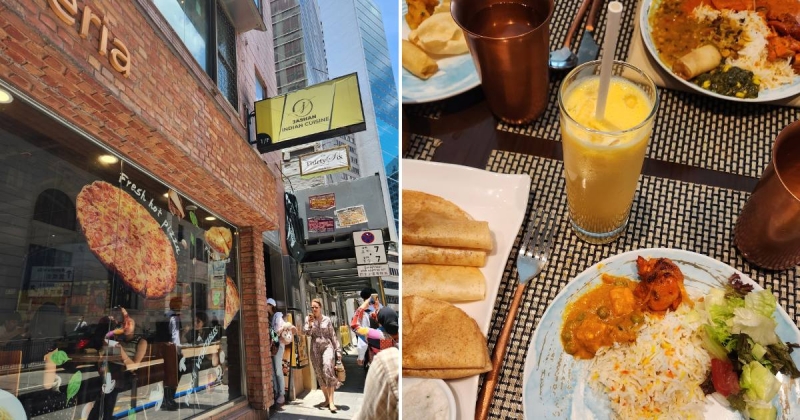 We then resumed our journey to Jamia Mosque, the oldest mosque in Hong Kong, for Zuhr prayers. This green mosque on Shelley Street in Central Mid-Levels is also known as Lascar Temple and is within walking distance of the MTR Central Station. You will find the beautiful arched entrance of this mosque by the street before you get to climb a set of stairs leading to this sacred building.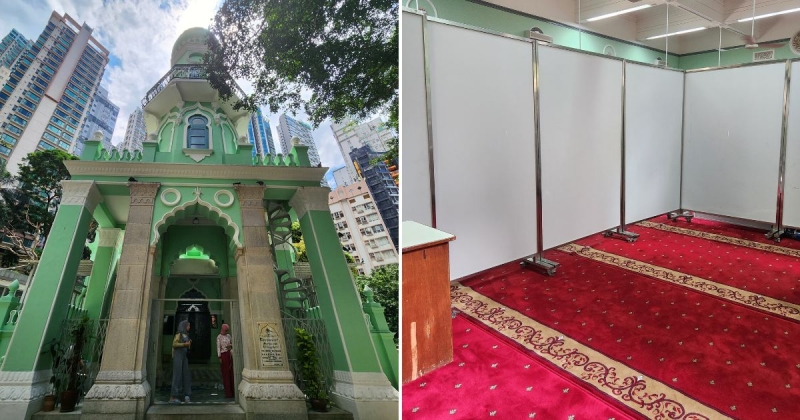 After fulfilling our daily obligations, it's time to have some  fun at the Happiest Place on Earth — Hong Kong Disneyland! The Castle of Magical Dreams has undergone a huge transformation and now boasts 13 towers, each representing different Disney princesses and queens.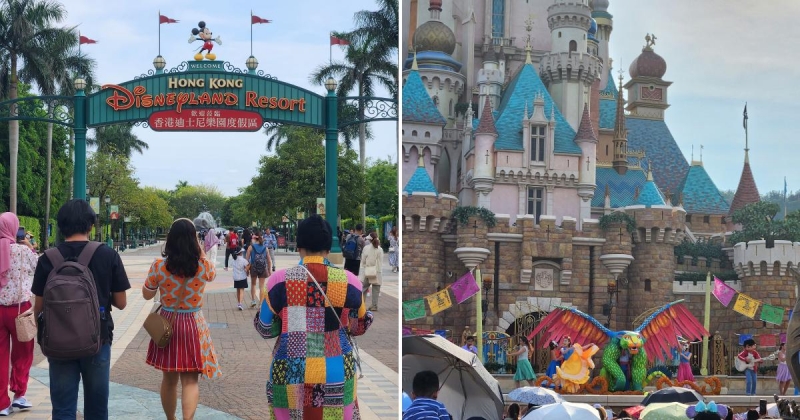 We were lucky enough to be able to watch the 20-minute live outdoor musical party, "Follow Your Dreams," featuring Mickey Mouse and friends too. Before the fun continued, we performed Asr prayer in the Quiet Room behind Toy Story Land, specially designed for worshippers to perform their religious prayers. You can find two spaces for ablution as soon as you walk in.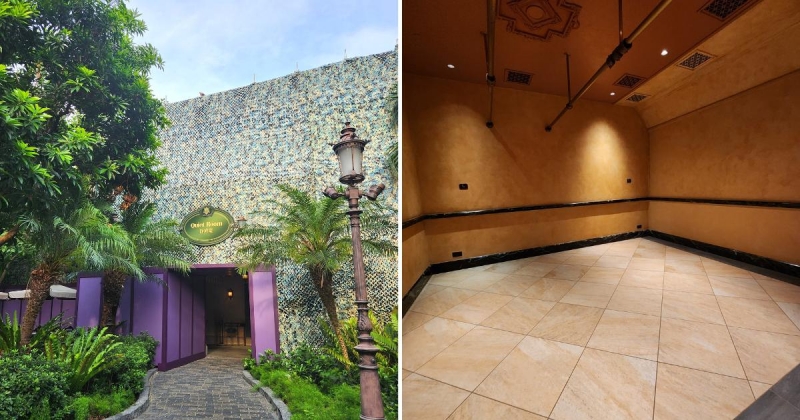 Dinner
What to do when your stomach's rumbling in Hong Kong Disneyland? Head to the Tahitian Terrace, a halal-certified restaurant serving hearty Asian dishes and plant-based meals. Do give it a try; you won't be disappointed.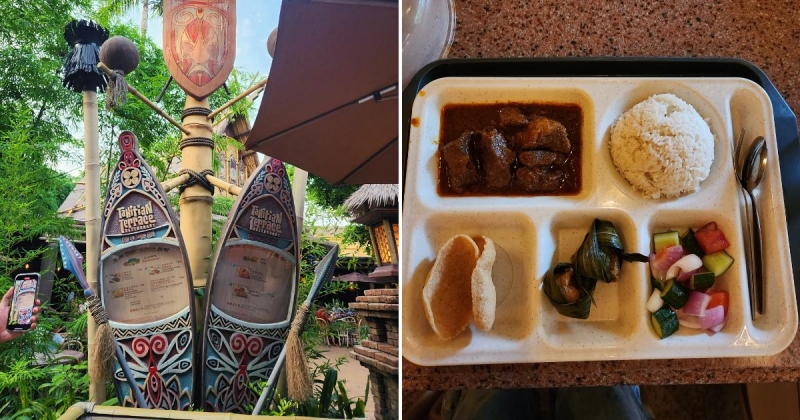 Tell me you've been to Disneyland without telling me you've been to Disneyland — a picture of you against the most awaited nighttime spectacular: "Momentous." Here, we had the  experience of a lifetime, watching 20 minutes of large-scale projection mapping technology, choreographed and illuminated fountains, theatrical lighting, and astounding fireworks displays.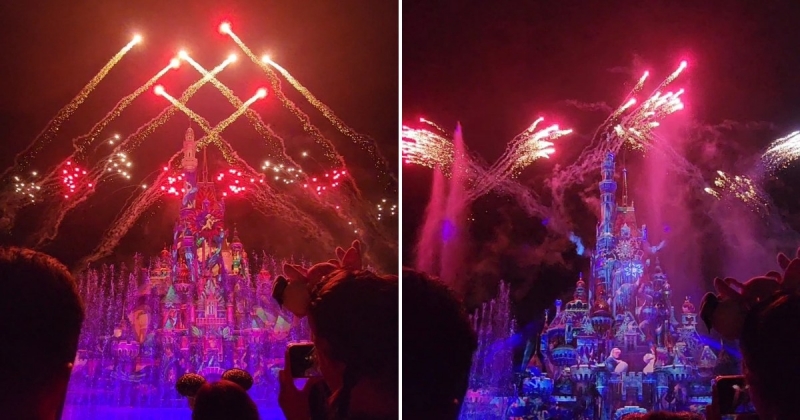 Day-2
We began our second day with an artsy walk down the streets of Central Hong Kong. This street art hunt was led by a representative from HKWALLS, a non-profit arts organisation in Hong Kong. Though the city is known for its towering skyscrapers, there are always colourful pieces of creativity tucked between the urban tropes, an ode to Hong Kong's appreciation and support of both local and international artists.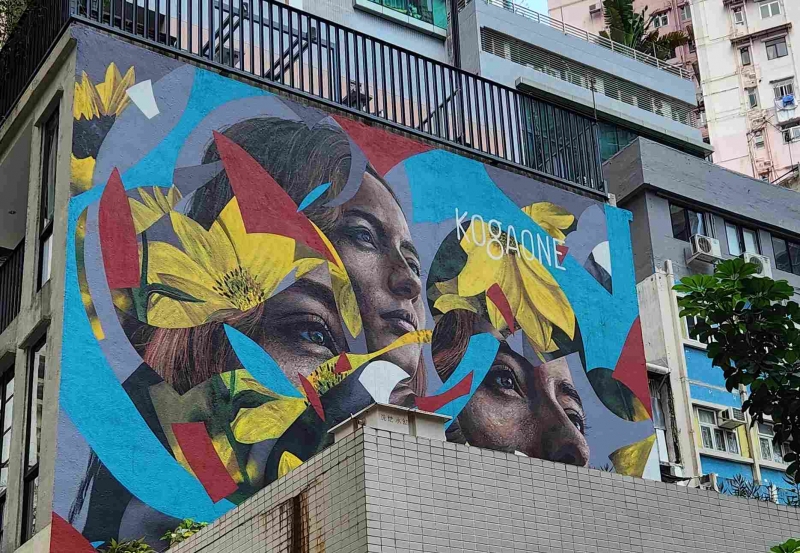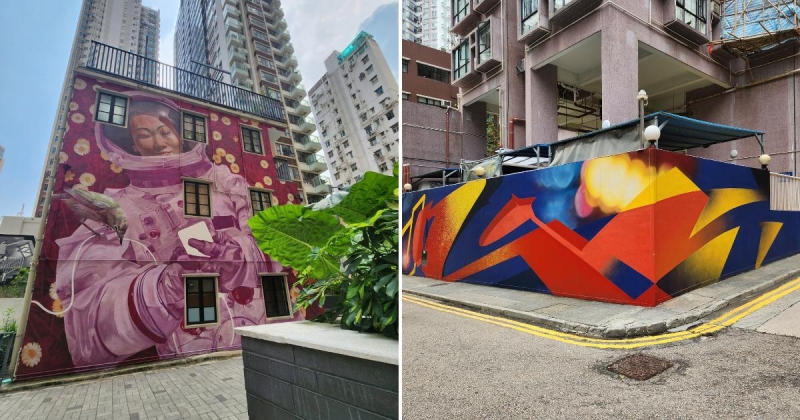 After our memorable art-filled walk, we took the bus to our next destination: Masjid Ammar and Osman Ramju Sadick Islamic Centre. The mosque, also known as Wan Chai Mosque, is the third mosque built in Hong Kong. It has a beautiful interior and comfortable praying halls for both men and women. Psst, the clean toilets in the mosque also come with bidets!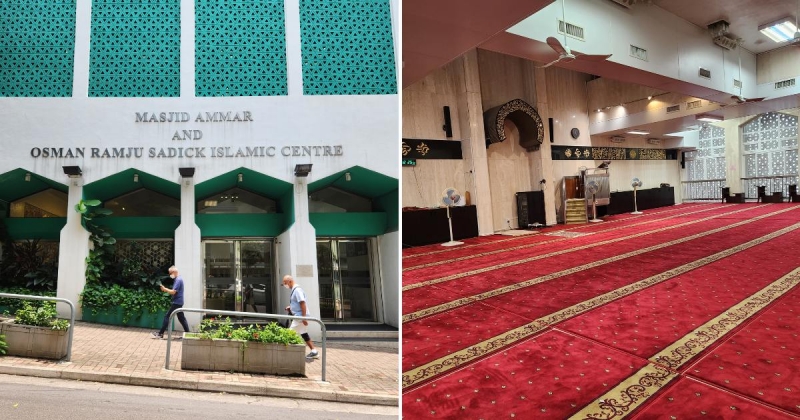 Lunch
The main highlight of this place is on the fifth floor of the building — the Islamic Centre Canteen. Not only is it halal-certified, but it's also the only place in Hong Kong that serves halal dim sum! Most of the dishes here are rich in taste and beyond satisfying.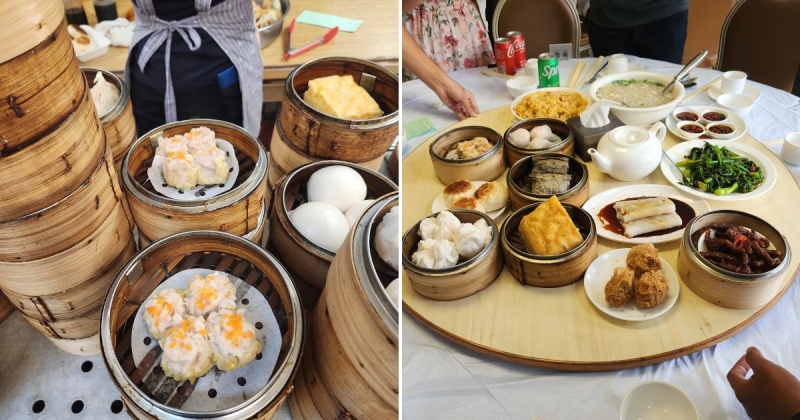 Next stop: the Cathay retail shop at Cityplaza Mall. FYI, it's the airline's first retail space selling a premium selection of exclusive Cathay merchandise. If you present your digital or physical boarding pass (within one month of arrival) to them, you'll enjoy a 5% discount on any Cathay exclusive products. I'd recommend aviation geeks to visit this shop as they have a wide collection of Cathay miniature aeroplanes for you to choose from.
After some merch shopping, we went for an immersive media art experience at Arte M. The exhibition displays hand-picked highlights from the d'strict's ARTE MUSEUM from Korea. The current exhibition explores the reinterpretation of nature beyond time and space. My favourite would be the breathtaking Aurora Beach exhibition. I'll let my pictures tell you why!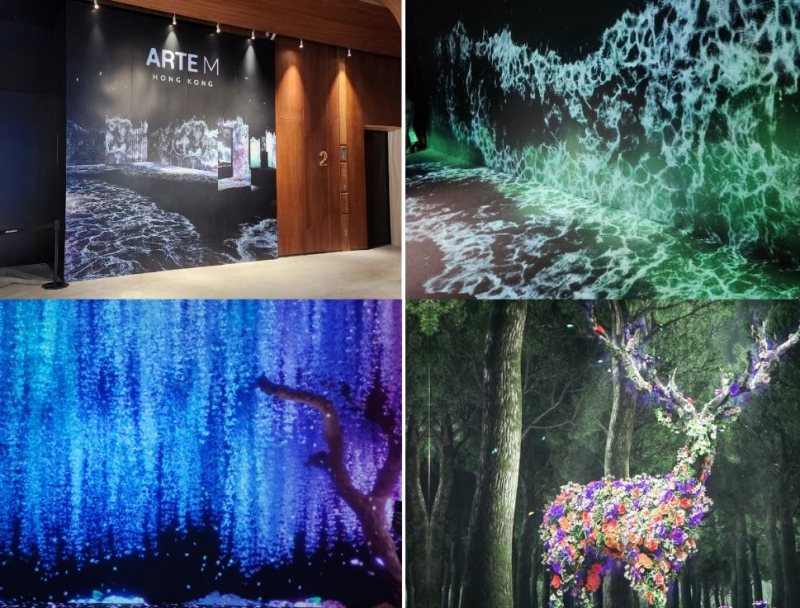 Dinner
Before returning to our hotel room, we dined at JAJA Restaurant, an Instagrammable vegetarian restaurant in Hong Kong. This pink-themed eatery offers tasty vegetarian meals and an eye-catching interior that serves as the best Instagram fodder.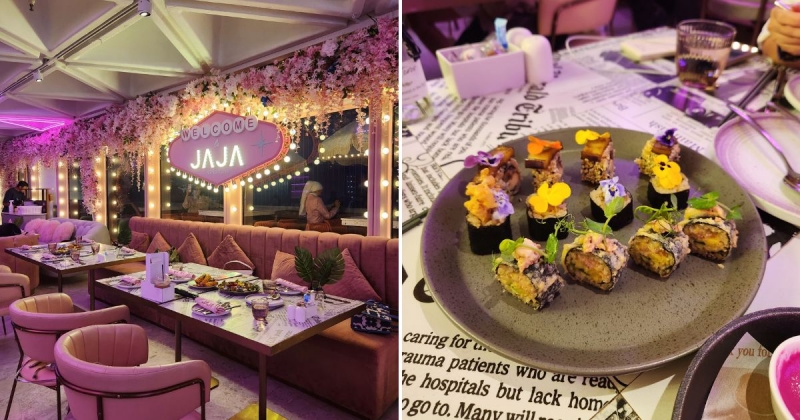 Day-3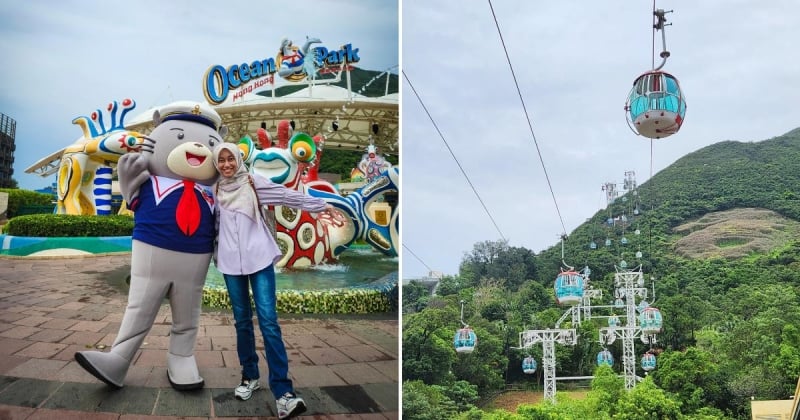 Your trip to Hong Kong is incomplete without visiting the famous Ocean Park. We had the chance to greet their adorable mascot, Whiskers, before riding the iconic cable cars that take us from the waterfront to the summit and back. The Hair Raiser and Arctic Blast rides are the must-tries in this park. Other recommendations include the Rapids, North Pole Encounter, and the not-to-be-missed Game Booths!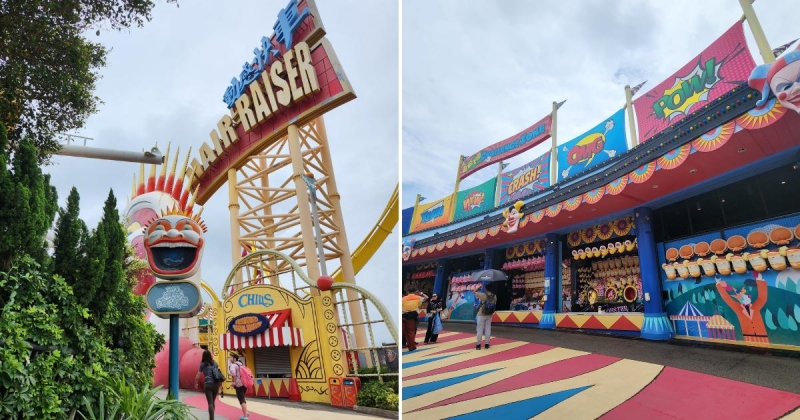 Afterwards, we visited a dedicated prayer room specially meant for Muslim visitors. The room is next to the Guest Relations office before admission. The space is comfortable enough to be used by three people simultaneously.
Lunch
For lunch, I had Yunnan rice vermicelli in soup with braised beef brisket, a bowl of salad, and a glass of Fanta drink, all at Ocean Park's largest food kiosk – the Clown Corner.
FYI, there are other halal restaurants at Ocean Park to add to your bucket list. They are Café Ocean, Dive Into A Float (Marine World), Panda Café Food To Go (Amazing Asian Animals) and Popcorn Cart (Aqua City). 
The next stop on our itinerary was the Kowloon Mosque in Tsim Sha Tsui. It is the largest mosque in the country and can accommodate up to 3,500 visitors! The white mosque consists of three prayer halls, a community hall, and a library. The Islamic architecture sure is a pleasant sight to the eyes. I truly admired the white marbled walls against both the maroon carpets on the floor and the intricate ornaments at the ceiling.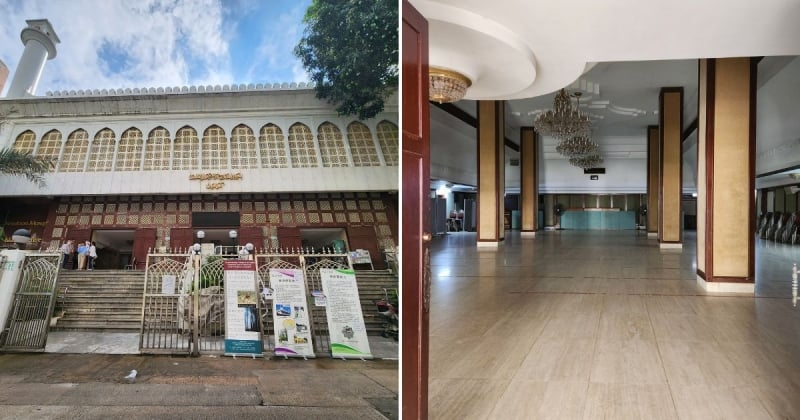 Within walking distance of the mosque is Hong Kong's most wanted halal pastry shop – Imperial Patisserie. Some of their top products include the nine flavours of Michelin palmiers, crispy cookies, honeycomb egg rolls, mooncakes, and Tonggwoji.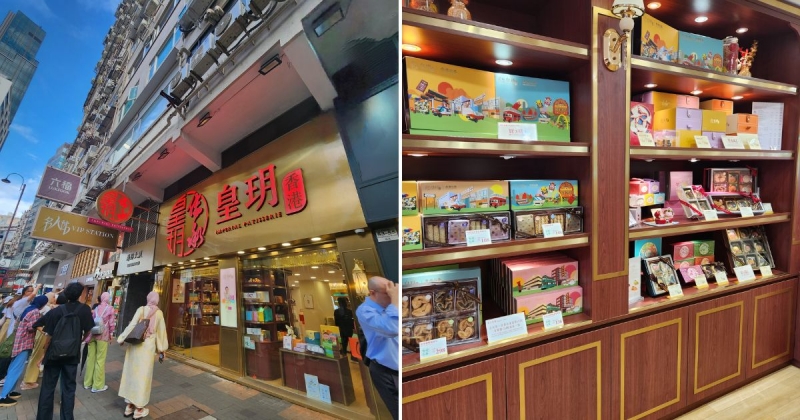 Before I forget, just like all the halal meals mentioned previously, the pastries sold by Imperial Patisserie are certified by The Incorporated Trustees of The Islamic Community Fund of Hong Kong. 
The journey continued at Harbour City, Hong Kong's shopping paradise. But before that, we visited the Ocean Terminal's Observatory Deck. From here, we witnessed a 270-degree panoramic view of Victoria Harbour. Remember the Double Ducks and Hong Kong Observatory Wheel? You can also see them from this deck!
Back to our shopping business, Harbour City is made up of over 450 branded shops that welcome you with the best shopping experience in the country. You will spot numerous high-end fashion outlets in the area, including Gucci, Prada, Dior, Ferragamo, and more.
Dinner
To wrap up our third day in the Fragrant Harbour, we had a nice dinner at Gaylord Indian Restaurant, another halal-certified and must-visit eatery in Hong Kong. Not only that but it is also recommended by Michelin Guide for serving authentic and traditional Indian cuisines for 50 years now. 
Day-4
On the fourth day of our adventure, we embarked on yet another artful journey at M+ Museum in West Kowloon Cultural District. The museum, a spellbinding showcase of visual art, design, and moving images across 33 galleries, is dedicated to showcasing a pre-eminent collection of Asian cultural visuals from the twentieth and twenty-first-century. My personal favourites were "Death of Nerve" and "Dots Obsession – Aspiring to Heaven's Love."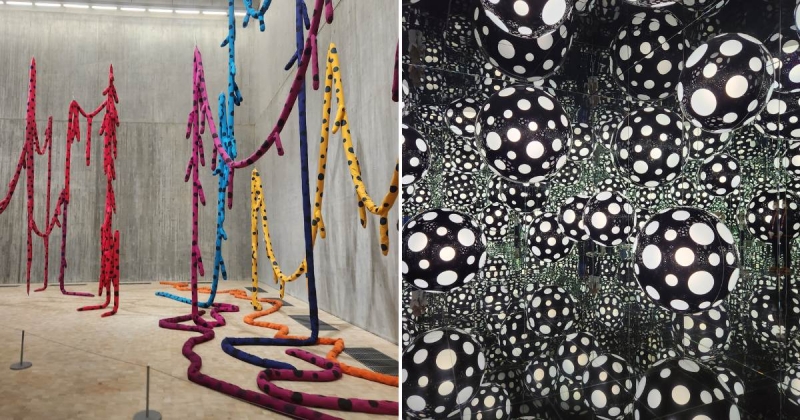 Brunch
Afterwards, we went to Cupping Room, an award-winning small-batch specialty coffee roastery with an awesome view outside, for a light brunch. I loved the elegant and modernist ambience of the space, especially the unique see-through glass table that exhibits traditional cooking utensils underneath. The toasts with avocado and mushroom were delectable, and the 'Dirty' coffee I had was amazing.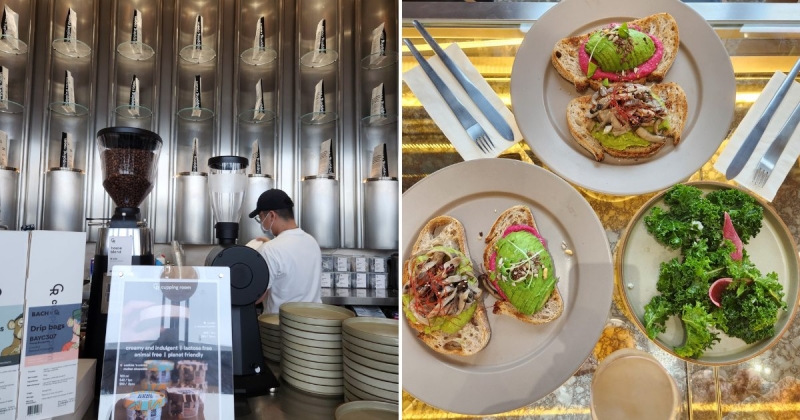 One of the main highlights of our Day-4 journey was visiting Cathay Pacific Halal Kitchen inside the Cathay Pacific Catering and Services building. We had great exposure to how the halal in-flight meals were prepared. What struck me was how the team designated a halal-only meat cold room and halal-only cooking utensils (knives, chopping boards, etc.), which are not to be mixed with any non-halal meats and ingredients.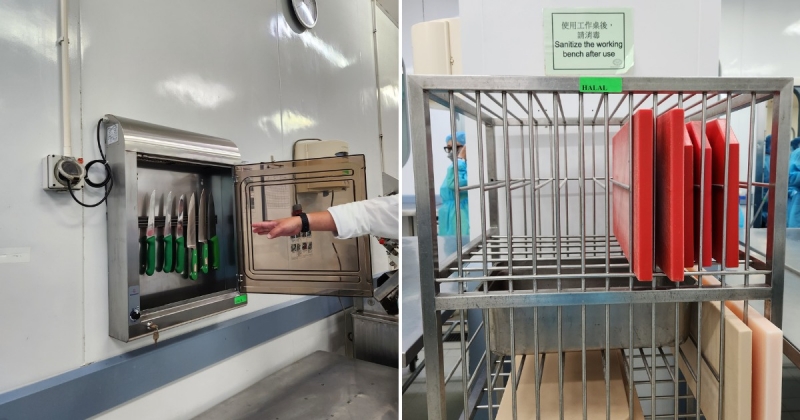 The chef then brought us to their Halal Kitchen to witness the cooking processes ourselves. I salute all the kitchen crews who put hygiene as their top priority when preparing the meals.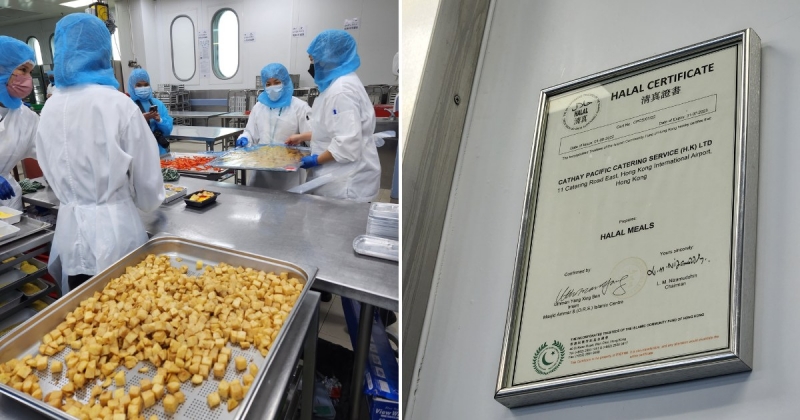 Before the food tasting session, we were introduced to all the halal in-flight meals prepared for Economy Class, Premium Economy Class, and Business Class passengers. And yes, we got a chance to taste them all! My honest review was that while they tasted great, I wished all the bowls were bigger.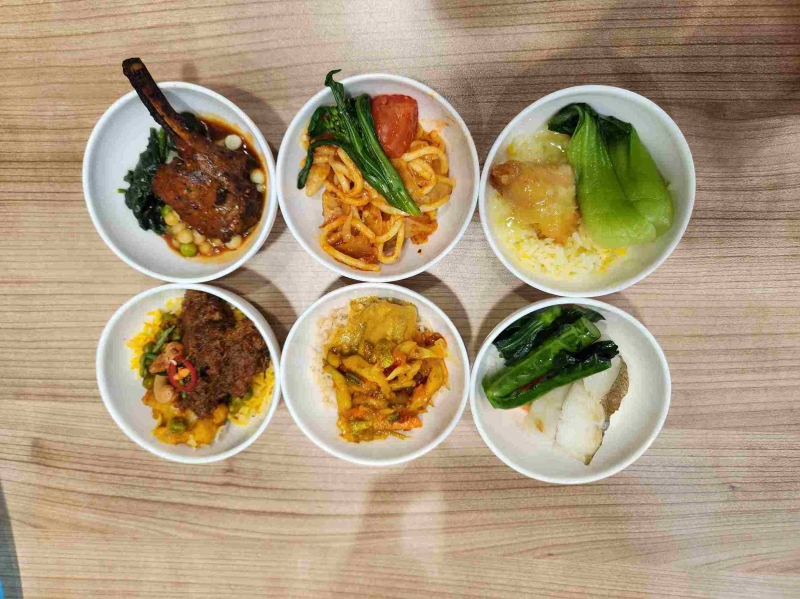 An interesting takeaway from this session: all in-flight cuisines to and from Indonesia, Bangladesh, Malaysia, and the Middle East are prepared according to the halal method. What about the other destinations? You may place your request via the Cathay Airlines' online Manage Booking page or contact their local reservations office at least 24 hours before your flight.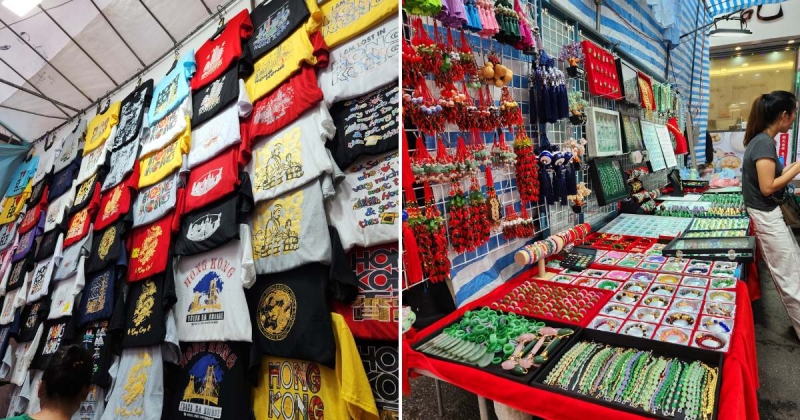 After the yummy-tasting experiences at the halal kitchen, it's time for another round of shopping at Hong Kong's famous Ladies' Market! The market runs along Tung Choi Street in Mong Kok and is dotted with stalls selling affordable goods and Hong Kong knick-knacks. The key here is to bargain hard and smart! Whatever the price the owner told you on the first round, always aim at about half the cost of the first offer. If they refuse, go, or make it seem like you're going to another stall. They will surely call you back.
Dinner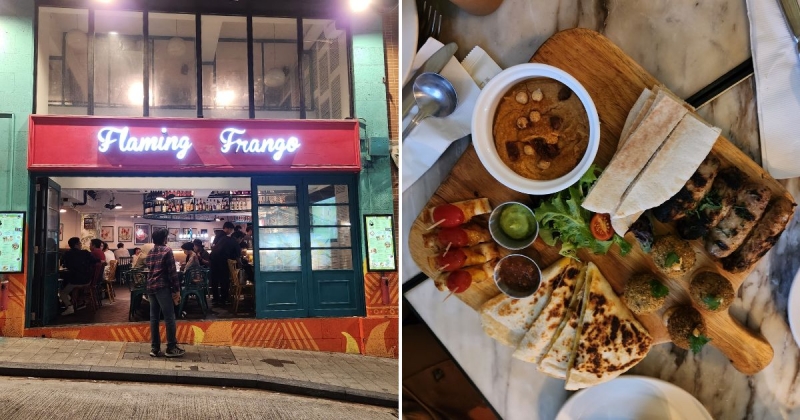 It was almost 8pm when we were finally able to fill our tummy with yet another appetising meal from Hong Kong's first-ever fiery Piri-Piri chicken concept restaurant — Flaming Frango! This halal-certified eatery is located on Elgin Street in Central, Hong Kong. They served us their best signature dishes: Piri-Piri Chicken, Piri-Piri Chicken Wings, and the Flaming Frango Chicken Burger served with a side of Piri-Piri fries and homemade Coleslaw. The taste? *Chef's kiss.* 
Day-5
It was the last day in Hong Kong. After breakfast at the hotel, I took a taxi to Hong Kong International Airport (Terminal 1). It took around 30 minutes from the InterContinental Grand Stanford Hotel, and the trip cost me HKD270 (~MYR156.62).
Another highly recommended option for you to go to the airport would be to take the MTR Airport Express: one of the world's leading airport railway systems. This train service is very swift and convenient. It'll only take around 24 minutes to reach the airport from Central. 
Before and during the flight
Before the flight
There are a lot of eateries you can try out to kill time at the airport. Some halal-certified ones include Old Town White Coffee and Popeyes Louisiana Kitchen. Other food outlets that caught my attention were the Gordon Ramsay Plane Food to Go, Burger King, BLESS, and Bari-Uma & SinsaEat Korean Kitchen. For those who have the realisation that you haven't gotten anything for your loved ones from the trip, chill; you can always shop for some quality souvenirs at the airport too!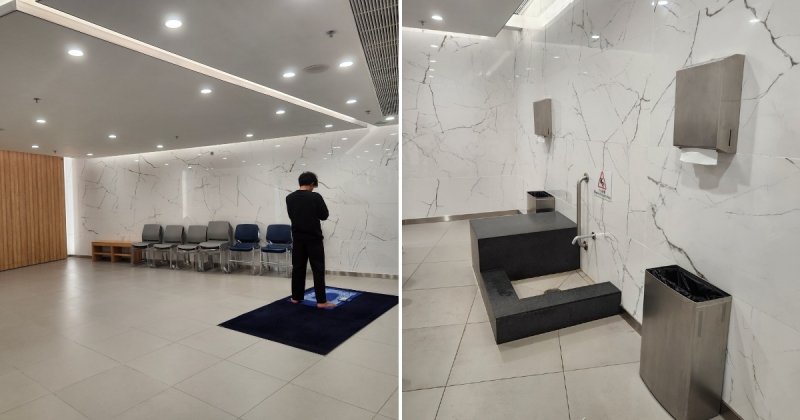 Before my flight, I performed the Zuhr prayer at the dedicated Prayer Room near Gate 42 of the airport. The room was neat, clean, and equipped with basic fixtures and furniture for common use. Plus, you can easily find a space for ablution and qibla direction as soon as you walk in. Though it's a unisex praying room, the area was large enough for everybody.
During the flight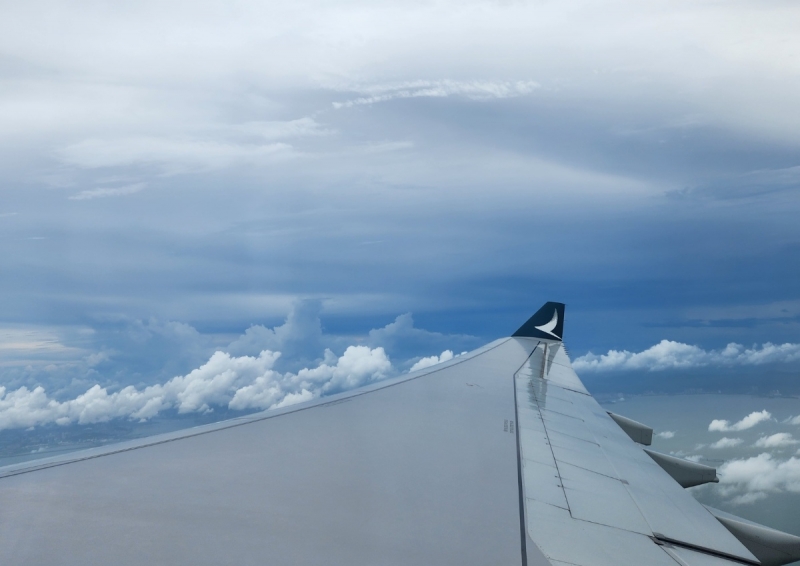 Cathay Pacific Airlines served me the best meal during the flight – chicken rendang with nasi lemak! What a way to welcome me back to Malaysia. The fact that I didn't have a photo of the meal says a lot about how good it was. I only realised I didn't take a picture of it after I finished half of the meal. And I still regret it. 
Also read: The Ultimate Muslim Guide: 72 Hours in Hong Kong
The overall 5D4N trip was, in fact, an unforgettable experience for me. I would love to return to Hong Kong soon, but I'm bringing my BFFs next time! It'd be much more fun having my loud bunch around. And it'd be great to escape the heat and see Hong Kong in autumn or spring.
---
Special shout out to Cathay Pacific and Hong Kong Tourism Board for inviting me on a once-in-a-lifetime trip! All images are credited to Izzati Haron.