Sabah is one of the top destinations in Malaysia for those who crave outdoor adventures. From hopping between beautiful islands in Semporna, cruising along the Kinabatangan River, and hiking Mount Kinabalu, there are plenty of natural vistas to thrill and excite. However, did you know that Sabah is also one of the top foodie hotspots in the region? 
After a day full of outdoor activities, you're bound to get hungry. Lucky for you, Sabah has tons of local dishes for you to try! Seafood restaurants are especially popular in town. Even for Muslim travellers, halal food is pretty easy to find, particularly in Kundasang and Kota Kinabalu. In fact, here's a 3-day halal food guide of Sabah to help you find the best eats! 
Dive into the amazing world of Halal food in Sabah when you jet off to The Land Below The Wind with AirAsia! Book your flights with the airasia Super App and enjoy all-in-one way airfare from just S$65! Hurry, offer ends 18 Sep 2022!
Also read: A Muslim Traveller's Ultimate 5D4N Guide To Sabah, Malaysia
Day 1 
Halal breakfast in Sabah
Mornings in Malaysia are often best enjoyed in the comforts of a busy kopitiam. At Fook Yuen Cafe & Bakery on Gaya Street, you can indulge in fresh Halal dim sum. There are so many things you can order, from siew mai (steamed dumplings) to fried fritters and various pau. However, if you're not ready for a heavy breakfast, you can order roti bakar (toast bread) with kaya and butter and pair it with a cup of teh tarik! 
Address: 53, Jalan Gaya, Pusat Bandar Kota Kinabalu, 88000 Kota Kinabalu, Sabah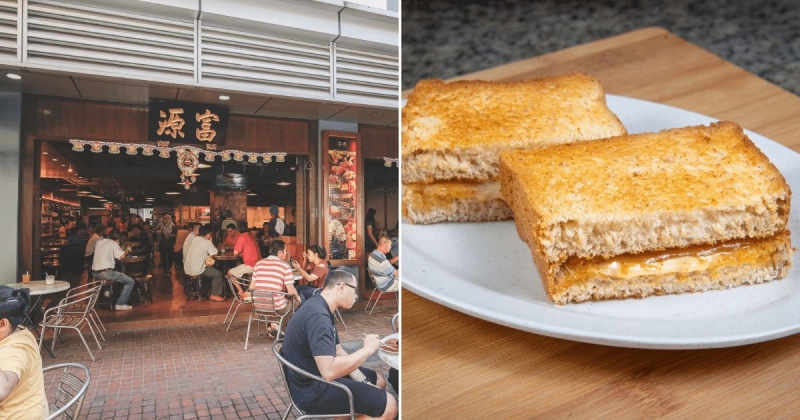 Alternatively, you can grab breakfast at Kedai Makan Islamic Restoran in Centre Point Sabah, Kota Kinabalu. While you can order roti canai, we recommend elevating your breakfast with Roti Cobra instead. It's basically roti canai topped with a sunny-side-up, green beans, and a rich curry. Roti Cobra is something you'd never get anywhere else in Malaysia, so you cannot miss out while you're in Sabah!
Address: Centre Point Sabah, 1, Jalan Centre Point, 88000 Kota Kinabalu, Sabah, Malaysia, 88000, Kota Kinabalu, Sabah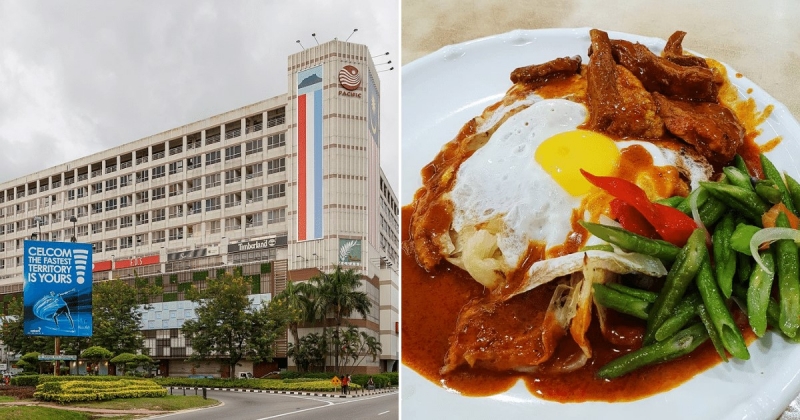 Halal lunch spots in Sabah
BTC Bistro Restaurant is a great place if you want to eat Indian food. While they're famous for their banana leaf rice, you can get their cheese naan and nasi biriyani too. Other than that, the menu also has Western and Asian dishes, like sup tulang, soto ayam, lasagna, and a chicken chop meal set! 
Address: C 27-1, C 28-1, Heritage Plaza, Lorong Plaza Legenda, Taman Regent, 88300 Kota Kinabalu, Sabah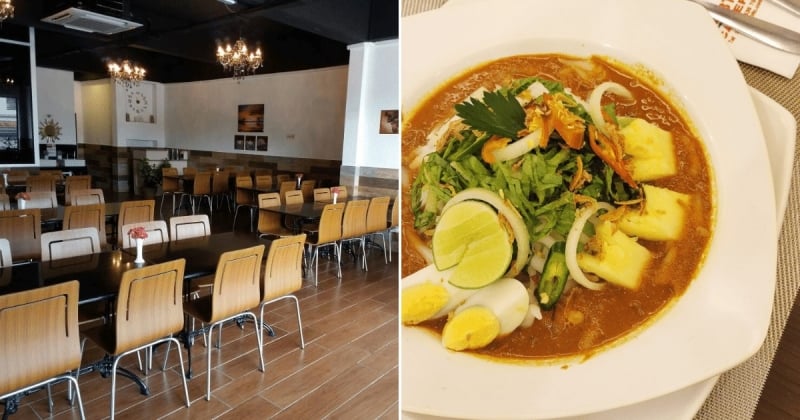 No matter where you are in Malaysia, Chinese Muslim restaurants are common. As such, you can also have lunch at Salam China Muslim Restaurant. They serve halal, yet authentic Chinese dishes. You can get any of their steamed paus that come in a range of flavours like kari ayam, bbq ayam, ubi manis, and kacang hitam. On top of that, you cannot miss out on their homemade dumplings, which are served either steamed or pan-fried.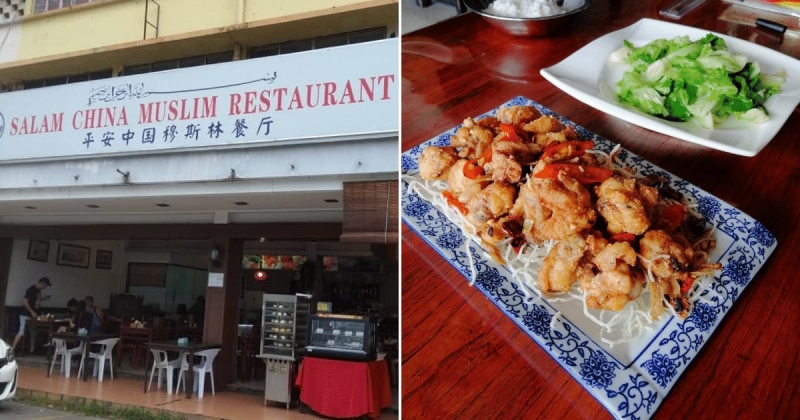 For a more filling meal, Salam China Muslim Restaurant also has a range of rice and noodle dishes to satiate your curious appetites! You can get stir-fried lamb with cumin, Mee Kon Loh Ayam Szechuan, braised beef brisket noodle soup, and stir-fried string beans. 
Address: Taman Beauty Garden, 88300 Kota Kinabalu, Sabah
Also read: The Best Muslim-Friendly Destinations To Visit For Thrilling Experiences
Halal Dinner Spots in Sabah
Seafood restaurants are a part of our Sabah halal food guide for a reason. The Land Below The Wind is home to some of the freshest seafood in Malaysia, including prawns, fish, and crab. If you love seafood, then you're in for a treat! At Gayang Seafood Restaurant, you can pick your seafood and indulge in a seaside view while you dine.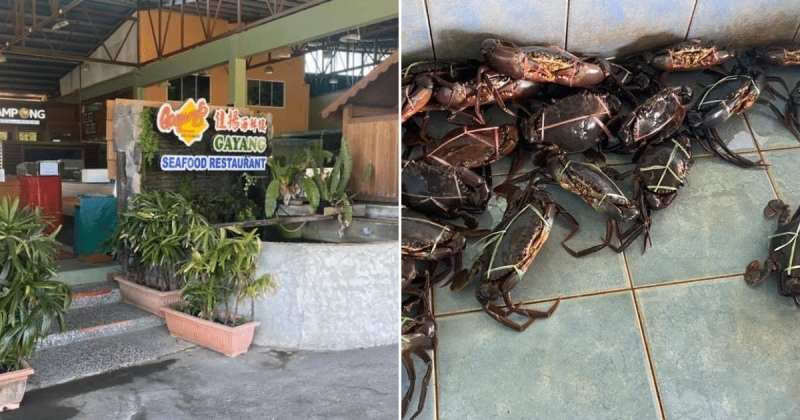 If you're not sure what to order, go for the steamed prawns. It's simple, versatile, and delicious. But if that's not your style, get a plate of oat-fried prawns — it's basically prawns stir-fried with butter, Nestum cereal, curry leaves, and bird's eye chilies. For crab lovers, you can get your crustaceans cooked in a Kam Heung or a salted egg yolk sauce. Oyster omelettes and steamed grouper are just as famous too!
Address: Jalan Sulaman, 89200 Kota Kinabalu, Sabah
Also read: 6 Offbeat Places to Visit in Sabah to Bring Your Travelling Experience Up A Notch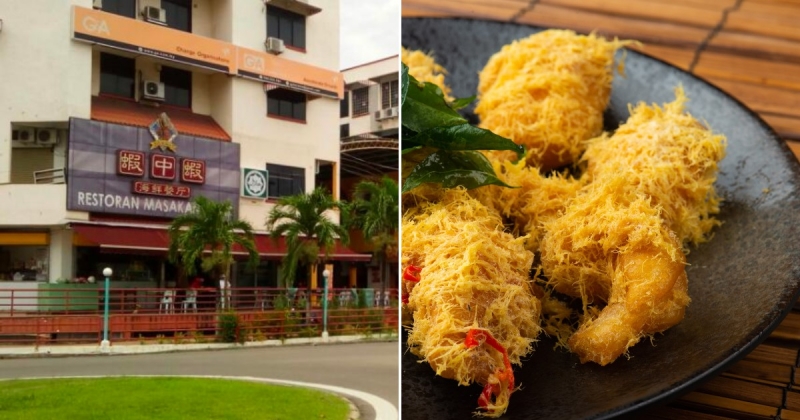 Alternatively, you can also end your first day in Sabah with a meal at Restoran Masakan Sedap. It's one of the most popular halal-certified seafood restaurants in Kota Kinabalu. In fact, the place has been frequented by local celebrities!
On top of being affordable and great for families, the food is delicious! The menu consists of delectable dishes such as chili crab, steamed grouper, butter prawns, and crunchy salted egg calamari to name a few! For dessert, you can order their refreshing coconut pudding, which happens to be one of the restaurant's signature eats. 
Address: 1-0-1 Block B Lot 20 Jalan Lintas Kolam Centre, Fasa 2, Kota Kinabalu 88300 Malaysia
Day 2
Instaworthy Halal cafes in Sabah
On your second day in Sabah, let's go to Nook Cafe for a hearty breakfast. They've got toast, bagels, and sandwiches, but if you want the full experience, order the Nook's Breakfast. It's literally all you could ask for in a breakfast platter, including fluffy eggs, sauteed mushrooms, juicy chicken sausages, and beef bacon. 
Address: 19, Lorong Dewan, Pusat Bandar Kota Kinabalu, 88000 Kota Kinabalu, Sabah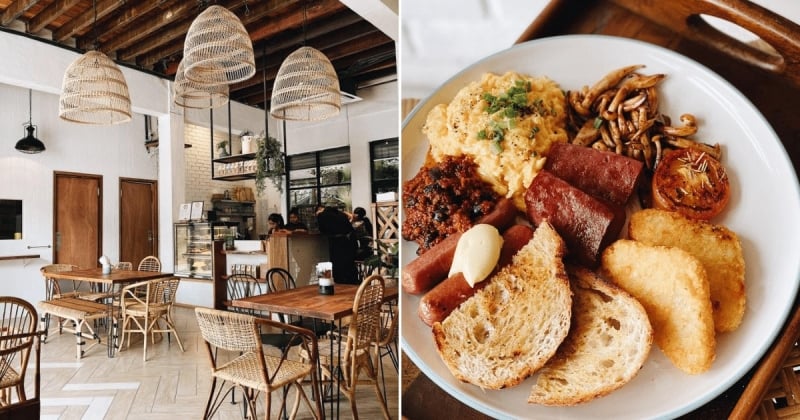 At The B Side Cafe, you can still get your big breakfast cravings fixed. However, we think you should order their Eggs Benedict which comes with a zesty sauce and rye wholemeal bread instead. Dip your bread in the runny egg yolk and pair it with a cup of freshly-brewed coffee. 
Address: 21, Lido Plaza, Jln Nosoob Hungab, 88300 Kota Kinabalu, Sabah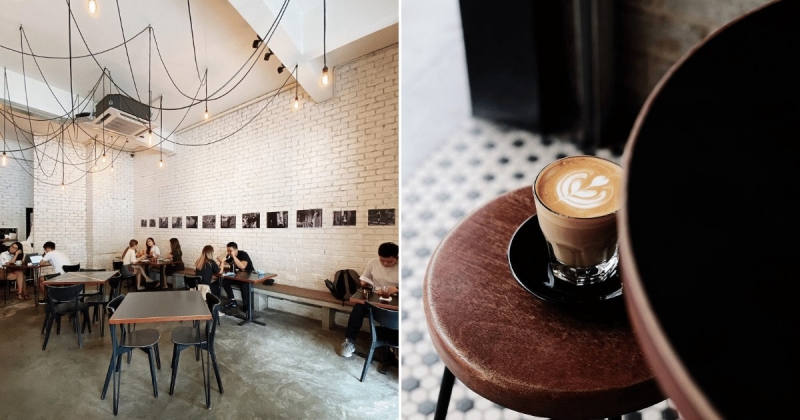 Unique halal dishes in Sabah for lunch
If you want the best fried chicken in Sabah, look no further than Borenos Fried Chicken, a local Sabahan franchise that you can't find anywhere else in Malaysia! The chicken is fresh, crispy, and fried to perfection with every batch. While their fried chicken is already good on its own, you can opt to have it with their rice, or a side of crispy French fries! Order their potato platter, onion rings, and nuggets to share, and it's the perfect meal for friends and families. There are also burgers you can indulge in! 
Address: Kompleks, Lot G23, Ground Floor, Jalan Asia City, Asia City, 88000 Kota Kinabalu, Sabah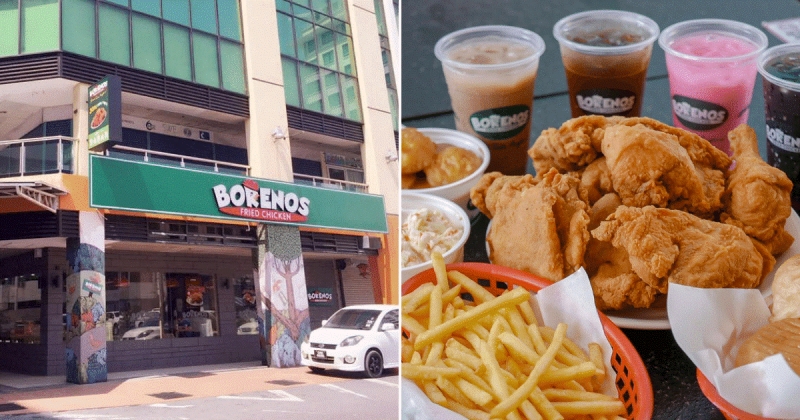 Jothy's Fish Head Curry is another Indian restaurant in Sabah. Their signature dish is in its name — fish head curry. Arguably, it's one of the best in town, which makes coming here totally worth it. The fish head is fresh, and when it's paired with its rich and spicy gravy, it's to die for! Banana leaf is also available here, served with various chicken, meat and fish dishes. You can also order many kinds of Indian flatbread, including roti canai, dosai, chapati, and murtabak. 
Address: Block 1, Lot G1-0, 9, Api-api Centre, 88000 Kota Kinabalu, Sabah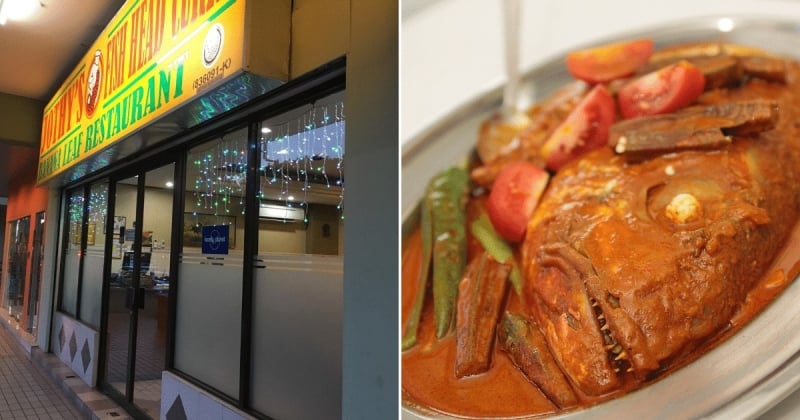 Continuing the halal food tour in Sabah
Thien Thien Restaurant is a halal-certified Chinese restaurant located in Kota Kinabalu. From their extensive menu, you can order tons of dishes, from seafood to chicken. We recommend the sesame fried chicken, butter prawns, fish ball soup, and sizzling beef with black pepper sauce. As there are also noodle dishes on the menu, you can go for any of their curry laksa or sizzling noodle dishes. 
Address: 57, Jalan Pantai, Pusat Bandar Kota Kinabalu, 88000 Kota Kinabalu, Sabah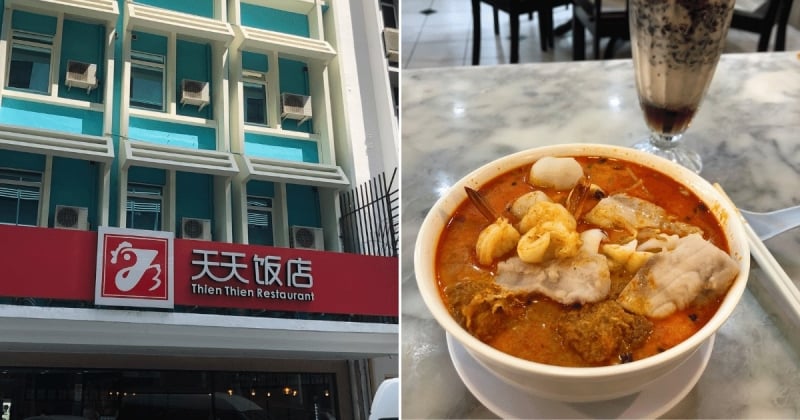 To add to Sabah's ever-growing list of seafood restaurants, He Jia Fo Seafood Restaurant is a halal-certified seafood restaurant. Their most famous dish would be their salted egg yolk squid, but do try the others as well! They've got scrumptious dumplings, as well as stir-fried kangkung with garlic. The butter chicken or prawn is delicious, and so is the sweet and sour fish. 
Address: Lot 2 & 3, Jalan Tuaran, Sunny Garden, 88800 Kota Kinabalu, Sabah
Day 3
More halal cafes in Sabah
Woo! Cafe is a minimalist, aesthetically pleasing cafe in the heart of Kota Kinabalu. It's honestly a chill place to dine in and kick off your last day in Sabah. In fact, their breakfast items are as good as it looks! 
For those looking for a savoury breakfast, there's a unique pumpkin toast with a poached egg and mushrooms to look out for! The cafe is also famous for its banana french toast and banana waffles. Pair your meal with a cup of matcha latte and you're good to go. 
Address: 21, Lorong Dewan, Pusat Bandar Kota Kinabalu, 88000 Kota Kinabalu, Sabah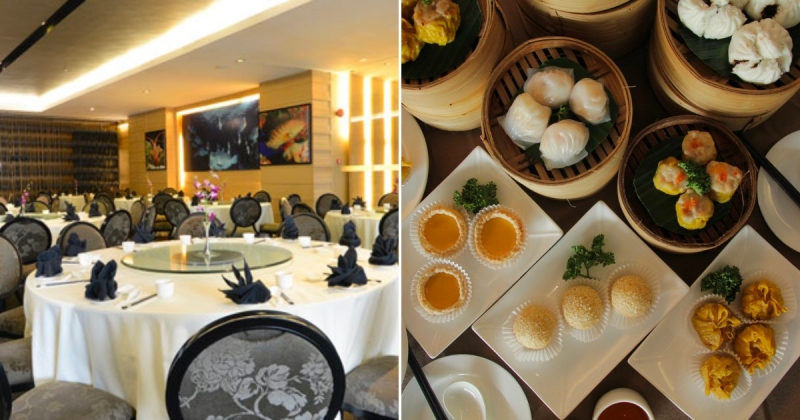 In case you still have dim sum cravings from Day 1, Horizon Hotel's The Asian Restaurant is your go-to spot for more halal dim sum in Sabah. Here, you can enjoy digging into your dim sum selections in a classy hotel setting. Their popular dim sum platter comes with plenty of your classic favourites such as juicy steamed and fried dumplings, fluffy paus with delicious BBQ chicken filling, and more! Delicious! 
Address: Jalan Pantai, Pusat Bandar Kota Kinabalu, 88999 Kota Kinabalu, Sabah
Halal international and local cuisine in Sabah
When lunchtime rolls around, let's try some international cuisine. At Little Italy, you can savour a taste of Italy in Kota Kinabalu, Sabah. You can customise your pasta dish by selecting your preferred kind of noodles and sauce. All of their meat and ingredients are sourced fresh from halal producers. However, if you're not interested in eating pasta for lunch, there is an awesome pizza menu you can check out! You can choose to either build your own or sample the restaurant's signature — the Pizza Hawaiana. 
Address: Ground Floor, Hotel Capital, Jln Haji Saman, Pusat Bandar Kota Kinabalu, 88400 Kota Kinabalu, Sabah
Note: Since 2020, Little Italy has stopped serving alcoholic beverages and have since applied for halal certification.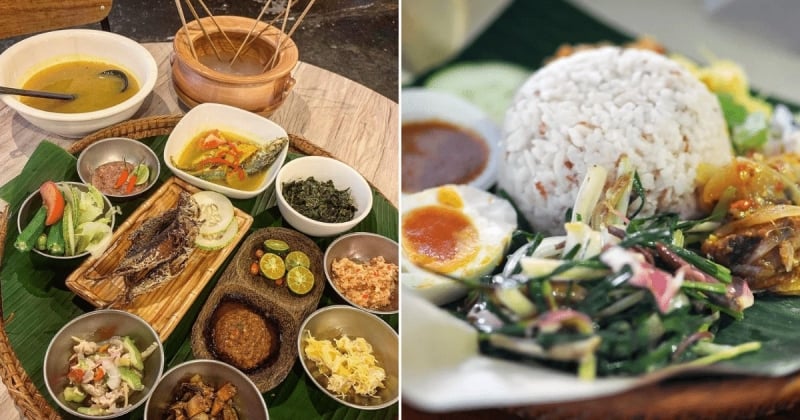 My Native Sabah is a traditional Sabahan restaurant located a little outside the city. They specialise in Kadazandusun cuisine, and it's perfect for adventurous foodies in town! In fact, you can come here when you want to try Sabahan food. For first-timers, you should get their Ambuyat (a delicacy made with sago starch) or Linopot (leaf-wrapped rice) sets. 
Address: Lot 48, 1st Floor, Blk F, Lrg 333-5 Plaza 333, Jln Bypass Penampang Penampang, 88300 Kota Kinabalu, Sabah
The Warung Kepayan is also another local restaurant where you can get into local Sabahan dishes. Here, you can order nasi lalap, nasi kuning, and ayam penyet. A unique thing you can order would be fried milk fish (boulu), which is served with nasi kuning or nasi lalap. 
Address: Jln. Pahlawan, 88902 Kota Kinabalu, Sabah
Also read: Muslim Travellers: 10 Things to Do in Sandakan, Sabah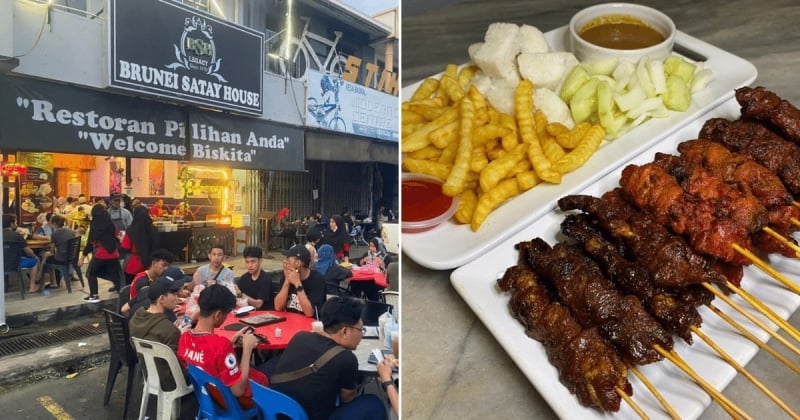 Brunei Satay House has memorable satay you will ultimately remember for life! It's perfect for groups of three or more, which means it's a meal worth sharing. Their grilled meat on skewers is juicy, flavourful, and tender. Dip the satay or the ketupat in their signature sauce, and you're bound to reach for three more skewers before the night is over. It's just that good!
Address: Brunei Satay House, Block E, Ground Floor Lot 6, Taman Indah Permai, 88450 Kota Kinabalu, Sabah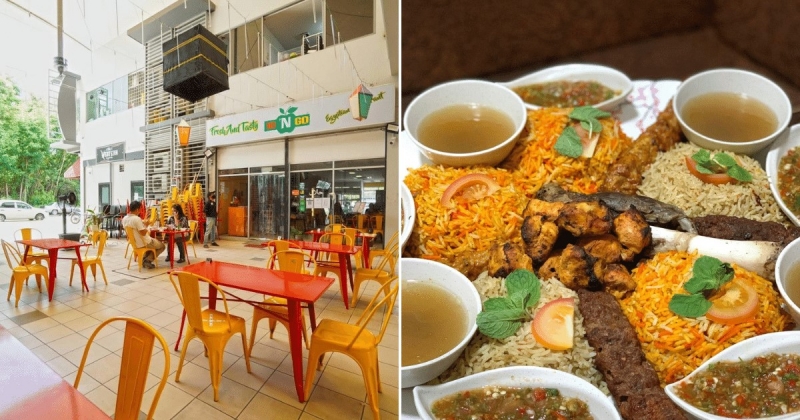 Last but not least, let us introduce you to Egyptian food. For those who would like to travel to Egypt someday, 10 'N GO Restaurant can transport you there with its food. There are flavourful kebabs, eggplant meskaa, Egyptian sausages, and meat shawarmas. As for dessert, there's decadent baklawa, and rozbelaban (rice pudding). 
Address: Lot A-G-2, Ground Floor, Block A, 88 Marketplace, 500, 88300 Kota Kinabalu, Sabah
It's time to start your Halal food adventure in the beautiful land of Sabah! Start by booking your flight from Singapore to Kota Kinabalu for as low as S$65 (all-in-one way fare) with the airasia Super App!
Promo ends on 18 Sep 2022. Fly from 19 Sep 2022 till 18 Apr 2023.
Like its food, Sabah is diverse, bold, and incredible in its nature. Eating among locals is a great way to immerse yourself in culture, and enrich your travels in East Malaysia. 
---
Brought to you by AirAsia. Featured image credit: lanolan via Canva Pro